NO DAMAGE TO EARTH SATELLITES FROM THE LEONID METEORS
FIRST OF THE LEONIDS? EDITOR'S NOTE please send meteor reports

LEONID METEOR SHOWER DATA FROM LEARMONTH OBSERVATORY
PERIODIC SERVER DISRUPTION
HOUSTON SERVER PROBLEMS: Lots of high meg video streaming by NASA connected to Marshall VIA Houston. T1 and T4 carriers are overloaded and of course Mil takes priority. Phone circuits are jammed in area.
ALERT

IMAGES

Date: 98-11-16 19:33:45 EST

From: ulf@elfrad.com (Elfrad Group)

Kent:

Something very, very out of the ordinary is beginning. At 23:44 UTC, 6:44 PM EST, 11.16.1998, an intense burst of radiation was detected and recorded. Our detectors were completely saturated . . . continue

Charlie, Elfrad Group
RADAR 11/16-18/98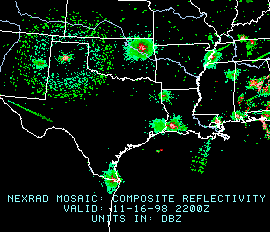 .
BIG ROCK: best resource on Leonids, asteroids, comets

NASA LEONIDS LIVE SKY OVER PAHRUMP

THAILAND (BEST BUT OFTEN SATURATED)

JAPAN

Next week during the Leonid meteor shower NASA scientists will launch a helium-filled weather balloon from the Marshall Space Flight Center. The payload will include a video camera to record the Leonid meteors.

ENCOUNTER WITH 433 EROS

GODDARD SPACECRAFT PREPARED FOR ENCOUNTER WITH LEONID METEOR STORM
THE SOLAR WIND EXPERIMENT EQUIPMENT ON ACE WERE SHUT DOWN AT 15/1224UT IN ANTICIPATION OF THE LEONIDS METEOR SHOWER.
ALERT: LEONID RESULTS
.
HAARP

DEE FINNEY

THE PYRAMID AT GIZA AND THE MAGNETIC NULL ZONE
.
C/1998 U5 (LINEAR)

A CHRISTMAS COMET?

Presently in Cassiopeia

LARGE ANIMO

1998 Nov. 13.04 UT: m1 = 8.2, Dia = 9', DC = 3...20x80B....J.Bortle (Stormville, NY) [Comet continues to brighten and expand rapidly - very obvious tonite with binoculars. A 41-cmL@114x shows an intense 12th mag. nucleus and 1.0' surround knot of very bright material. At 70x coma has no visible boundaries and outer 60% is extremely diffuse - m1 = 8.9, Dia = ~3.6', DC = 6.]

Retraction: Comet C/1998 U5 (LINEAR) is moving TOWARD Pegasus not AWAY from it as previously stated: no connection to Pegasi signal but the comet remains anomalous and may brighten considerably by December (so instructed, hmmmm):

JPL Space Calendar seems no longer accessable Brian Marsden is out of town Nov 14-22 NEAT announcement, Oct 19:

SCHEDULE: NEAT has been taken off the sky indefinitely due to USAF activities on the telescope. NEAT's estimated time of return to the sky is February 1999. NEAT may return earlier on another telescope if logistical details can be worked out.

Hint for sleuths: search OPs project Blue Star (this is a wee bit of a troll: In mythology the second story of creation tells of the descent of the Hopi from the Blue Star of a constellation called the Seven Sisters.)

INTERESTING NOTE: NUKE-PLANT SHUTDOWNS: How dependent are our nuclear facilities on satellite telemetry? If we lose 20% of our sats in Leonid storms, will this confuse the puny lil' Cyber-borg nuke brains?
DATA: ANOMALY INCOMING

Using the entire earth as a dish antenna, ELFRAD investigates an anomaly on the approach: Is this the wavelength of Asteroid 1998 SH36 6,902,001 miles and closing?

PERSPECTIVE

AN ARTIST'S ELECTRIC HUNCH: The legendary Gods hurled thunderbolts. What ancient stellar events are echoed through memories, myths and dreams?
.
EDITOR'S NOTE: ORBIT IS MOST GRATEFUL FOR PARALLEL RESEARCH OFFERED BY OTHER HARD-WORKING RESEARCHERS. YOUR FEEDBACK AND OBSERVATIONS ARE MOST IMPORTANT.
CO-RESEARCHERS

WINGS OF FIRE


MICHELLE GUERIN

JOHN QUINN'S NEW MONTAUK REPORT:
.
| | |
| --- | --- |
| HAIL TO THE TRAVELER: PROCEED | |