Comment from Graham Hancock: Date: 14 August 1998
"Modern religions, like modern science, have let us down..."
RuthC2: Is it good to be home?
Phikent: Makes me dizzy
RuthC2: Dizzy? How come?
Phikent: I haven't adjusted yet; Point Lookout is such an alternate reality!
RuthC2: Can you explain that?
Phikent: Well, even the residents say the town has a bubble over it.
RuthC2: Is this from Mother Earth of from something like Montauk?
Phikent: Here is a really enchanting town almost out of the Fifties---people sauntering around the streets saying howdy--kids on scooters, nobody ever leaves the town, birth to death, and yet many claim abductee experiences, black helicopters zoom over---sheesh, haven't figured it out yet.
RuthC2: Are the buildings "old" or has architecture kept up to date?
Phikent: Think County Cork Ireland.
Phikent: Hard to say goodby to Mushy--we were such pals.
RuthC2: I know what you mean about Mush - in a way. I think you two are probably more connected - or connected in a different way - than she and I are.
Phikent: Even Manhattan Island seems weird--it has changed bigtime---cab drivers don't yell at each other anymore, everybody pleasant, everything tidy--SOMETHING IS GOING ON! Gotta think about this more--beginning to guess that whatever happened at Montauk has spread out: maybe the NWO is NOT as much a political takeover, but something happening, perhaps . . .stimulated . . .deep within mind! In Point Lookout we could also be seeing a deep influence from the sea, the earth, the human soul--great irony; a profound secret is there.
RuthC2: I think it would be really interesting to see what 'we' could do if I went up there!
Phikent: Yea, gotta go back to Point Lookout.

MORE TO COME: Could write a book, hmmmm. . .

ISSUES, MEMORIES TO PONDER & SLEUTH:

NYMUSH

SANDS OF TIME: MONTAUK
KENT'S STORY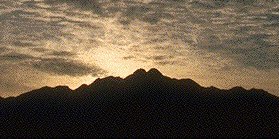 Ye old firehouse alarm, Point Lookout, NY


4.8 98/08/16 06:34:40 34.12N 116.93W 6.2 7 mi WNW of MT. SAN GORGONIO

RADAR ANOMALY SEEN ON AUGUST 7, 1998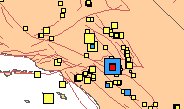 The Charlotte King Effect - Biological Earthquake Prediction
SYZYGY: An Earthquake Prediction Newsletter


SOLWATCH: CURRENT SOLAR DATA
ALERT
Solar/Magnetic/Quake Update - 8.16.98 2230 UTC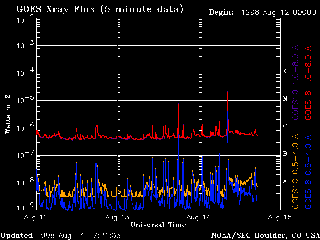 TRACE IMAGE

Flare activity increased considerably today with a very long duration M3 event. This event began at 1800 UTC and is still ongoing as of this bulletin. This is the most significant Xray flare event to occur in a number of months. Radio bursts and sweeps were also recorded coincident with this flare indicating a CME may have been generated. Continued C-Class activity can be expected and an isolated M-Class flare remains possible.
If a CME is suspected to have been generated... a magnetic storm watch could be issued for August 19th or 20th.
JIM BERKLAND: Great unrest on earth and sun. Solar eclipse due 8/21/98 followed by another penumberal lunar eclipse on Sept 6.

.
VENTURE INTO THE VAULT OF WONDERS

.
PLEASE RETURN: THIS SITE CONSTANTLY CHANGES

CONTINUE TO OTHER NEW FEATURES