ORBIT: THE REAPER'S SCYTHE
MAY 7th, 1999 PULSED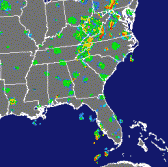 ,
Peculiar radar-storm events: beginning 5/3/99

| | | | | |
| --- | --- | --- | --- | --- |
| 5/3: blooms out of nowhere | 5/3: mega-twisters | 5/3: ring in Alabama | 5/4 Alabama | 5/6/Alabama |
| | | | | |
EMAIL 5/4/99: Several F-4!!![apparently upgraded to F-6] Incredible!!! ---Never--- seen before according to the Governor. I think it's safe to say Weather Control has been clutched into hyperdrive... But the question is: Is it the US controlling the climate, or rather the Russians or Chinese avenging the Serbs? Clinton did transfer tech to China... What if it wasn't only Nuclear stuff???
ADDENDUM
FLASH RADAR: TACTICAL STRIKE ON OKLAHOMA

5/6/99: KENT JUST GOT THIS IN FROM WATCHER WITH ACCESS TO AVIATION MAPS FLASH
EDITOR: This is a first, the 5/3/99 sat image with ring.

WHAT THE HECK?
Where did the Alabama earthquake go? Sleuths needed.
05May1999 22:43:09.8 31.8N 86.1W 10 mb=6.1 A*SED ALABAMA 2258
EMAIL: 5/11/99 8:01:37 PM Pacific Daylight Time: I checked the Lat/Longs for the seismic activity listed in Alabama about 48 hours after the radar ring appeared. Maxwell AFB is at N32.2 W86.2. The epicenter was N31.8 W86.1. The difference would represent the distance from the center of the airfield to a building on the perimeter. My guess is, with your background researching this phenomenea, you may already know this.
05/06/1999: Recent Helicorder Displays From CERI, Braggadocio, MO

5/5/99 3:35 PM EDT: WHAT THE HECK II?
EMAIL: 5/5/99 10:20:37 PM Pacific Daylight Time: that 3:35pm radar flash seems centered over Wright Patterson, the home of the Dayton Agreements regarding Bosnia. Weird.
Wright Patterson


EMAIL: 5/5/99 12:34:05 AM Pacific Daylight TimeHere are the most recent charts, one of which shows the amplitude of the record pulse that I captured over here! Wow! and then there are tornadoes in the Mid-West and "Carbon Bombs" being dropped over Yugoslavia! What to expect next? May is quickly becoming a very hectic month worldwide!
EMAIL: 5/5/99 12:58:32 PM Pacific Daylight Time: It seems that the Kosovo crisis is taking an unexpected turn. There are indications that a meteorological weaponry that Russians call MTVR-1 is currently in use to create atmospherics disturbances over the U.S. It seems that the Pentagon is panicking, and Clinton is even talking about halting the air strike against Yugoslavia!? There was a web site about this weapon, I can't speak Russian but [what] I understood is that it does not need to be applied over the region one wants to attack and that [it] is not controllable.
Secret Rulers Control America's Weather: The effect of these three grid cables along the coasts is to create electrical fields which span the continent of the United States. These power fields control electrical charges in the upper atmosphere producing jet-stream shifts.

EMAIL: 5/5/99 1:00:17 PM Pacific Daylight Time: This is an image of the jetstream after the killer tornados formed.
ICQ: 5/5/99 2:21 PM Pacific Daylight Time: from 14:15 this morning to 23:15 this afternoon the energy part associated with that storm centered over the Mississippi has not moved at all,,, like it is locked into there. It looks like something is holding a signal dead on. The energy cell in south central Georgia has not moved either....

FLASH RADAR UPDATES

I WONDER PRODUCTIONS: 5/3/99, RADAR RING, ALABAMA
EMAIL 5/4/99 9:55:27: I've noticed several odd things that may or may not be connected, since I've been visiting your website. April 18th noticed a rainbow-like halo around the sun, here in Collinsville, Oklahoma. Noticed on your radar flash, rings around the Utah, Nevada area (Area 51?) at the same time local weather forecasts showed that low pressure area just sitting there for days and days. That low pressure area was there when they had 113 mph winds in Utah. Then it crept ever so slowly to the east. When it got to Oklahoma May 3rd WHAMO!!! The biggest out break of f4 and f5 tornadoes in modern history.The third message of the Holy Mother of Fatima is said to predict massive outbreaks of mega tornadoes (among other events). Also saw chemtrails criss-crossed all over the sky April 30th and May 1st. I became sick with stomach cramps and diarrhea, fever, and night sweats for the next 3 days. Does any of this connect or is there just so much odd info out there nowadays that we try to make it mean something? Another thing both my husband and I notice is that friggin low frequency pulsing hum. Upon checking your website I've noticed that it was more intense when there had been HAARP activity and when ELFRAD had recorded anomalies. C.B./ Collinsville,OK

Enhanced, Micrografx, Photoshop: Any takers?

LARGE TWISTER ANOMALY IMAGE

EMAIL: 5/4/99 10:36:25 PM: Heyya guys, I hate to read too much into pics, etc., but this is either a UFO or a flying Buick -- this pic is from the OK City tornado yesterday. I got it out of the newsgroups. I have a friend in Norman and her house was in the middle between the twin twisters. Her house was more or less spared but a block in either direction is no longer there. Just thought ya'll might like this pic!
WHAT THE HECK III?

Where did the magnetic storm go?
HIGH RISK PERIOD: 05 - 06 MAY (UTC days)
MODERATE RISK PERIOD: 05 - 07 MAY
POTENTIAL DURATION OF GEOMAGNETIC STORM: APPROX 18 TO 24 HOURS
DURATION OF MAIN BELT OF ACTIVITY: APPROX 12 TO 18 HOURS
A class M4.5/2N proton flare observed on 03 May was associated with the ejection of an Earth-directed coronal mass ejection. This disturbance is expected to have properties which may allow it to generate periods of minor to major geomagnetic storming, particularly over the higher latitude regions. This anticipated geomagnetic storm, if it materializes, is not expected to be very large, but could have brief bursts of stronger activity.
.NOTE: SEC HAS DOWNGRADED THE POSSIBILITY OF A HIT FROM THE CME OF 5/3/99
3-day Solar-Geophysical Forecast issued May 5 at 22:00 UT SOLAR ACTIVITY FORECAST: SOLAR ACTIVITY IS EXPECTED TO REMAIN LOW.
GEOPHYSICAL ACTIVITY FORECAST: THE GEOMAGNETIC FIELD IS EXPECTED TO REMAIN QUIET TO UNSETTLED.
WEIRD SOHO C2 4/29/99 11:06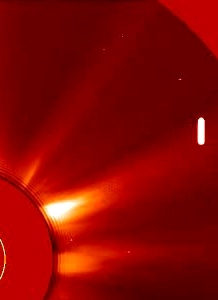 SIGHTINGS INTERVIEW: Steve Douglass: Recording Current Military Transmissions. Are the Yugos getting bombed or cooked and quaked by E-weapon? Track to second half of show.
30Apr1999 03:30:16.4 43.2N 22.0E 10 ML=4.9 M*SED NORTHWESTERN BALKAN REGION0905
30Apr1999 03:30:44.2 43.7N 20.6E 10 ML=5.2 M*LED NORTHWESTERN BALKAN REGION0747
30Apr1999 03:30:47.2 44.1N 19.4E 63 mb=4.8 M*EMS NORTHWESTERN BALKAN REGION0645
30Apr1999 03:30:49.6 44.9N 21.2E 33 MS=4.5 M*GSR NORTHWESTERN BALKAN REGION0459
30Apr1999 03:30:31.0 46.0N 20.6E 0 mb=4.9 M*MAD HUNGARY 0414
30Apr1999 03:31:04.8 45.3N 17.4E 0 ML=5.0 A*BGR NORTHWESTERN BALKAN REGION0350
30Apr1999 03:30:20.0 42.0N 22.0E 33 mb=5.0 A*YKA BULGARIA 0345
30Apr1999 03:30:13.8 45.0N 22.5E 10 ML=5.0 A*ING ROMANIA 0341
30Apr1999 03:31:54.1 45.8N 12.5E 10 ML=4.1 A*SED NORTHERN ITALY BadLoc0337
30Apr1999 07:41:02.0 43.1N 20.9E 10 ML=3.8 M*LED NORTHWESTERN BALKAN REGION0824
30Apr1999 07:40:30.0 39.0N 20.0E 33 mb=4.1 A*YKA GREECE-ALBANIA BORDER REGI0755
ULTIMATE WHAT THE HECK: DARK MATTER
Nostradamus

Quatrain III.34

C/1999 H1 (Lee)

When the eclipse of the Sun will then be,

In broad daylight the monster will be seen

Everyone will differ on the interpretation,

High price unguarded: none will have prepared.

Orbital elements and an ephemeris published in MPEC H06 and IAUC 7147 (both 4/19/99) indicate that this is a long period comet with a perihelion date of July 11.4 at a distance of 0.71 AU. Unfortunately, the comet will be on the other side of the Sun and solar conjunction (thus, not visible) around perihelion. The comet will move rapidly north in May and it will brighten to m1=7.0-7.5 before being lost in solar glare. The comet should be visible from both hemispheres in the evening sky by mid-May. (Currently, the comet is only visible from the Southern Hemisphere.) After perihelion, the comet will emerge from the solar glare in mid-August at m1~7.5-8.0 to become a Northern Hemisphere circumpolar object in September (dec reaching nearly +60). The comet will slowly fade.

BEHOLD WEBSITE (NOW BEHELD): REAP THE WHIRLWIND IN REVERSE SCREECH

VEGETATION ON THE MOON?
| | |
| --- | --- |
| HAIL TO THE SEEKER: PROCEED | |