| | |
| --- | --- |
| AVID WATCH: | |
| | |
Century II-15

Shortly before the monarch is assassinated,

Castor and Pollux in the ship, bearded star:

The public treasure emptied by land and sea,

Pisa, Asti, Ferrara, Turin land under interdict.

Century IV-67

The year that Saturn and Mars are equal fiery,

The air very dry parched long meteor:

Through secret fires a great place blazing from burning heat,

Little rain, warm wind, wars, incursions.

You are dreaming a bad dream, time to re-dream it! Lame Deer

TRAGEDY: AMERICAN ROYALTY

Shortly before the monarch is assassinated,

Castor and Pollux in the ship, bearded star:
MONARCH: One that holds preeminent position or power.
7/17/99: A small plane carrying John F Kennedy Junior - son of the assassinated US president - has gone missing off the east coast of the United States. The single-engine plane took off from New Jersey for Martha's Vineyard in Massachusetts on Friday, but never arrived. The US Coast Guard has launched a search after picking up a signal from an emergency beacon in the sea off the eastern tip of Long Island, along Mr Kennedy's presumed flight path. The beacon emits signals when it encounters a G-force, possibly from hitting the water or from crashing, or when set off manually as a distress signal. The plane was also said to be carrying Mr Kennedy's wife Carolyn and her sister, as well as a flying instructor.

Skolknick on Sightings

8:05 AM EDT 072199 CBS News is reporting JFK.Jr's body has been found in the largely intact fusilage, three miles offshore of Gay's Head in 100 feet of water. Body will not be buried at Arlington.
July 22, 1999 -- Updated 7:50 a.m. EDT, 1150 GMT: The cremated remains of John F. Kennedy Jr. are to be scattered in the waters off Martha's Vineyard at 9 a.m. Thursday in a ceremony attended by members of his family on the destroyer USS Briscoe, senior government officials told CNN.

A reporter for the Vineyard Gazette newspaper told WCVB-TV in Boston that he was out walking Friday night about the time of the crash and saw "big white flash in the sky" off Philbin Beach. (NOTE: Looks like story has been pulled by Virtual News).

AQUINNAH - The registration papers to the airplane piloted by John F. Kennedy Jr. washed up, soggy but intact, on the very beachfront property he owned.

Don't forget this bizarre story: WASHINGTON (AP) - A bronze casket used to carry President Kennedy's body from Dallas to Washington is in a watery grave - 9,000 feet down in the Atlantic Ocean, according to assassination documents.

Robert Kennedy and UFOs

BIZARRE PRESENTATION: KING-KILL/33°
SLEUTHS NEEDED: For years I've heard a legend about ol' Black Joe Kennedy, an Irish witch and a curse. Anybody else?

BIG BANG MACHINE COULD DESTROY EARTH
Have the so-called "rational sciences" finally gone completely bonkers?
A NUCLEAR accelerator designed to replicate the Big Bang is under investigation by international physicists because of fears that it might cause "perturbations of the universe" that could destroy the Earth. One theory even suggests that it could create a black hole.
Brookhaven National Laboratories (BNL), one of the American government's foremost research bodies, has spent eight years building its Relativistic Heavy Ion Collider (RHIC) on Long Island in New York state. A successful test-firing was held on Friday [16th] and the first nuclear collisions will take place in the autumn, building up to full power around the time of the millennium.
| | |
| --- | --- |
| | Subj: Brookhaven, Date: 7/18/99 We detected some very unusual signals on Friday for a duration of 100 minutes. The time period was from 10:42 AM until 12:22PM EST. The signal had a base frequency of .480hz with a time period of 2.084 seconds. This is the first recorded signal of this kind by us and it may be significant due to the activity at Brookhaven. I am enclosing a photo for your inspection and comments. Charlie Plyler Elfrad Group http://www.elfrad.com . . larger graph |
Statement from BNL Director on Consequences of Relativistic Heavy Ion Collider (RHIC) Operations

This letter refers to the Department of Energy's (DOE) evaluation of a number of incidents that occurred throughout 1998 at the Brookhaven National Laboratory (BNL) revealing deficiencies in radiological protection and work process controls. The deficiencies involved the following: (1) apparent intentional violations of radiation protection requirements related to activities at the High Flux Beam Reactor (HFBR), (2) failure to maintain proper access controls at the Alternating Gradient Synchrotron (AGS) accelerator resulting in a person being left inside the AGS ring, and (3) the bypassing of a safety interlock during operation of the linear electron accelerator.

Department of Energy Seeks Public Comment On Brookhaven Lab Contaminated Soils Reports


DAMAGE CONTROL: NOT THE END OF THE WORLD, BUT A STRANGE CLUE

RHIC takes atoms of gold and swings them around two 3.8 kilometre (2.4 mile) circular tubes where powerful magnets accelerate them to almost the speed of light.
When they collide, they do so in minute collisions that are 10,000 times hotter than the Sun.
Scientists hope to create a quark-gluon plasma, a fundamental state of matter that probably has not existed naturally in the Universe since the Big Bang.
The most detailed study of an asteroid shows that it contains precious metals worth at least $20,000bn. The data were collected last December by the Near Earth Asteroid Rendezvous (Near) spacecraft which passed close to the asteroid Eros.

Sitchen was likely correct in interpreting the original need of the Annunaki ET's for Gold. He said it was a repair material for deteriorating atmosphere on home planet.

Have the elites seen Zeus? What's going on here? Business: The Economy: Gold sales to help poor.
Sleuths wanted, topic, Quatrain: The public treasure emptied by land and sea...
EMAIL, 7/22/99 1:09:37 PM Pacific Daylight Time: I was thinking that perhaps JFK Jr. himself was the public treasure, kinda like the "Jewel of the Nile" in the movie. He was attempting to land near the sea, perhaps his plane was taken out by something land based.
ARE THE COFFERS BARE, OR UPDATE FROM LAND OF OZ AND THE GOLD BRICK ROAD

Just got back from my lengthy international investigation into some mighty strange goings on in the Land of Oz and the Gold Brick Road. I am now here to tell you the shocking events uncovered in my investigation.

by Christine Hess

For Sleuths: DOE Openness: Human Radiation Experiments, try keyword, "Brookhaven" in HREX search.
FLASH RADAR: JFK DISCREPANCIES AND MISSING FRAMES


ALSO HERE'S A FRAME FROM EARLY THE 16TH --AS I WAS TRYIN OUT THIS NEW SERVER--MAYBE THEY FIRED IT [RHIC] MORE THAN ONCE --YA KNOW--LIKE KIDS WITH NEW TOY . . FLASH
EDITOR'S NOTE: Try plotting the radar graphs at NIDS . Other NEXRAD archives
EMAIL, 7/21/99 9:52:54 PM: If you look at the anomalous radar ring readings in stop motion you'll see they do not emanate from any one particular point. Rig the settings so they do a 2 hour loop from 0300Z to 0500Z early Friday morning, and play them frame by frame. They are not concentric around the radar station on Long Island, they seem to have multiple points of emanation. At 3:56:17 and especially at 4:54:42 they seem to be concentric around two different areas 1) Central New Jersey and 2) somewhere near Poughkeepsie. At 4:43:00 they seem to be concentric around central Connecticut or Delaware. Here's the URL for setup

EDITOR: Worried about saving the spotted owl? How about opening a white hole in Chicago, summoning primordial energy, and blasting a supernova to zap everything eighty light years out?

EMAIL, 7/20/99 10:35:27 PM Pacific Daylight Time: I think of an article that pointed out Conrad's new venture was concerned with privatizing launch capabilities. He was also expected to live, though died at the hospital. Though I can not find the article now here's an excerpt and an URL from another article. continued


Pisa, Asti, Ferrara, Turin land under interdict.
SEE: MATTER=MYTH C-SQUARED
EMAIL, 7/30/99 9:36:41 PM: So, I was listening to the NPR today; Science Friday was about asteroids, namely the Turino scale - so named for Turin, Italy - (I think you know where I'm going with this) for determining probability/damage of an impact. I'm sure any upcoming, shall we say, event involving a foreign body would have the (albeit obvious) consequence of 'revising' Turin's most recent namesake. Extraordinary things, and soon.

READER'S TIP: WILLIAM HENRY
William Henry is an antiquities researcher and in my opinion he has information that your readers need in order to WISELY choose their vision of our past, present and future. I have noticed, over the years, that CHANGE is mostly resisted by us humans. Perhaps, besides the memories in our genes of catastrophe, etc., due to our long history on this planet as playthings of the Annanaki and others, there exists a VAST, seemingly all-encompassing INCULCATED mindset that has been subliminally embedded in our culture by the so-called Elite.

INTRUDER AT SOL
Appearing C2: 7/17/99 2:30 UTC (another enhancement by UFOTEC)

FOLLOWING, MASSIVE STREAKS NEAR SOL
(STARCHART: Although Mercury is on its way, no planets yet in SOHO field of view)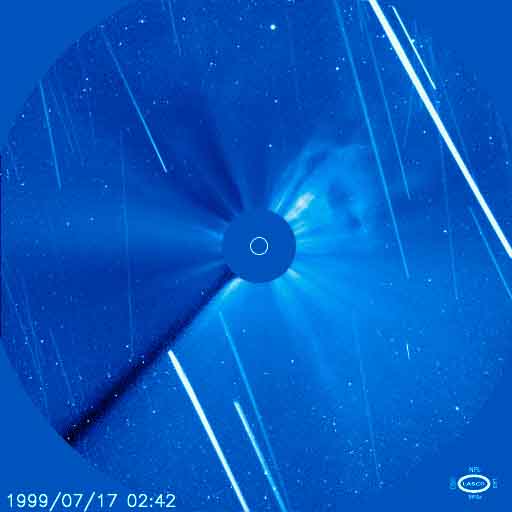 | | |
| --- | --- |
| Appearing C3: 7/17/99 17:18 UTC | Appearing C3: 7/17/99 17:42 UTC |
| | |
| | |
| --- | --- |
| | COMET LEE |

NEW COMET 1999 N2
| | |
| --- | --- |
| | On July 13th, Australian amateur Daniel W. Lynn of Kinglake West, Victoria, discovered an 8th-magnitude comet moving rapidly northeast through the constellation Hydra. He was using 10 x 50 binoculars. The comet is very low in the western evening sky and most readily visible from the Southern Hemisphere, but it seems likely that it will become better placed for Northern Hemisphere observers during the next week or so. The discovery was confirmed by V. F. de Assis Neto in Brazil and also by F. B. Zoltowski in Australia. Orbit of Comet 1999 N2 |

SO THERE WAS A SATELLITE ORBITING HALE BOPP
FIREBALL OVER ROME

Reuters Mon Jul 19, 1999 -- Romans deluged emergency services with calls after spotting a luminous flying object, most probably a meteorite, in the sky in the early hours of Monday. Police said the callers reported seeing a ``fireball'' or a ``luminous trail moving at low speed across the sky'' over Rome. Many Romans, several hundreds according to Italian media, rushed to phone the police and fire services at about 3 a.m. (9 p.m. EDT Sunday) to report the sighting. Astrophysicist Margherita Hack said in an interview with RAI state television that the object was a big meteorite.


THE HOURGLASS NEBULA: WHAT ARE WE SEEING THAT SEES THE SEER?


THE MOTHER OF ALL CROP CIRCLES


Ex-NASA Worker Says Space Agency Knows About UFOs
MICHELLE GUERIN

JOHN QUINN'S NEW MONTAUK REPORT:

| | |
| --- | --- |
| HAIL TO THE SEEKER: PROCEED | |