In the Summer of 1054 A.D. Chinese astronomers reported that a star in the constellation of Taurus suddenly became as bright as the full Moon. Fading slowly, it remained visible for over a year. It is now understood that a spectacular supernova explosion - the detonation of a massive star whose remains are now visible as the Crab Nebula- was responsible for the apparition.
Explanation: On August 27th an intense flash of X-rays and gamma-rays swept through our Solar System. Five spacecraft of the Third InterPlanetary gamma-ray burst Network, Ulysses, WIND, RXTE, NEAR, and BeppoSAX, recorded the high energy signal -- a signal so strong that it saturated detectors on WIND and RXTE and triggered the safety mode automatic shut-off of the NEAR gamma-ray instrument! As plotted here, the count rate for the Ulysses detector abruptly spiked to a high level and then slowly tailed off showing smaller peaks roughly every 5 seconds. The signal and location provided by these spacecraft observations leads researchers to identify the source as a dramatic flare-up from one of only four previously known "Soft Gamma Repeaters" . These exotic sources of gamma-rays are believed to be highly magnetized spinning neutron stars called Magnetars. Imaginatively cataloged as SGR 1900+14, this magnetar is estimated to have been born in a supernova explosion about 1,500 years ago and to have a magnetic field 500,000,000,000,000 times stronger than Earth's.

REFERENCE: Magnetic Storm Occurring 08/25/98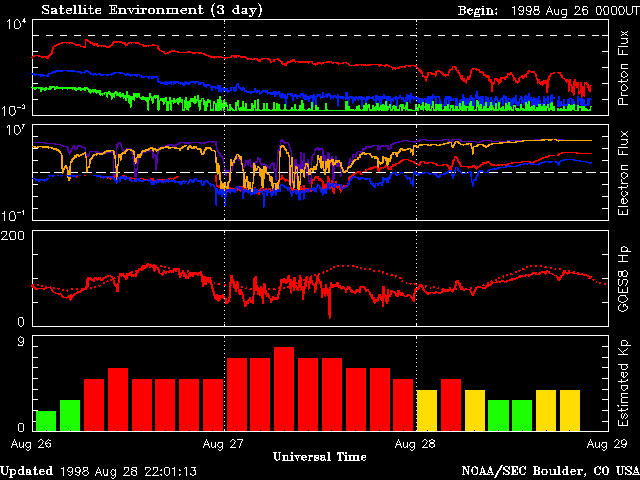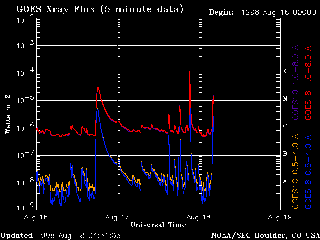 LARGER XRAY FLUX ANIMATION


AWESOME AURORA

RADIO ASTRONOMY ON 27, AUGUST:
Spikes in the signal?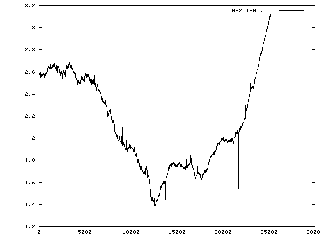 DATA SOURCE: comments = Looking for CTB 49 [Caltech B list, SNR, supernova remnant?] again.

ARCHIVES: SIGNAL FROM CYGNUS, THE SWAN

SIGNALS DEEP WITHIN THE EARTH
| | |
| --- | --- |
| | EARTH PULSE |
ELFRAD GROUP: For the past few weeks we have been recording some interesting signals on Sunday mornings which we have intercepted traveling through the earth. This may be of high importance as the frequencies concerned are in the ELF range from 1hz to 20hz. These transmissions consist of quick bursts which only last from 2 to 4 seconds and appear to be spread spectrum or swept quickly through the range mentioned.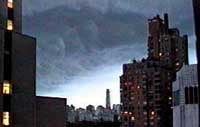 AN ELF-COINCIDENCE? . LABOR DAY STORM DEMONIZES NEW YORK!
Some of the people caught in the storms, which in some areas included rapid-fire lightning and balls of hail, said they had seldom witnessed anything like it. more
UPDATE: ELF DATA CORRESPONDING TO NY LABOR DAY STORM
The ELF bursts continued over in the the early morning hours of Labor day, the time period between them slowing down and coming to a stop around 6 am local time in New York. more
STORM PICS FROM SYRACUSE, NY


MIR CREW COMES HOME PERHAPS JUST IN TIME. A COINCIDENCE?
Tuesday: August 25, 1998
Mir crew returns to earth: Cosmonauts Talgat Musabayev, Nikolai Budarin and Yuri Baturin, a former aide to Russian President Boris Yeltsin returned to Earth this morning from Russia's Mir space station. Musabayev and Budarin had spent nearly seven months aboard the orbiting space outpost.