| | |
| --- | --- |
| Saturn | Jupiter |
| | |

Mercury

ORBIT

SOLAR LANCE

FLARE ALERT, MAGNETIC ALERT

PROMENADE OF THE WORLDS
JUPITER CENTER, SATURN ENTERS STAGE LEFT, MERCURY ENTERS STAGE RIGHT

EARTH MOVEMENTS
00/05/04 04:21:17 0.90S 123.40E 33.0 7.3Ms A MINAHASSA PENINSULA, SULAWESI
[world's largest] Yellowstone Geyser Erupts

SOLAR IMPACT ALERT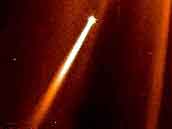 Watching something BIG going into or towards sun at position 7:00 o'clock, inner corona. Yet to impact or flyby. Not sure what I am seeing yet. Need other eyes!.
EDITOR: On C3 looks like torpedo tunneled through a plasma vortex. STARGATE?
SLEUTHS: Having weird thoughts, probably from being up all night: where are the Cassini and Galileo plutonium-powered spacecraft? Some tinhorn madman wouldn't be attempting solar engineering...jumpstart, attack a star? Naw... this projectile a giant, unless of course it is a plasma entity, no CCD spikes... rambling in my head here...thing is seen possible Sol attacks this week, ie, Ervin, hard to know what or whom is going on.
4/29/00 11:32:07 AM Pacific Daylight Time
Here is an interesting page with info regarding the Galileo spacecraft. Will search for more on this and Cassini.
4/29/00 11:38:19 AM Pacific Daylight Time
Here is the simulation of the present location of the Cassini spacecraft. I don't think the anomaly is either Galileo or Cassini. What do you think?
4/30/00 4:38:37 AM Pacific Daylight Time
Do a search on CNN archive area for Cassini and Galileo. Scroll down on articles to find mention that in May they may end the mission of Cassini or Galileo (can't remember which), by crashing it into Jupiter or Io. Not Europa - because their might be life there.

MARCIA PETERS: WATCH AND COMMENTARY
4/29/00 1:56:30 PM Pacific Daylight Time
marcia: (4:49 PM) Well I'm getting that it moved 1.6 cm on my screen in 72 minutes, therefore 22 mm per minute. It has about 11 cm to go and at this rate it will take 495 min. = 8.25 hrs. does that sound right? Math is not my strong subject. 20:06 GMT + 8.25 = 05:06 tomorrow, 4/30. Oh no, not another all-nighter for you!
marcia: (4:52 PM) Current trajectory projects missing the sun by <.5 Sol diameter on the right side - but probably gravity will pull it in anyhow.
IMPACT, SPLASH OR FLYBY?
EDITOR: apparent impact splash in 98 took about 12 hrs after line of sight impact, it may not be on the surface yet, and then may not be visible splash for several hours--vast distances out there for event to become visible. On the other hand we might have a flyby or even a CAPTURE by the sun. New planet?
AT KEY MOMENT THE SECRET-GOV WRAITHS YANK THE FILES
NOTE: We are hampered by missing data both before and after the appearance of the "torpedo."
BEFORE:
NASA Missing C3 Files: 20000428_2142; MISSING FILES; 20000429_0418
AFTER:
20000430_0654; MISSING FILES; 20000430_1054
AFTERMATH: FILES MISSING BUT EVIDENCE OF DISTURBANCE LOOM: Hah, NASA, can't fool us! What we don't know yet is whether we are seeing dust cloud from disturbance during missing data period or the big blow is yet to happen. KEEP IN MIND that it takes awhile after torpedo disappears from SOHO visual field for things to happen. THINK VOLCANO.
4/30/00 00:54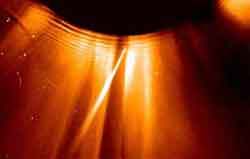 EVIDENCE OF DISTURBANCE
AFTERMATH PLASMA "DUST CLOUD" C3MPEG MISSING DATA EIT 304
AFTERMATH: KEEP WATCHING!

MISSING FILES

NASA NOTES: 2000/04/30, 02:30 UT S Pole Rough LE event. CME seen after SOHO-111 disappears behind C2 occulting disk (???) A very faint partial HALO event is seen from PA 60 - 270 degrees. Considered BACKSIDED.

2000/05/03, 02:06 UT HALO 360 degree event started during event at 00:50 UT. Ribs/Waves seen in Corona emission. Determined BACKSIDED!!! C2 HALO MPG Runing Difference

C3 4/30/00 16:18
BREAKTHROUGH ON LOST IMAGES
Subj: sun-torpedo
Date: 4/30/00 11:54:51 AM Pacific Daylight Time
From: H.Isenberg@ping.de (Holger Isenberg)
To: bardsquill@aol.com (Kent Steadman)
I have captured all live C2-images tonight: http://mars-news.de/sun/2000-04-30/

There are images missing between UT 6:54 10:54 by NASA! Around 6:50 they switched the color-filters from orange to red! Don't know if this happened computer-controlled by the satellite or has to by manually commanded.

The filenames are automatically generated by the script, they are local time (UT+2).

EDITOR: Compare 4/30/00 2:30 just as tail disappears with 4/30/00 03:00 and 4/30/00 03:04
IMPORTANT INPUT FROM COLONEL ERVIN

This C3 capture appears to contain, what could loosely be described as a disabled craft, or perhaps even a solar torpedo.
Date: 4/30/00 5:56:28 PM Pacific Daylight Time
Dear Doug, Kent,
I made the animation, but the file is much too large to e-mail. I have posted it here - copy and post as desired.:
http://www.trinity327.com/torpedo1.html
I saw some additional strange goings-on with this object, and decided to capture the entire sequence of LASCO C3 images - before, during, and after, the event.
What unfolds is very unusual. There are 6 hours missing C3 images before the torpedo appears for the first time. Then it moves towards the Sun, and impacts it. Then 6 more missing hours, during which the torpedo may have caused a massive explosion on the Sun. When the C3's resume roughly 6 hours later, there is the tail end of a large explosion in the area where the torpedo impacted.
The file is big, but I wanted to get the entire footage (as possible) from beginning to end.
Best regards,

SOLAR FORMING?
5/1/00 1:18:37 AM Pacific Daylight Time (Croatia)
It is possible that, by torpedo launchings, somebody is activating CMEs artificially in order to impede the possibility of their propagation in our direction and to diminish their magnitude.
5/2/00 11:12:00 AM Pacific Daylight Time

In November 1995 (I think is was the 18th or 19th), I had a vision that astounded me...I was floating in space just outside of our solar system with these 'Guides' and saw 2 dark aliens pointing a device (like a ray gun of sorts) toward our sun, positioned at "7 o'clock". As they fired at our sun, the dark ones telepathically said to me that "it has begun".
5/2/00 4:43:59 PM Pacific Daylight Time

Please forward to Grateful Deb.: Your vision is very much in alignment with reality. There are experiments being played out as we speak, by "Reptilian Races" disguised as "humans" in scientific positions building high tech space vehicles. In 1997 a specific company based in Maryland compiled a program to shoot a nuclear warheads into the sun.
5/2/00 11:48:23 PM Pacific Daylight Time
Kent my source is standing right here and has seen as well as first hand knowledge that Lockheed Martin (Martian!!) in 1997 implemented a special project that is currently being played out. This person is a former employee of LM and has also seen similar documents while working at an airforce base that can not be disclosed at this time for reasons of personal safety. We have been following your site for some time now and must commend you on a job well done. Many of the things said on your site are very profound and we are sure that you are being guided in your quest for the truth. We would be glad to share information as it becomes available.

BBS 4/30/00 5:09

...anyway, as I am looking at the helicopter it begins to pass near the sun and I see what was a HUGE ring around the sun that filled almost 1/5 of the sky! It looked just like the CHEM-BOWS ..[in hue and color] but there were only white fluffy clouds mixed in the blue skies at the time! WOW...never in my 48 years did I ever see such a thing!....at the late nite news one of our local news stations said they had been besieged with 100`s of phone calls about the ring around the sun...and then they explained that it was caused by ice crystals in the upper atmosphere....does anyone here have anymore knowledge on this type of thing? I don`t know, but it looked just like the chembows look on a heavy spray day!....very strange, very frightening!

MYSTERY BALL FALLS FROM THE SKY

take a moment and click the banner lower right.
| | |
| --- | --- |
| | PLEASE CLICK BANNER TO SEE SPONSORS |
| | |

IMAGINE THIS, MUCH HUBBUB OVER A C7 FLARE: A coronal mass ejection on April 30th may be Earth-directed.
.

RESCHEDULED AMBILAC SIGHTINGS! TECHNICAL PROBLEMS
Date: 5/1/00 7:28:52 PM Pacific Daylight Time
From: howardmj@yahoo.com (Howard middleton-jones)
Kent, Well I did say earlier how long before they crashed us out...looks like they hit BIG time. Jeff Rense unable to broadcast tonight, had all new systems in place a few weeks ago, all tested, and when they tried to contact Jim and I.....bang!!! Ah well. Something BIG going down later this week I reckon.
Howard
PS..keep an eye out for big update within the hour.
5/2/00 2:45:19 AM Pacific Daylight Time
Re: Sightings show.
We have been re-scheduled for Monday, May 8th. The phone company 'cut the line' minutes prior to
show...go figure!!! Ambilac update, because of show cancel, will be tidied up today and should be up and running tonight.

PROBING THE PYRAMIDS - THE GIZA PLATEAU DECODED
EDITOR: Most rare manuscript, highly recommended! Mysteries of the Pyramid by David H.Lewis


BECOMING A FULL FLIGHT HUMAN BEING!

NOW IS THE TIME


THE LAUNCHING PLATFORM: ORBIT MANIFESTO

GO TO 4/21/00, EXERCISE ONE [RECAP]: PREFLIGHT TRAINING, THE PORTAL

GO TO 4/22/00, EXERCISE TWO: PREFLIGHT TRAINING, THE SPIRAL

GO TO 4/23/00: EXERCISE THREE: PREFLIGHT TRAINING, THE TUBE

GO TO EXERCISE FOUR: PREFLIGHT TRAINING, THE FORCE

GO TO EXERCISE FIVE: PREFLIGHT TRAINING, THE LEAP
[MORE TO COME]
Appropriate music for the voyage

EDITOR: TESLA Manuscript, highly recommended!

FLORIDA - WISCONSIN - CALIFORNIA - RINGS
BEALE AFB CALIF --NEW MEX --- NEVADA -- RINGS
EDITOR: From experience in presenting controversial and cutting-edge material, I have learned that when the sparks fly a nerve has been hit somewhere in the murky "haunted halls." As my readers know I publish diverse links and email, tossing them out to my readers for sleuth and discrimination. Here is such a reaction in Cyberspace which at first I thought to refer to an item in January, 2000, relating to an alleged "AEROSOL PILOT." However, upon further probe this item leads to an email I published in May, 1999, CHEMTRAILS: MYSTERIOUS EMAIL. Hoax they hiss! What? Publishing an email? Perhaps this is good fortune in that we get a chance to glance again at what might be "sensitive material." Take a look! SLEUTHS, see what you can find: what are the real scenarios involved? Why the din? As far as publishing sleuth-findings I will retain all party's anonymity. With more investigation perhaps the seedy scene of CHEMTRAIL SPRAYING can be brought into clearer focus.
So they are trying to dissolve something. We can assume that it is a solid. We might even assume it is Barium Titanate!


Speaking of Birdies Warfare Chemicals being Tested


Radar Rings and "Wands Of Horus"
It seems to be common knowledge in Russia that "energy" shows up in Radar:

"Using radar installations working in the centimetre band located at distances of 60, 32 and 30 kilometres from the 22-metre pyramid situated at the village of Khitino near Ostashkov (between Moscow and Novgorod) a radar scan was made of the space around the vertical axis of the pyramid.The study revealed the presence of a column-like energy structure up to2000 metres in height and 500 metres in width following the vertical axis of the pyramid. The height of the column was constantly varying between800 and 2000 metres." The Wands of horus, Appendix10
4/28/00 19:15: Plasma dots GOES radar, blue-enhanced
In what must be a historic first, a high official of the Vatican and a Hebrew scholar discussed the issue of Extraterrestrials and the Creation of Man, and though different from each other in upbringing, background, religion and methodology, nevertheless arrived at common conclusions:
* Yes, Extraterrestrials can and do exist on other planets
* Yes, they can be more advanced than us
* Yes, materially, Man could have been fashioned from a pre-existing sentient being.
Time: 2000-05-03 16:24:49
Comments: I received this photo from a contact of a contact from a group in Canada. Apparently it was taken inside a hidden chamber in the pyramid. The statue is polished green basalt with gold. I am looking for any confirmation about this photo. If you know Dr. Hurtak perhaps he will know its origin. Please post confirmation at your web or somewhere as I remain hidden for obvious reasons.

ANOMALOUS IMAGES, MARS:a computer-generated image of Elysium Mons to the west, based on the 0.5 degree MOLA data.

LUCAS: Mars & Giza - Another Similar Structure?

MARCIA PETERS: VILLAGE ON VENUS

Dear Readers: those following my site for many years have realized my struggle to stay afloat. I am one ol' coot that spends most of my life in quest and to publish the results to the net. The more this effort has escalated the more costly it has become. Many have helped with patronage by mail. My latest bread and butter approach relates to the banners you see on my pages. Please click a banner each time you visit ORBIT: not much to ask and it really does clink a coin in the hat. Direct patronage like the good ol days is still a most welcome option, not to mention it makes my heart soar. Thanks, Kent
OPTION: help ORBIT by regular mail

Kent Steadman
425 South 156th Street
#119A
Seattle, WA 98148
Most important for ORBIT longevity that you check here before you go on.
| | |
| --- | --- |
| 100s of Pages | |
Or follow the arrows for chronological events
| | |
| --- | --- |
| APRIL 2 | |