.

2/27/00 DRAGONHATCH
ANIMATION
C3 MPEG
| | | |
| --- | --- | --- |
| 2/27/000 EIT 01:19 | 2/27/00 C2 01:54 | 2/27/00 C2 04:30 |
| | | |
Date: 2/26/00 3:14:28 PM Pacific Standard Time
From: hblondel@tampabay.rr.com (New Millennium)
Proton "spikes" continue to be recorded at the ACE craft, some of which are topping off the high end of the charts...
2/28/00 22:18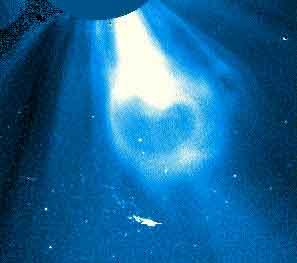 CONVERSATIONS WITH A TIME TRAVELER

IN 1992 I WAS IN A VILLAGE IN ENGLAND (MILITARY INTELLIGENCE FROM EVERYWHERE). THIS VILLAGE LEFT THE PLANET EARTH. TIME TRAVEL DID THAT.
EDITOR: where are the corpses, Flight 261, Flight 990? Perhaps the above triggers clues, then read below. I think it is important to seek knowledge, but watch our backsides in the process; otherwise we might, like the Wondervogel, the German beatniks, be tra-la-trancing in the meadows while Mr. brush-moustache rounds up all the bikers and takes over downtown Sedona.
| | |
| --- | --- |
| | FLIGHT 261 CONNECTIONS |


2/28/00 CA


A near-Mars comet?
EMAIL, 2/28/00 6:42:08 PM Pacific Standard Time
I can't take credit for finding this, but I did check it out at the Astroarts site and am trying to find verification for the accuracy of the Astroarts program. Any thoughts or sources to check it out?
If you zoom in on the solar system and look at all angles of the orbits about June 6, 2000, it appears that Comet 76P/West-Kahoutek-Ikemura either impacts with or grazes extremely close to Mars. Check it out and see what you think.

| | |
| --- | --- |
| PAGE 3 | |