Radioheliograph of Sun

Subsequent LASCO C2

12/9/02 00:06

12/9/02 00:30

Subsequent regular cadence in the electron flux [Animation]

Date: 12/12/02 5:54:06 AM Pacific Standard Time

Hi Kent, Take a look at the repeating patterns. It's not just electron flux that is developing a pattern, the K Index is as well. This is pretty weird..

Date: 12/8/02 6:43:10 PM Pacific Standard Time

| | |
| --- | --- |
| | Southern Hemisphere Solar Eclipse Hi, I came accross the attached photo in the local paper (hope it's readable) of the eclipse of 12/5/02, but I can't seem to find similar photos anywhere. Perhaps you will have better luck. Anyway, in the center photo of the totality you can see several small glowing objects just below the corona of the sun: they look to me to be in orbit near the sun, not just film flaws. Let me know if you can find a better link to this photo. Forum |
| | Eclipse brings claim of medieval African observatory Viewers of the total solar eclipse in Southern Africa early on Wednesday have also had their eyes opened by second startling event - newly released evidence that a medieval African site was an astronomical observatory. |
WOW! SOL STATION SE COMES ALIVE LIKE A HORNET'S NEST [Forum]

SUPERWAVES


SUPERWAVES & EARTH

SUNCRUISER DEMO

SUNSPAWN Have we seen the outright birth of a new comet or planetary like object? Or, is the object some sort of matter made up of plasma-electrical energy? Either way - the object is pretty big.

Matrix theory: The solar system is engineered, ordered, implications of design or manipulation!
EDITOR: It all loops around, the possum swallowing his tail. The El-Dudes are not sculpting a ball o´ wax, it ain´t thingness they be kickin around. Them-thar Els are rewriting the cosmic HTML, changing the codes!

FOR MORE SOLAR GEOMETRY PLEASE GO TO ORBIT MAIN AND BEYOND
Recent Discussions, McCanney and others As the World Turns... (slower) Forum

MARS YEEHAW
Date: 12/10/02 9:50:47 AM Pacific Standard Time
Water found on Mars again, ho hum Dark Streaks on Mars Suggest Running Water Still Present
According to my physicist friend, this latest revelation of water in a frozen state around the South Pole of Mars is part of an incremental revelation program by NASA, spoon feeding the data to the poor, old benighted public whom they fear would wet their pants and raid the WalMart if the full truth were revealed all in one dose.
| | |
| --- | --- |
| REPLY: They've known water is in Mars since Mariner and much further back, Percival Lowell. Hard for me to determine what's going on, but it seems that the real panic is not on the streets but with your friend's starchy peers. When I busted loose with Lake Steadman got a real flood of old astro-farts in deep bluster and protest. These were insiders! Wasn't until a young fuzzy-faced member of the Surveyor team [I think] really examined the raw data that much happened at all--old farts vs. young wippersnappers. You know through all this I oftimes get the catch scent of Jesuits--astro-monks with agendas. These Black Coats have their thumbs in many pies, from Hubble to Univ of Az. I don't like them much, they are still peeing their robes over Aristotle! | Zoom Latest 3D Models Cracked Mirror Theory |

FUN WITH FASCISTS
THE TEXAS TWO STEP & THE BILLIONAIRE BOYS' CLUB
SMALLPOX VACCINE RESULTS ARE IN
Total Information Awareness (TIA)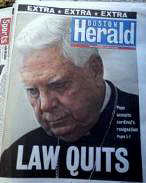 FEED RUDOPLH

THE RED-NOSED HORSE

Please Help drag the sled.
12/9/02 11:46:12 AM Pacific Standard Time
EMPTY FUEL GAUGE
KENTO >>>>>>>>>>
MATCHING GIFT PROPOSAL:
If you can find 5 to 10 patrons who will send ORBIT between $500 -$1000-- after you have received a minimum of $500 x 5 = $2500 then we will send $500 (maybe more......depends). This program begins NOW. PATRON help in the past does NOT count for this contest. We are ready. The $2500 must come from 5 patrons in $500 blocks. We are looking for 5-10 GOOD ORBIT PATRONS.
EDITOR: the above post was sent to me today from a Patron with a history of help. I appreciate the concern. The $5.00-10.00 gratis tips ARE MUCH APPRECIATED TOO! In fact if I were asked, that would be all I could muster. But if you do have means, here we are, the Steadman clan, an artist, a banquet server and a teen. We all work hard at what we do, no matter what the return. Artists have for eons depended on Patrons for survival and I do think the Artist gives back. I know I try. I realize that I am running Ads for the holidays now---the total return about 3 bucks/day, but it is bread and butter, eh? Guess I'd better shut up now, lousy businessman that I am, as usual shooting myself in the foot. --Kent
Find added info

HELP US SLEUTH
Search Engines
NAVIGATION [These pages currently continuously updated]
| | | | | |
| --- | --- | --- | --- | --- |
| | | Planet X | | |
| | The Wild Blue Yonder | | The Main Battle Front | |
| | | Xmas Store | | |

RESEARCH ANNEX Apocalyptic Database and MONitor hosted on Timehub inc

SEARCHING FOR THE MARS-EARTH CONNECTION

LAMFHADA

RealSightings