THE FOUR HORSEMEN OF THE APOCALYPSE

Blueskeyes Posted: Mon Jul 14, 2003 11:32 pm

Kent, Its amazing all the objects we are spotting around the sun lately. I found something over on your site that someone sent you. Apparently it was taken in June. Someone took a picture of the Sun and an object appeared after it was developed. Another image of Phobos? indexback83.html

6/7/2003 2:40 pm EDT

I took this picture (bottom left) thinking it was the moon in close proximity to the setting Sun, but when I downloaded the picture this afternoon, it doesn´t look anything like the moon, in fact it is very red and ominous looking.
NEWS.com.au | ET alive and on Mars: astronomers (July 15, 2003) ET alive and on Mars: astronomers: NASA found evidence of life on Mars in 1976, but dismissed the findings as impossible, two British astronomers claim.


Note: helium [visitor, Sol calving, comet debris?] [Larger] [research: Tuatha]

Nobeyama Radio Observatory

Subj: Odd Object Re; Snidley
Date: 7/14/03 12:00:34 PM Pacific Daylight Time
| | |
| --- | --- |
| | There was what appeared to be a sun grazing comet come in close to the Sun early July 14, and I believe that it was this object that caused the earlier solar flare and CME in that same area. You can see the object in this picture [Immediately above]. It is at approximately the 9 o'clock position. The movie is nice to watch as well -- very interesting object movement. The object first appears at approximately 01:00 UT, and continues to come more into view by 06:30 UT, when the last picture was made by the Nobeyama Radio Observatory. At one point in the movie you can see an exchance of activity between the object and the region on the Sun. |
http://solar.nro.nao.ac.jp/norh/html/10min/realtime.html
EDITOR: the way the object is just suspended in position and a hydrogen signature puzzles me, comet, old comet-debris, sun-calf or other.
SPIKE ON EIT [Larger]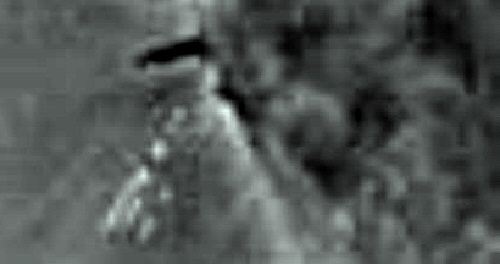 Subject: New 'Structure' on Sol
[Immediate-above]
Date: Sun, 13 Jul 2003 22:35:24 -0400
Hey, Kent-Not sure if you already have seen this, but it is worth reporting. There is a dark, finger-like projection in the solar plasma that originates at the base of Sol Station 2. It is there through many hours of images, and appears to rotate into view.
SOLAR RESOURCES
SOHO Japan Austria Global H-ALPHA Network GOES 12 NOAA/SEC Mt Wilson Big Bear Mauna Loa Kitt Peak Digital Library San Fernando Observatory Austrialian Space Weather site Ground based solar observatories Nobeyama Radio Observatory TRACE
New Counterpart to SOHO? The Air Force Research Laboratory (AFRL)
Are galaxies full of gas space's missing link?
Meet Methuselah Most ancient planet known suggests extraordinary possibilities
Incoming planet, coming from the south, mentioned on N Zealand tv
Valery Uvarov, of Russia´s National Security Academy

ERUPTION OF MEGA-VOLCANO: IS IT PART OF FUTURE EVENTS FORESEEN BY VISIONARIES?

METEORITE IMPACTS IN WASHINGTON STATE [[BREAKING NEWS]]



THE SECRET UNDERGROUND PASSAGEWAY OF THE ARK OF THE COVENANT
Brazilian explorer and social activist Sydney Possuelo believes his country's uncontacted Indians should remain isolated. Why, then, is he risking his life to find them?

THANK YOU PATRONS!

PATRONS

SNAILMAIL HELP: Kent Steadman, 425 S. 156th Sreet, #119A, Seattle, Wa, 98148

UPDATE: on July12-13 noble Patrons sent or pledged enough funds to meet July expenses and to afford us all to continue in quest! We are all very grateful for this generosity from wonderful people who have the will to support this effort. In long tradition artists-creatives need Patrons to survive. Through assistance to the honest seekers Patrons give heart to the whole culture.

My ORBIT CD which I give away for gratis tips is now way outdated. I intend to upgrade soon when I can squeeze out time; it is a huge undertaking--maybe by September.


Elaine's Mighty GLP Open Forum Kent's Korner at the Shift Hits the Fan Forum Full Disclosure

| | | | | |
| --- | --- | --- | --- | --- |
| | | Planet X | | |
| | The Ancients | | | |
| | | Index | | |