Subj:
ADDITIONAL ANALYSIS
Date:
11/2/01 12:10:27 AM Pacific Standard Time


Well you cannot expect standard Commercial Airline Pilots to know about (CLASSIFIED). OPS BLACKSTAR is Highly Compartmented, Secret Fire-Command & Control Platform System that flies out of Holloman AFB NM./FT. Huachuca, AZ (BLACKBAG OPS). Combine BLACKSTAR (Pilotless) and Thiokol's Corps. Portal Transport Systems (illegally downloaded by Wen Ho Lee, at Los Alamos), and You can control ANY AIRCRAFT THAT IS FBW. Remember that OPS BLACKSTAR has broadcast dissemination capabilities to 100 Aircraft at one time (AWACS, ASARS, JSTARS, TENCAP, TROJAN SPIRIT, GUARDRAIL-CS, UAV's, SIGINT, TEAMMATE, TRACKWOLF, REMBASS, HUMINT, CI IMINT, MASINT, TECHINT, JTF, ARF-OR, ACE, JIC, ACT) for an effective INTELLIGENCE BOS. I have personally SEEN, OPS BLACKSTAR in operation.
[EDITOR: searched alphabet signatures above and added links]
Date: 11/14/01 10:57:11 PM Pacific Standard Time
G'evenin', Kent. I just thought you might would like to know. Tonight, on 60 minutes 2, there was a segment where the reporter went aboard one of those AWACS flying around overhead. He asked all the usual BS questions and got all the standard answers. I admit, I was so lulled by it all, I almost missed the big (I think,REALLY BIG) statement the reporter made very near the end of the segment..."The code name form their mission is "Darkstar"... See the connection? The BLACKSTAR program and an AWAC mission code named Dark star?
Sent: Wednesday, October 31, 2001 8:31 PM
Subject: OPS BLACKSTAR PHOTO'S


WHAT IS THIS BLACK OBJECT SEEN AS SECOND JET HIT THE OTHER TOWER?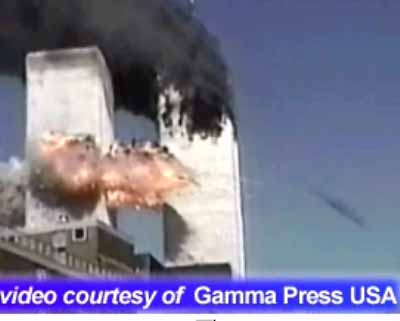 THE QUESTION IS.....WERE THESE PHOTO'S FAKED BY ELECTRONIC OR PHOTOGRAPHIC MEANS???
Date: 9/19/01 2:30:34 PM Pacific Daylight Time
Hello I took these shots from CNN right off the tape they were running on TV. I noticed how the plane kept changing shape, how the front of the plane looked different in the air all around the plane are glowing balls of light; spheres on the buildings also after the plane enters the building waiting on the other side of the building is this object hovering in the sky . It is not a helicopter! REAL VIDEO
Date: 9/26/01 1:24:31 PM Pacific Daylight Time
Greetings, All: These are new, still and moving images of the WTC UFO, taken from a number of different cameras and camera angles. Scroll down to the stunning moving images near the bottom:
http://www2.justnet.ne.jp/%7Ekiti/Ufo/wtc/wtc.htm. The page is in Japanese, and I have appended a loose translation using AltaVista's Babelfish translator: http://altavista.com/r?F09 (Translation from Japanese to English).
Sent: Thursday, November 15, 2001 10:57 PM
AIRBUS: This single sentence caught my eye from this otherwise partyline article off The Sludge Repot/Report. No longer responding to pilot commands? How about responding to AWACS remote controls?
http://www.reuters.com/news_article.jhtml?type=topnews&StoryID=378870
Safety investigators said the turn occurred even as the pilots' controls were set to the right, suggesting the plane was no longer responding to pilot commands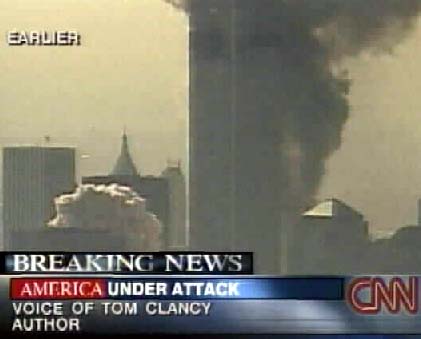 WHAT CAUSED THIS BUILDING TO EXPLODE BEFORE THE TWIN TOWERS FELL?

DESTROYED BUILDING IN QUESTION
The C.I.A.'s undercover New York station was in the 47-story building at 7 World Trade Center, one of the smaller office towers destroyed in the aftermath of the collapse of the twin towers that morning. All of the agency's employees at the site were safely evacuated soon after the hijacked planes hit the twin towers, the officials said. The intelligence agency's employees were able to watch from their office windows while the twin towers burned just before they evacuated their own building. more
Beijing produces videos glorifying terrorist attacks on 'arrogant' US
Date: 11/15/01 10:04:03 AM Pacific Standard Time
Here to the north (right of photo) is the result of the explosion in your link.
---
Additionally, sent by another emailer: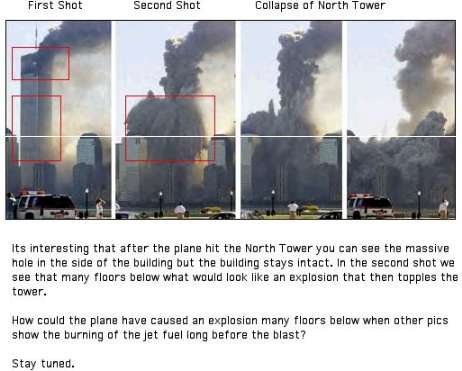 Date: 12/1/01 4:42:10 PM Pacific Standard Time
This is an EXPLOSION - PERIOD.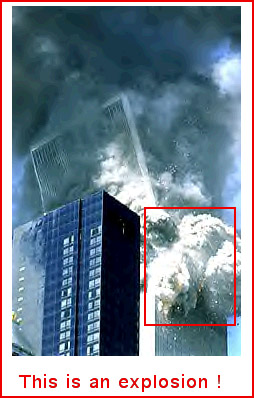 Disintegration and other wild physics experiments
the TOWER card

Date: 11/5/01 8:30:43 PM Pacific Standard Time

My husband woke me up to se the carnage in this dimension. In my semi-dreamlike state my inital reaction was that we are doing it to ourselves. The symbolism of the twin towers collapsing cannot be trivialized. To mainfest a card symbol into the thrid dimension takes anENORMOUS amount of energy-enough energy to diffuse subsequent events. Ultimately this may have been what caused the demise of flight 93, the lack of destructive energy available to complete their mission. more
Date: 11/12/01 6:44:44 PM Pacific Standard Time
Psyopsnews.com did an excellent analysis of the this issue. However, within 3 weeks the site was shut down. In a response to an inquiry by me, they stated in an email that they were now working toward peace and would no longer cover the WTC destruction. Very odd. If you can find an old screen shot of that web site it will help analyze the tower 7 destruction.
Apparently Tower 7 was just purchased 6 weeks prior to 9-11-01 with an unusual clause in the insurance policy that covered it in the event of a terrorist attack.
WINSTON: Latest On The Sept. 11th Incident
---
The extremely skillful maneuvering of the three aircraft at near mach speeds, each unerringly hitting their targets, was superb. As one Air Force officer -- a veteran of over 100 sorties over North Vietnam -- explained, "Those birds (commercial airliners) either had a crack fighter pilot in the left seat, or they were being maneuvered by remote control."
Another pilot warned that "we had better consider whether electro-magnetic pulse or radio frequency weapons were used from a command and control platform hovering over the Eastern Seaboard... I'm talkin' AWACS."
Another comment: "If there was an AWACS on station over the targeted area, did it have a Global Hawk capability? I mean, could it convert the commercial jets to robotic flying missiles?
A hotly debated question: Who would be in command of such an Airborne Warning and Control System (AWACS)? Were they Chinese -- Russians -- Saudis -- Israelis -- NATO ? All of these countries possess AWACS-type aircraft. All (except the Saudis) have the capability to utilize electro-magnetic pulsing (EMP) to knock out on-board flight controls and communications of targeted aircraft, and then, to fly them by remote control. more
| | | |
| --- | --- | --- |
| BOGIE ON CNN FEED | OVERLAY | GLOBALHAWK |
| | | |
Date: 11/18/01 5:24:31 AM Pacific Standard Time

Might interest you. Got from CNN news site on day of/after. Note second of sequence. Definite bogie in the background.

UAV
How Did United Flight 93 Crash? November 19th - The Mysterious White Jet.
WTC Victims May Have Been 'Vaporized'
Date: 11/5/01 7:53:33 PM Pacific Standard Time
An acquaintance of mine, with top classified clearance, runs a training program for special forces for the military and police professionals worldwide. On flight 93, one of their highly trained judo instructors died. He was a professional special forces warrior, yet his name is nowhere to be found on news releases. It is highly unlikely that he was there for a pleasure ride.

Date: 11/2/01 11:48:39 PM Pacific Standard Time
WTC search results: I was reading recently that the concrete had turned to dust, instead of blocks. Would an electromagnetic pulse weapon do this? Something really weird occurred esp when bodies have dematerialised. They were apparently vaporizing Iraqis in the Gulf War. SLEUTHS, more info here please? Could this have something to do with recent NYC firemen protests?
ROUND AND ROUND WE GO
BARDSQUILL: seen any analysis, molecular, of damaged construction materials at the WTC site?
coresearcher: no...you???
BARDSQUILL: nope, put Sherlock on it
coresearcher: i have read plenty about melting steel, etc...and how unlikely it is that it got that hot...
coresearcher: i think you know what i mean...
BARDSQUILL: I think those protesting firemen might be hep to something
coresearcher: yes...i'm sure that they were getting close to something, that's why they called them off...
coresearcher: like ok city...same firm is doing the clean-up...did you know that???
coresearcher: and they are a demolition company...the contract to clean up manhattan is for $8 billion... Controlled Demolition, Inc. also http://www.controlled-demolition.com/control%20demolition.html
coresearcher: also, did you know that the french paper, le figaro, that reported the cia met with bin laden in a hospital in dubai in july, is owned by the carlyle group???
BARDSQUILL: remember wild theories about OKC that concerned a starwars satellite hit on the Murrah building
coresearcher: well, there are theories about that with wtc, as you know..
BARDSQUILL: reminds me of HG Wells, Time Machine --killer satellites
NY firefighters report illness
Date: 11/5/01 3:26:00 PM Pacific Standard Time
Mr. Steadman, This story has probably not passed your attention, but just in case I thought I'd pass it on to you.
I previously read with great interest all of the theories on the fate of WTC Bldg 7. This would appear to me to be yet another piece of the puzzle.
In any case, there is definitely more than meets the eye. Perhaps this discussion can be re-ignited?
http://www.freerepublic.com/focus/fr/563683/posts?page=15
http://www.freerepublic.com/focus/fr/563683/posts?page=15
NEW YORK — A secret office operated by the CIA was destroyed in the terrorist attacks on the World Trade Center, seriously disrupting intelligence operations.
A WILD LEAP
MATHEW 911 http://www.global-light-network.com/Matthew%20-%20911.htm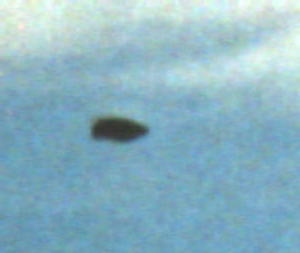 PHANTOM GHOST TRIANGULAR CRAFT
The World Trade Center Demolition and the So-Called War on Terrorism