| | |
| --- | --- |
| | Madonna CME |
scientists monitoring the solar blast have detected changes in its magnetic field that could cause trouble over the next few days.
9/15 12:15 PST IS THE EVENT ABOUT TO BEGIN?: comment added at 06:05 UTC on September 15: A solar wind shock was observed at ACE at 04:05 UTC. The interplanetary magnetic field has since then been northwards and only a modest increase in geomagnetic activity has occurred so far. Should the IMF swing southwards active to major storm conditions may occur.
EDITOR: 9/16 Looks like the plasma went north, thus weakening the effect of the storm. Shields up? See AMBILAC
EDITOR: Brace yourselves for this next reality blast. Think we have a Starman at work here, good, eh:
SHOO: 9/14 The planet has many different systems that are built into it we just got to figure out what all of them are and how to operate them..."
| | |
| --- | --- |
| | WE'LL SEE WHAT HAPPENS HERE: 9/15 Region 9165 produced a long duration M2.0 flare peaking at 05:32 UTC. Early images indicate there may have been a coronal mass ejection as well. As the region is currently near the center of the solar disk, any CME will highly likely impact Earth, and could cause active to major storming on September 17 or 18. |
Date: 9/14/00 4:07:03 PM Pacific Daylight Time
From: hblondel@tampabay.rr.com (New Millennium)
The magnetic storm watch for tomorrow, September 15th, has been upgraded to the maximum storm watch values issued by the SEC. Previously the watch was for magnetic-A indices of >30 ... The replacement watch is for indices of >50, which should they occur will represent a major to severe magnetic storm event.
This watch is in response to two impressive CMEs that were observed on the 12th that appeared to be highly geoeffective [directed at Earth.] The latest advisory from the SEC suggests that the storm will begin very early tomorrow [UTC] which actually begins this evening in the USA.
Interplanetary shock detected passing ACE at 04:02 UTC on 15 September.
Solar Shockwave Heads for Earth
9/12/00 14:12 SOURCE OF DISTURBANCE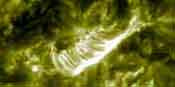 9/12/00: A large coronal mass ejection, probably a full halo CME, was observed following a very long duration M1.0 event which peaked at 12:13 UTC. The source of this event was a huge filament eruption in the southern hemisphere, stretching about 30 degrees west from region 9158 (and across the central meridian). This CME could cause a serious disturbance on September 14 or 15 as it impacts Earth, minor to severe storming is possible!
OMINOUS WELL-POSITIONED CME, WATCH PROTON LEVELS
EITMPEG EITMPEG2 C2MPEG C3MPEG TRACEMPEG

REALLY BAD TIMING: ATLANTIS ASTRONAUTS PREPARE FOR SPACEWALK
Date: 9/12/00 8:59:17 AM Pacific Daylight Time
Hi Kent, Here's an interesting image of the remnants of the CME (lower left-center) associated with the recent C & M-class flares and coincident proton event.
Liz coined the term, now universal. See her latest enhancements!
.

ELFRAD SIGNAL CAM

AURORA

ENOCH'S VISION
LIVE DATA: 9/17/99 HERE COMES A GRANDADDY SOLAR SLAM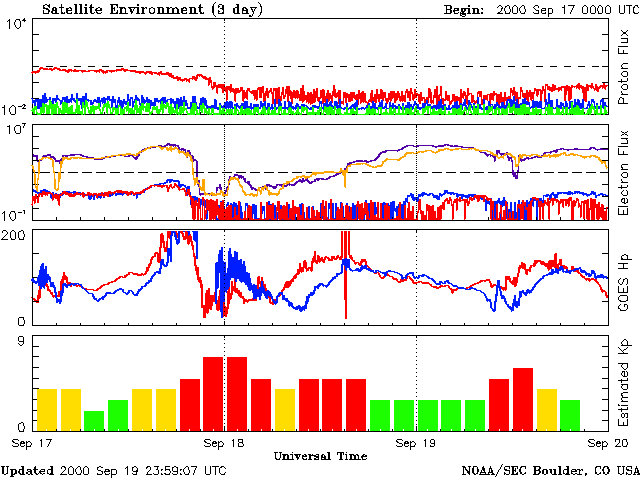 The previous moderate to strong magnetic storm [which started Sunday] tapered off last night, but as the latest disturbance begins to affect Earth, readings have already increased back into storm levels early this morning.
http://www.sec.noaa.gov/rt_plots/satenv.cgi
A new magnetic storm watch was issued for 9.21.00 for Magnetic-A indices 20. The current magnetic storm - just beginning this morning - could reach major to severe storm levels today through early tomorrow.
9/17/00 5:46:32 PM Pacific Daylight Time
Hi Kent, This latest round of flares is getting scary....see the graph from Today @ 5:30 P.M. 09.17.2000 Pacific Time.......these Speeds are NOT seen in this whole solar cycle except 1 or 2 times, that's the rarity.
STARMAN: reckon I had anything to do with reversing the magnetism in that shock [9/18] wave that petered out?
Xray Flux Proton Flux .. Electron Flux... Magnetometer .. Kp Index
Date: 9/19/00 5:58:29 AM Pacific Daylight Time

At 0806 UTC this morning, a long duration M5.1 flare was detected. The flare was coincident to several radio bursts and sweeps indicating CME activity was also occurring with the flare.
Student: Was the bomb exploded at Alamogordo during the Manhattan Project the first one to be detonated?
Dr. Oppenheimer: Well -- yes. In modern times, of course.
| | | | | |
| --- | --- | --- | --- | --- |
| Weirdweather | Triangle Aircraft | Ancient Nukes | Quest: Elves | SURF |
| | | | | |
CAN SCIENCE REALLY CHASE THE UFO?
DEBATE: The sad fact is that there ARE people out there who, rather than use scientific methods and seek out real evidence of anomalies, will fake evidence. Now, I know that there are those who would use this fact to charge that there is a government/NWO/ZOG/Reptilian/Pleadian/Burger King/G.I. Joe with the Kung Fu Grip disinformation plot.
EDITOR: Sadly science seems, in this UFO-search, to have failed us. I'm not sure that the old Newtonian reality-screen is valid in this investigation. The study of the "Fortean" is not the tract of science, best leave to the philosopher and the dreamer like...in more civilized times. Science just does not...go there well. Science is a method based on observation of stuff, if there is really stuff.
The Newtonian, the probability theorists and the quantum heads are constantly duking it out amongst themselves. So where do us peasants turn for truth? I say publish it all, hell, render it to poetry if necessary, then shrink it down to a hypothesis later.
Anymore, I'd give Aunt Maude in Kansas just as good of chance to discover the reality of ET craft as Mr. Astrophysicist, Ph.D..
I've been in the Academic world--same street game as alley-craps--no longer a knight of the Ivory Tower.
SMOKING GUN ON PULSED PLANES


MAINSTREAM PRESS: Air Crashes blamed on military pulses
Electromagnetic pulses from military craft may have been responsible for several civilian airline disasters in the past four years. If the theory is proved correct, it suggests navy ships and air force planes pose a lethal threat to passenger flights.
9/12 SNUFF IN PROGRESS :YUMA MIL/TEST/RANGE CRASH
YUMA MILITARY TEST RANGE

Alaska Airlines Flight 261

IT DEFIES ALL LOGIC

Phase Converter

Flight 990

HIGH ENERGY RING ABERDEEN SOUTH DAKOTA
SNUFF IN PROGRESS :YUMA MIL/TEST/RANGE CRASH
CALIFORNIA RADIATION RING BROOKHAVEN
NEW YORK RING AGAIN NEVADA AREA 51 AGAIN
MAINE QUAKE! MAKING SURE YA GOT THESE 2 3 4


ELFRAD ALERT
9/12/00 10:35:40 AM Pacific Daylight Time
Hello Kent, Would like to call your attention to a very unusual and strange event. The .9 hertz signal Elfrad has been monitoring for the past while has been joined by other transmissions. The regularly scheduled broadcast between 900 and 1000 hrs UT has some companions. The first signal burst started at 822 UT for a duration of 30 minutes. Then the regular daily signal began at 940UT for a duration of 57 minutes. At 1208 UT another transmission began with a larger amount of power. All three events were of the same frequency however each one had different amplitudes. Am unable to determine if originating from same location. Will update you in the event of further anomalies. Charlie Elfrad Group

Lunar Signal

Lunar Signal 2

Elfrad

Update

WEIRD STREAKS ON SAT

Northwest China Hit by Powerful Quake
A magnitude 6.6 earthquake struck China's northwestern province of Qinghai at 8:28 a.m. Beijing time on Tuesday, but there were no immediately available reports of casualties orb damage. EDITOR: So played-down on USGS.
Ephemeris for Minor Planet 2000 RD53


GUARDIAN OF THE SPHINX


MISCELLANEOUS
Arthur myth gives clue to disaster of sixth century British Association Tree rings depict comet bombardment
Battle of the Martian landers Invisibility sex charm Small Water Comets?
Peru's most sacred site, Machu Picchu, has been damaged during a shoot for a beer commercial
Queen of Sheba Temple Found? Arabian Desert Surrenders Queen Of Sheba's Secrets Images
Through the Looking Glass Reflections on a mirror universe Life on Modern Mars Impossible?
CERN Experiments Extended Possible Reason for UFO Secrecy
Chinese Tomb May Have Belonged to Ghengis Khan September 7th 2000 Communication #7
Magnetic Anomalies What are magnetic fields doing in the middle of nowhere?
Mother Teresa nuns accused of torture

"The important thing is not to stop questioning. Curiosity has its own reason for existing. One cannot help but be in awe when he contemplates the mysteries of eternity, of life, of the marvelous structure of reality. It is enough if one tries merely to comprehend a little of this mystery every day. Never lose a holy curiosity." EINSTEIN

Arrows for chronological events:

| | |
| --- | --- |
| LATEST RESEARCH | |
NOTICE: Be sure to surf arrows for current research. Info incoming hot and heavy. PLEASE go back at least 10 arrow click-through levels! ALL CURRENT!