DISCLAIMER!
INCOMING TO ME: PLEASE DOUBLE-CHECK REPORTS. IN USUAL FORMAT WILL REPORT ALL, CONFIRMED OR NOT, SO WADE THROUGH IT TO THE CORE FACTS PLEASE
Patrons: Terrorist reports hardest around the clock task yet. Tip-hat is out to encourage the ol' coot!
GREAT DREAMS COVERAGE ELAINE LUCAS RUMOR MILL NEWS
9/14/01 EVENTS
Date: 9/14/01 8:49:44 AM Pacific Daylight Time

Do you recall my previous warnings about a future hurricane named Gabrielle? Well, it's here, right on schedule. Unfortunately, it appears I was correct. I do not believe that Gabrielle will be terribly significant in itself, (compare to this week's events). I believe it was meant to serve as a signpost event to mark the beginning of the end. I'll soon be running for the muddy fens. Thanks for all the good work, you are a good man. God be with you, your family and your readers and stay WELL clear of the west coast!
The Prophecies Of Alois Irlmaier (1894-1959)
The large city with the high iron tower is on fire. But this has been done by the own people, not by those, which came from the east. And I can exactly see that the city is made equal to the ground. And in Italy it is going wildly too. They kill many people there and the Pope flees, but many clergymen will be killed, many churches collapse.
Date: Fri, 17 Aug 2001 11:14:45 -0400
KENT -- HAD A VERY CLEAR VISION DREAM -- I DON'T HAVE THEM VERY OFTEN -- BUT WHEN I DO THEY ARE VERY CLEAR AND VERY DISTURBING TO ME -- I CLEARLY SAW HIGH RISE BUILDINGS IN A MAJOR CITY -- SEEMED TO BE DETROIT -- CUT IN HALF BY WHAT LOOKED TO BE A LASER OR SOME TYPE OF ELECTROMAGNETIC PULSE BEAM -- AS THERE WAS WHAT APPEARED TO BE TESLA TYPE LIGHTNING WHERE THE BUILDINGS WERE CUT IN HALF -- THEY THEN BEGAN TO FALL ALL OVER THE CITY -- IT WAS LIKE IN SLOW MOTION --- REALLY GRAPHIC -- AND I CAN RERUN IT FROM MEMORY ANYTIME -- WISH I COULD DO WHAT YOU DO WITH [COMPUTER GRAPHICS ] -- I'D PAINT A PICTURE FOR YOU -- REALLY DISTURBING -- VISION [ DREAM ]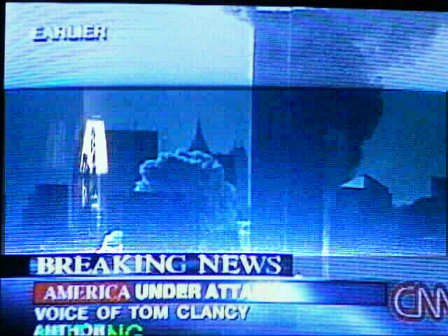 EDITOR: Lower portion contrast enhanced. Pic came "banded"
Date: 9/14/01 12:35:12 AM Pacific Daylight Time
I've been following your notes throughout the week and feel I have something substantial too add. While going over some of the footage I had taped on a Tivo recorder, a clip caught my attention that hasn't been noticed by anyone. A shot from the top of a building looking south shows both towers burning and still standing. Then in the lower left of the screen, at ground level quite a distance from the base of the towers a completly seperate building collapses in a huge dust cloud. I repeat, this is before the collapse of the towers.
Date: 9/14/01 12:57:04 AM Pacific Daylight Time
Can you send me a series of images? Kent
Date: 9/14/01 11:24:01 AM Pacific Daylight Time
Working on it! I feel a sense of horror every time I see it.
Date: 9/14/01 2:24:49 PM Pacific Daylight Time
Kent, This is the best that I can do at this time. Notice the large dust cloud in the lower left corner. Also notice that the two towers are still standing.
Date: 9/14/01 8:04:00 PM Pacific Daylight Time
WELL DONE. THIS IS A VERY IMPORTANT POST TO ENABLE HUMANITY TO GET TO THE TRUTH. THIS IS THE VERY SCENE I SAW WITH MY OWN EYES, THE CLOUD TO THE LEFT ROSE UP TO THE CLOUD FROM THE SECOND TOWER TO BE HIT, THEN THE SECOND TOWER FELL. ONE THING YOUR LOCAL KNOWLEDGE GUYS CAN DO IS IDENTIFY WHICH BUILDING WAS THE SOURCE OF THE BOTTOM CLOUD. IT IS BECAUSE I SO CLEARLY SAW THIS THAT I WROTE TO YOU IN THE FIRST PLACE.
.CORESEARCHER: Kent...we need to get verification of that clip...get it sleuthed...someone else has to have that on tape...we need to get the video...soon
Date: 9/14/01 7:21:08 PM Pacific Daylight Time
http://people.aol.com/people/special/0,11859,174592-3,00.html
In the above link is an eyewitness report from a firefighter. While going to the 24th floor to rescue workers, he indicates on their last trip up a _omb went off and they believe _ombs were set in the building. Listening to the "mass media", I heard this theory discounted as the "experts" attribute the swift collapse to structural integrity being comprised by the intense heat. Not sure what to believe...
Date: 9/14/01 8:14:07 PM Pacific Daylight Time
http://people.aol.com/people/special/0,11859,174592-5,00.html
In Ben Fountain's account, he advises the buildings were evacuated a number of times over the past few weeks and feels they knew something was going on. Again, I don't know this gentleman personally, but to me it leads further credence to the postings on your site.
MASSIVE TERRORISM AGAINST AMERICAN CITIES! IS THIS THE BEGINNING OF THE TERRORS PLANNED TO ACCOMPANY WORLD WAR III?
SOCIAL ENGINEERING: IMPORTANT! THE REAL BATTLE IS NOT IN AFGHANISTAN!
| | | |
| --- | --- | --- |
| POST-WTC HARRIS POLL | YES | NO |
| Would you be willing to give up some personal freedoms in order to have more security in public places? | 80% | 20% |
| Are you likely to change any aspect of your personal life or routine in order to reduce the chances of becoming a victim of terrorism? | 35% | 65% |

VERY IMPORTANT MOVIE: THE PAST CIA COVERT OPS IN AFGHANISTAN
Info from an interview conducted in 1997, late historian, Eqbal Ahmad. he describes U.S.-CIA complicity in creating the global armed Islamist movement, and the long term consequences of "proxy wars"
[Note if Real Player 8 plug-in will not load this file, try right-clicking, save to hard drive and play from there].
KEEN OBSERVATION FROM MY WIFE, WENDY: Do you know who won the Cold-War between the United States and the Soviets? Answer: THE ARABS!
Date: 9/14/01 11:27:22 AM Pacific Daylight Time
If everyone agrees with President Bush that anyone or any organization who even remotely provides shelter, training, funding, weapons, recruitment, etc. for terrorist organizations should be completely obliterated from the planet, which most certainly do. Wake up to this blatantly obvious fact that's right in front of our faces....
It was the very people who have now been put in charge of the 911 bombing investigation, namely the NSA and CIA, who recruited, funded, trained, protected, and provided weapons for the very man (Bin Laden) and organized the group(s), for whom they now blame for this bombing. Does nobody see this as a blatant confict of interest? Wake Up America! Wake Up World! The NSA and CIA have just publicly self-incriminated themselves! The NSA and CIA and their internationally associated spy organizations in countries around the world have publicly admitted to creating and being part of the terrorist group which is responsible for blowing up the WTC and Pentagon by the President's own definition!!!!!!
Who else had the money, the training and sophistication and inside connections (to use Whitehouse code words) in order to pull this off? Who else could have ordered an unmarked plane to shoot down the airliner in PA within American airspace to ensure there were no witnesses? Who else could have gotten the phony passports for the hijackers, which so far have turned out to be stolen or belong to previously deceased Arab nationals. Can't you see this is an obvious setup? Our enemys are within and are the ones who are now herding us! Wake Up EVERYBODY!!!! They are leading "We the People" to the precipice.
WAKE UP NOW! FOR GOD'S SAKE, PLEASE!!!!!!!!!!
Omar also said that if the United States acts without evidence it is committing terrorism itself.
In the statement, Omar said that there are no planes in Afghanistan, no places to train pilots, and bin Laden has not had the kind of communication that would have been required to plan the attacks.
He says the Taliban have isolated bin Laden and have taken away his fax machine, satellite phone, cell phone, computers and his Internet access.
Taliban officials have said that if the United States did have evidence against bin Laden, he would be tried before an Islamic court in Afghanistan.
As made known to the CIA, were the following, among other details:
[1] That George Herbert Walker Bush, as President, at the close of the Persian Gulf War, 1991, arranged to bring into the U.S. some four thousand Iraqi military officers, some from intelligence units, and their families.
[2] Some 550 of these officers became residents in Lincoln, Nebraska, AND TWO THOUSAND OF THEM took up residence in Oklahoma City. In a watered down story, CBS' "60 Minutes" Program did a segment once on this about Lincoln, Nebraska but said NOTHING about the Iraqi military officers in Oklahoma City.
[3] The financial and other provisions for them and their families were arranged by the Elder Bush, and then quietly continued by Bill Clinton as President, and perpetuated by George W. Bush as White House "resident" and "occupant". The arrangements included financial subsidies, housing, and employment for the Iraqi officers.
Taliban slammed over bin Laden appointment
QUESTION FOR TODAY: WHERE IS CHENEY? WHY IS HE DISTANT FROM BUSH?
NO ONE HAS SEEN HIM SINCE LAST WEEK POSSIBLY HEART PROBLEMS...ONLY SPIN AND TALK ABOUT HIS WHEREABOUTS NOW SAID TO BE AT CAMP DAVID.
Date:9/14/2001 2:09:57 AM Central Daylight Time
Where is Cheney? Kent
Camp David (House Detainment).
China Strengthens Ties With Taleban by Signing Economic Deal The agreement was reported Tuesday, the same day terrorists hijacked four planes in the United States and drove them into the World Trade Center and the Pentagon.
Attacks against Arab-Americans escalate in US
Worried after attacks, Los Angeles locals rush to buy gas masks, provisions
U.S. MAY SOCK BIN LADEN FROM RUSSIAN BASES
WHAT COALITION? MOSLEM COUNTRIES LINE UP BEHIND THE TALIBAN
Date: 9/14/01 5:57:42 AM Pacific Daylight Time
KENT -- I TRIED TO FIND THE CNN STORY RETRACTION ON THE TWO ARABIC BROTHERS IN FLORIDAS BEING AMERICAN TRAINED -- POSSILBLE PILOTS THAT FLEW THE HIT PLANES -- OF THE WTT -- I HEARD THE CNN BROADCAST ON THE RETRACTION OF THE STATEMENT -- THE ONE BROTHER WAS KILLED IN A SMALL PLANE CRASH LAST YEAR AND THE OTHER IS STILL ALIVE AND HAD HIS ATTORNEY DEMAND A RETRACTION FROM CNN ----- THEY ARE STERILIZING THIS FROM THE NEWS ----- HUMMMMMMMMM --- FLASHdp
Date: 9/14/01 10:43:07 AM Pacific Daylight Time
I was in line at Wal Mart Thursday afternoon at 2:20PM when a young man in a WalMart mechanics shirt got into line behind me with a few items. He said to me "Well, I guess this is my last day." I asked him if he had been let go, and he said "No, I'm airforce reserve and my unit has been called up."
He said that he received orders to report to Edwards Airforce base for immediate transport to the Persian Gulf.
When he got to the checkout, he asked for several cartons of cigarettes and two large packages of chewing tobacco, so he was obviously stocking up for something.
I'm passing this on because I heard it personally, but if I were called up I don't think I would be announcing it to complete strangers. I especially wouldn't be telling them where I was going.
On another subject. Does it seem strange to you that the feds are finding out so much about the terrorists so fast? Cars with arabic flight manuals in them? At the airport? If no one has taken credit for this as yet, then maybe they want to stay anonymous. If so, why leave arabic flight manuals in a car at the airport? Why leave ANY car at the airport?
Hanssen May Have Revealed Survival Plans Russian Intel Warns CIA - Next Target A US Nuclear Facility
9/14/2001 8:54:31 AM Pacific Daylight Time
Watching TV last nite saw part of interview with...I'm pretty sure was a FEMA guy-at one point said ..paraphrase, "we arrived here MONDAY nite late and....started...Tuesday morning......."
Just made my ears perk up...very easily could be that he was just tired and got mixed up, but the other possibility is they DID get there(NYC) late mon...
Call from US Carrier proves gov't had prior knowledge
QUAKE:
01/09/14 04:45:12 UTC 48.90N 128.32W Depth: 10.0 km 5.8M VANCOUVER ISL, CANADA REGION
CORESEARCHER: Just stated on news: "Afghanistan has promised revenge by `other means` if U.S.A. tries to extract bin Ladin"
COUP? Mole in the White House? Secret Service was told: 'Air Force One is next'
Jerry Falwell blames gays for terrorist attacks
Date: 9/14/01 1:18:57 PM Pacific Daylight Time
Presidential Proclamation: Declaration Of National Emergency
U.S. Newswire
14 Sep 14:36
Presidential Proclamation: Declaration Of National Emergency By
Reason Of Certain Terrorist Attacks
To: National Desk
Contact: White House Press Office, 202-456-2580
WASHINGTON, Sept. 14 /U.S. Newswire/ -- The following was
released today by the White House:
DECLARATION OF NATIONAL EMERGENCY BY REASON OF CERTAIN TERRORIST ATTACKS
- - - - - - -
BY THE PRESIDENT OF THE UNITED STATES OF AMERICA
A PROCLAMATION
A national emergency exists by reason of the terrorist attacks at the World Trade Center, New York, N.Y., and the Pentagon, and the continuing and immediate threat of further attacks on the United States.
NOW, THEREFORE, I, GEORGE W. BUSH, President of the United States of America, by virtue of the authority vested in me as President by the Constitution and the laws of the United States, I hereby declare that the national emergency has existed since September 11, 2001, and, pursuant to the National Emergencies Act (50 U.S.C. 1601 et seq.), I intend to utilize the following statutes: sections 123, 123a, 527, 2201(c), 12006, and 12302 of title 10, United States Code, and sections 331, 359, and 367 of title 14, United States Code.
This proclamation immediately shall be published in the Federal Register or disseminated through the Emergency Federal Register, and transmitted to the Congress. This proclamation is not intended to create any right or benefit, substantive or procedural, enforceable at law by a party against the United States, its agencies, its officers, or any person.
IN WITNESS WHEREOF, I have hereunto set my hand this fourteenth day of September, in the year of our Lord two thousand one, and of the Independence of the United States of America the two hundred and twenty-sixth.
GEORGE W. BUSH
Executive Order: Ordering the Ready Reserve Of The Armed Forces
Date: 9/14/01 1:19:18 PM Pacific Daylight Time
Which one is disinformation????
http://www.rense.com/general13/camera.htm
http://groups.yahoo.com/group/RMNEWS_DAILY_EMAILS/message/18395
9/14/01 1:49:58 PM Pacific Daylight Time

A little quote below I thought apropos. And considering that the most concentrated hydrogen in New York (in the fuel itself) was already burned up, what's left?
----------------------------------------------------------------------------------------
"The two most abundant things in the universe are Hydrogen and stupidity."

--Harlan Ellison
----------------------------------------------------------------------------------------
All we need now is all out war with very Arab nation, and that's what we're headed for. This takes an abundance of stupidity. Somehow, this is one thing that is truly never in short supply...yet there is one more thing there is far too much of in this world, and that is anger.

This is especially true among people who actually have been, or feel that they have been, unjustly wronged. There is only one solution to all of this crap...WORLD Peace. Yet, this peace can only come through spirtually-centered morality. Somehow, collectively speaking, I cannot imagine the industry magnates and deal spinners of high finance lost in this act of terrorism as being any more righteous than the Arab politicians or mover-sheikers (all puns intended). And the sad thing is that more innocent will die them, both those in New York, and those in Arab cities that we will eventually bomb into ashes.

So, suddenly we see an outpouring of what..."PATRIOTISM?" What is real patriotism based in? Certainly not in anger any more than hollow rhetoric and pointless flag waving. I found myself laughing outloud yesterday as I watched our local media in Portland Oregon (building their advertiser base by) enriching the news with local stories of "patriotism." TV cameras panned back from a tight shot of serious looking Oregonians, revealing a long line of newly awakened "patriots." These "patriots" were waiting in long line outside Portland's largest flag shop, to buy American flags. ARE THESE PATIROTS? No one stopped to ask the obvious question. Why didn't these people didn't have a copy of their own country's flag until yesterday?

Give me a break!

You want patriotism...? The only real patriots in this whole ordeal are those who risked their lives to down an aircraft they rode in, rather than let terrorists kill more innocent people, and those who risked (and are still risking) their lives in ongoing rescue attempts. The rest of us had better be VERY CAREFUL before we begin killing any Arabs. Arabs are people too. I am sure there are a few good ones. Remember that our creator was willing to spare Sodom and Gomorrah if but ten good souls could be found. Perhaps we who call ourselves (collectively) a Christian nation, should remember this?

I know this is so obvious that it shouldn't even have to be mentioned, but somehow a lot of people seem to be missing the point here. Those nasty terrorists...the one who killed so may others...ARE DEAD ALREADY? How do you avenge crimes on a dead person?

I we wave any flags, perhaps we could try waving a white flag....a FLAG OF TRUCE? Not a flag of surrender. There is only one real answer here, and my generation used to believe that it's attainment was possible...once upon a time. And that rarest of commodities is PEACE. And to make peace requires no weapons of mass destruction, no machinery, no munitions or legions of war-hardened troops. It only requires that rarest of commodities, intelligence...and the implementation of the VERB (not the noun), LOVE.

Before we shoot ourselves in our collective foot, perhaps NOW is the time for us to practice what Jesus Christ taught us, and try to love our enemies. This does not mean we need supine to those who despise us. This does not mean abandon intelligent measures to prevent sponsorship of such terrorism. For the people of these United States it simply means that we, as a nation, evaluate our situation with the help of a higher intellectual and spiritual perspective. I seriously doubt that we can "surgically" remove all the enemies of America from their native lands. But, I do believe that we are capable of accelerating our plunge into a world war.

And, as common as hydrogen and stupidity are...true objectivity is rare. Let's hope some of our leaders posses it. Otherwise...who knows? Perhaps the next terrorist attack will use of even more of the common element, hydrogen...in the form of a hydrogen bomb. But there is a yet undiscovered facet of the First Law of Humanity—as we use up hydrogen there is an equal and opposite increase stupidity. Let's hope this is wrong?

MESSAGE BOARD: RuMills, Bin Laden, More terrorists still trying, White House Turned Into Fortress After Attacks
German police confirm Iranian deportee phoned warnings George Washington's Vision
Frightened Americans Try To Buy A Sense Of Security 30-50 more suicide killers in U.S.
Awakened4JChrist · Exposes Luciferic Apostasy, NWO-NAM, etc
5TH PERSON ...SAYS MILITARY KNEW AND WERE HUNTING FOR TERRORISTS
THEY KNEW! And now WE KNOW THEY KNEW!! DEBKAfile Galactic Federation

Date: 9/14/01 5:35:24 PM Pacific Daylight Time
Kent:

I'm in the flying biz up here in Canada. Like the States, we went
through a couple of days where ALL airspace was closed. As I write this,
US airspace is coming back on line in fits and starts. Transborder air
traffic between Canada and the US is subject to staggering restrictions.
Business and general aviation is still virtually grounded. Meanwhile,
the road border crossings are snarled beyond belief. Trucks have run out
of gas after waiting for 20 hours straight and the flow of goods between
the US and Canada has been virtually stopped since Tuesday, with no end
in sight. Canada is by far the largest trading partner of the US,
dwarfing all others. Everyone in the industry appreciates the need for a
stepped up footing but this is Overkill. A bit like killing a flea with
an elephant gun. Curiously, the FAA and US Customs has explicitly
maintained its normal relaxed footing for the Mexican border.

Which brings me to my point. Sumpin ain't right.

We have a saying at work when faced with an utterly absurd and
nonsensical situation: "I'm clearly missing a key piece of information
here and when I have it, this will no doubt all make sense." So what are
we missing?

We have gone four days where virtually nothing has flown except the
military. New security procedures at airports are about to make air
travel almost too onerous for all but the most committed of travelers.
The Feds (here and in the US) are about to crank up the security
apparatus in a way that would turn the old-time KGB green with envy. And
good ole Dubya hinting at his upcoming "Yosemite Sam" ("I'm a gonna
blast ya!") gig. And people seem to love it all.

I have to say that I do not put it beyond the NWO insiders to have
cooked up this whole thing from beginning to end. The holes in
intelligence, the unimpeded hijacking of four airliners, the precise
targeting on the WTC so as to cause a controlled implosion....Hey, the
"Lone Gunman" would have a field day. Who said CSM is dead?

I have a sinking feeling that this is all a ghastly "smoke and mirrors"
illusion and that something really really bad has just happened right
under our noses. Like I said, when I find that missing piece of
information maybe it will make sense. In the mean time I'm suddenly not
sleeping all that well.
WSJ: WTC moved into private hands less than 2 months ago
Hey, Patrons: if I am to continue my 24 hr. vigil here you need to help. Like many others I need to store up supplies for dangerous times ahead. Send me some coins so I at least can do a few requisitions over the Internet before the time runs thin. Nothing fancy to order here, mainly water, rice and beans!
Easy Donation

Service

Kent Steadman
425 South 156th Street
#119A
Seattle, WA 98148
NEWCOMERS: this effort, although many send reports, boils down to one old frazzled guy, me, Kent.