A CHIP OFF THE MOON
EMBARGOED FOR RELEASE: 24 FEBRUARY 1999 AT 14:00:00 ET US
Contact: Claire Bowles
claire.bowles@rbi.co.uk
44-171-331-2751
New Scientist
There's A Mystery Object Not Far From The Earth
A CHUNK of rock some 50 metres across has been found circling the Sun in an orbit close to Earth's. The object, which was discovered on 10 February by an automated asteroid-hunting telescope in New Mexico called Linear, is probably a chip off the Moon, say astronomers.
After six nights of observations, Gareth Williams of the Harvard-Smithsonian Center for Astrophysics in Cambridge, Massachusetts, calculated that it circles the Sun every 1.09 years. Its nearly circular orbit is just nine million kilometres farther from the Sun than the Earth's.
The object's orbit is extremely unusual. Comets and asteroids that cross the Earth's orbit normally have eccentric orbits. There is only one asteroid-like object, called 1991 VG, that has a similar orbit to that of the Earth. When it was discovered, eight years ago, astronomers thought it might be a spacecraft that had escaped the Earth's gravity.
The new object, designated 1999 CG9, is considerably brighter than 1991 VG, indicating that it is much larger. Brian Marsden of Harvard-Smithsonian estimates it to be between 30 and 50 metres across, too big to be the final stage of a rocket. "The most likely explanation is that it's a chip off the Moon," he says.
Although the Moon is small, its low gravity makes it easy to blast debris into orbit. "We have seen there are chips off the Moon," says Marsden.
"Twelve small lunar meteorites have been found on the Earth."
"If you can shoot things off the Moon, they would continue to go around the Sun in an orbit not too different from the Moon," Marsden adds. So far, astronomers do not know the object's composition, which could cast light on its origins. However, the astronomers hope to analyse the rock's spectrum to see how it compares with that of the Moon.
Author: Jeff Hecht, Boston
New Scientist issue 27th Feb
PLEASE MENTION NEW SCIENTIST IF YOU USE THIS ARTICLE - THANK YOU

DEFENSE DEPARTMENT ON ALIEN ALERT

Lunar Signal

Lunar Signal 2

New Look at Moon

Lunar Monolith
Are world powers growing alarmed by sightings of movements of considerable number of large UFOs on and near the Moon?
THE LUNASCAN PROJECT

Lunar Transient Phenomena

Feb 03/1999 - Asteroid 1999 CG9 Near-Earth Flyby (0.023 AU)
2/24/99: EARTH SKIMMED BY KILLER ASTEROIDS
WASHINGTON -- A dangerous asteroid will whiz by Earth today in a cosmic close call. Similar near misses are expected March 2, 18, 26 and April 1.

HALL OF RECORDS IN AMERICA?.

WHITE GOLD: THE QUEST FOR THE PHILOSOPHER'S STONE
2/26/99 NEW MADRID-LAND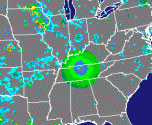 EMAIL 2/27/99: This morning I noticed the new radar circle on 2/26/99. I believe it centered around Nashville or maybe even Fort Cambell, as it does extend into Northern Tennessee. I live in north central Alabama, midway between Huntsville and Birmingham. Our skies were criss-crossed with contrails yesterday. We, of course, started with a cloudless beautiful blue sky. By midday we had the overcast cloudy, grey skies. It would be interesting to see how many times the two events have been correlated with one another. And, by the way,it is raining here today.
FOLLOWUP 2/28/99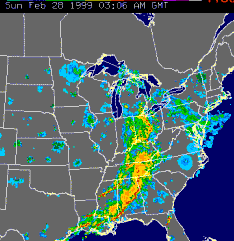 HAARP TEST
We are planning a special transmission from the HAARP Ionospheric Observatory in Gakona, Alaska on March 26-27, 1999.

Cloud and Radiative-Transfer Simulation of Convection and Rainfall

MATTER AND ELECTROMAGNETIC WAVES

UNDERWATER: ALEXANDRIA, CLEOPATRA'S PALACE

TRUMBULL COUNTY 911 UFO STORY


NASA WATCH

MYSTERY DISEASE IN BIN-LADEN'S LAIR
Sat Feb 27 , 1999 -- A "mystery" disease that has caused more than 150 deaths in several remote Afghan villages has been initially identified as a respiratory ailment, the World Health Organization said Friday. A team which reached JamarjeBala in northeast Afghanistan to investigate said there was no evidence of plague, malaria, cholera and typhus, the WHO said in Geneva.