5/15/00 14:18 C3 MPEG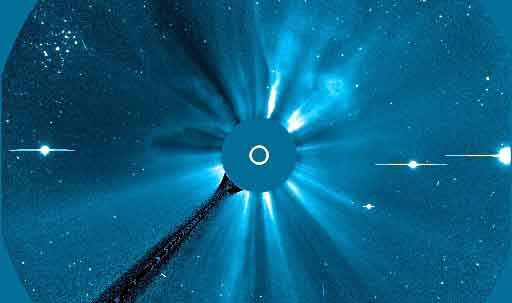 MAY 13: VENUS APPEARS IN WEST AND ANOMALOUS FLEET PLEIADES? LOOMS EAST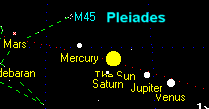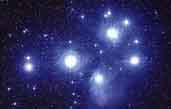 DANCE OF THE WORLDS C2 MPEG C3 MPEG
DANCE OF WORLDS

5/8/00 02:26 C2
5/17/00 BETHLEHEM EFFECT MPEG
AWESOME ANOMALOUS DISPLAY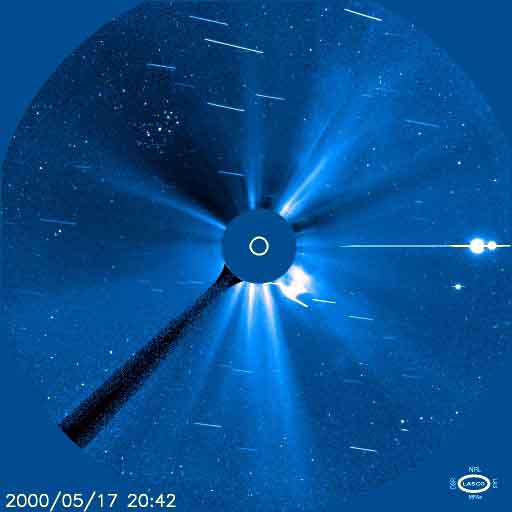 .
BREAKTHROUGH SOL ANOMALIES
6/1/00 11:18 C3

EDITOR: PLEASE READ CAREFULLY BELOW.

NASA IN FACT SEEMS TO AGREE THAT OBJECTS AND EVENTS MOST INCREDIBLE ARE BEING WITNESSED NEAR THE SUN--OBJECTS NOT SPURTING FROM THE SUN ITSELF NOR MERE GHOSTS APPEARING DUE TO PARTICLES STRIKING THE CAMERAS. ONLY ONE IMAGE OF MANY DISPLAYED IN OUR ANOMALY GALLERY SEEMS TO DRAW A MORE CONVENTIONAL (SOLAR ORIGIN) EXPLANATION.
6/1/00 13:19 EIT

Subj: rogues page
Date: 6/1/00 5:24:02 AM Pacific Daylight Time
From: gurman@gsfc.nasa.gov (Joseph B. Gurman)
To: bardsquill@aol.com
Hi -

You certainly have an interesting collection of non-solar, non-cosmic ray features observed by the SOHO LASCO coronagraphs on your: rogues.html page.

I believe the LASCO team all agree that they are foreground features (i.e., not solar in origin), though I don't recall hearing much serious speculation on their origin. The length of the various tracks is a reflection of the objects' apparent motion during the LASCO exposure times (typically 12 - 25 seconds). Some of those that appear clearly to be out of focus have been estimated to be only a few meters in front of the SOHO spacecraft, and are therefore probably debris from the spacecraft itself. The sharper-appearing features could, however, be much farther away.
| | |
| --- | --- |
| | I would object to the inclusion of the EIT image you title "strgte5sm.jpg" with the LASCO images, however, since the long, nearly horizontal feature in it is definitely of solar origin. Whenever we take time series of images in our 304 Angstrom bandpass, we observe these "bifurcated jets" (i.e., jets brighter along their edges than in the middle). There may be some streaking due to the even longer (generally ~ 32 s) exposure time for EIT 304 Å images, but their appearance on succeeding frames, and their origin in solar active regions makes it clear that they are solar in origin. |
Best,

Joe Gurman
US project scientist for SOHO
Co-Investigator, SOHO-EIT
Some Images sent by IZAKOVIC

SOLAR ANOMALIES
Here's a rogues's gallery of assorted shapes, sizes, textures, hard edges, soft edges, geometricals, blobs, planets where there are no planets, v-formations, on and on. Do you think the Cosmic ray-ccd theory seems to apply in all cases?
Kent Steadman
EXAMPLES: WONDERS FOUND HEREIN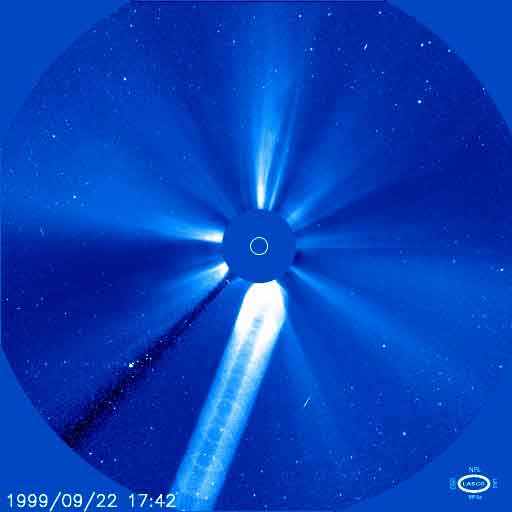 PROJECTILES ON PARALLEL TRAJECTORY STRIKE THE SUN
1106_c2lg5.jpg
sun/4-3c2.jpg
sun/4-6c2d3.jpg
sun/sword.jpg
sun/3-21c2det.jpg
sun/3-7strgtlg2.jpg
1854_c2.jpg
sun/2-16c3strg4.jpg
CBJD/orbit/sun/spearc6xx.jpg
AOL/orbit/9-22egadzzz.jpg
AOL/orbit/arc1.jpg
CBJD/orbit/sun/formation.jpg
AOL/orbit/2042_c3sm.jpg
CBJD/orbit/astro/whammo3.jpg
CBJD/orbit/sun/12-24c3sm.jpg
AOL/orbit/12-24anom.jpg
CBJD/orbit/sun/12-23c3lrg.jpg
AOL/orbit/cruiserbacsm.jpg (no planets)
AOL/orbit/Debsun3.jpg
AOL/orbit/11-16c3.jpg
AOL/orbit/0517_c3det.jpg
AOL/orbit/1242ut.jpg (no planets)
AOL/orbit/Trcrz4.jpg
AOL/orbit/10-30-c3sm.jpg
AOL/orbit/10-28c3sm.jpg (no planets)
CBJD/orbit/sun/8-16c2z.jpg
http://www.ufonet.org/orbit/sun/8-7c3x.jpg
http://www.ufonet.org/orbit/sun/t-c2x.jpg
CBJD/orbit/sun/7-17c2z.jpg (no planets)
sun/7-17c3x.jpg
sun/7-17ang.jpg
sun/7-9anom.jpg (no planets)
sun/7-9zz.jpg (no planets)
CBJD/orbit/text/7-15c3.jpg (no planets)
CBJD/orbit/sun/4-30c2w.jpg
CBJD/orbit/sun/4-30-97x.jpg
CBJD/orbit/sun/0954sm.jpg (no planets)
CBJD/orbit/sun/weird4.jpg
http://compcon5.compuconn.com/phikent/sun/soh1.html