Tempel's New Tail Impactor Approach Movie Intitial Blast Movie 2 Hubble Debris Field Movie ESA OGS VLT Spectra
Landscape on Comet Tempel 1 13 Seconds After Impact High-resolution camera
CFHT IMAGE (Canada France Hawaii Telescope) equipped with the Megacam camera, pre- and post-impact

HUBBLE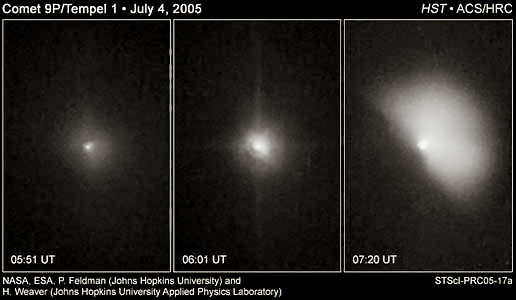 ORBIT: MOMENT OF IMPACT [2000 Mars Terraforming Conference]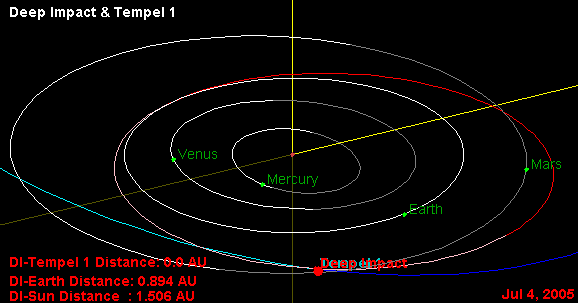 Deep Impact may never glimpse comet crater Gemini Sees Rocky Material on Tempel 1 Forum 2
http://deepimpact.eso.org/FORS2-comp_0406.jpg
Small Telescope Project Project Wormwood Deep Impact ... Deafening Silence
FORUM: The impactor may have penetrated all of the way to the center of this comet!
SOHO OFFLINE FOR NOW but keep watch, below images are from an outburst prior to impact
Nobeyama Radioheliograph Real Time Image SXI Neutron monitors Latest GRB
PRE-IMPACT OBSERVATIONS AND THEORIES
Comet Borrelly rocks core scientific beliefs
| | |
| --- | --- |
| | POSSIBLE PROXIMITY MATTER/ANTIMATTER REACTION COMET V1 |
Smithsonian/NASA ADS Astronomy/Planetary Abstract "The possibility that every second star in the galaxy consists of antimatter is discussed, and it is shown that this view is not in conflict with any observations. As most stars are likely to be surrounded by solar systems of a structure similar to our own, it is concluded that collisions between comets and antistars (or anticomets and stars) would be rather frequent."

BOOK OF THE DAMNED A PROCESSION of the damned. By the damned, I mean the excluded. We shall have a procession of data that Science has excluded.
Sun
Mars
7/1/2005 6:32:44 AM Pacific Standard Time
Kent, Hi, I'm a frequent visitor to your site along with SOHO and many others. Has anyone commented on the synchronicity of the launch date and arrival date of Deep Impact? What I mean specifically is that the launch of the probe was on January 8th and the arrival is July 4th. 1+8=9 7+4=11 9/11 Can this simply be coincidence given the occult nature of this current cabal, along with the propensity and use of occult and hyperdimensional numerology that pervades JPL, NASA and the U.S. Government? Just a thought, keep up the good work.