The Militarization of Earth
By Diane Harvey merak@sedona.net
Watching unfolding events in this country is like being forced to stand by helplessly as an ambulance chaser deliberately sells a ruinously expensive fake burial policy to a grief-stricken mother at the site of her children's fatal car crash. Those who have been waiting for just such an opportunity are cleverly manipulating natural human reactions to catastrophic events, hour-by-hour, and day-by-day, in the most outrageous and sickening manner possible. People are being summarily herded quickly along, and rushed over both the fine print and the finer points of reason, before they can wake up and come to their senses. The citizens of this country are eagerly accepting all the ongoing specious simulations of reality and constant barrage of half-truths simply because they are too stunned to notice what is actually happening. At any normal time sane people would resolutely balk at that which they are begging for right now. While suffering human beings are still in a highly convenient state of shock, the military is avidly and methodically seizing the day. They very naturally have no trouble whatsoever using their present surge of sincere anger and patriotism (and everyone else's) to justify this great leap forward toward their ultimate goal.
The nauseating spectacle of cold-blooded hypocritical power preying on the most sacred human emotions and using them in order to achieve its own ends is nothing new, although this time it is far more shameless than usual. But the sheer scale and ultimate plan of this present gathering of the professionally opportunistic is unprecedented. While people are still in the throes of deepest anxiety and sorrow, the military-industrial complex, wholly at-one with the government, is about to launch itself in a nearly uncontested bid for control this planet. The smoke has not yet cleared, literally or figuratively, and it is not going to be allowed to clear. Half-truth after half-truth is being cannily and sequentially sold to traumatized people in order to silence all objections to what is to come. Waving American flags and singing The Battle Hymn of the Republic, the citizens of this country are signing away the future of freedom in the name of Protecting the Homeland. Before anyone rejoices overmuch at how American military technology and power will inevitably destroy opposing hostile forces in the world, it would be best to think through what the world will look like when they do succeed.
Anyone who has been paying attention in the last few years to the advances in military capabilities knows that we have been seeing the most dangerous imaginable types of new technology roll out of the defense establishment. There has been a public outcry, to a small degree, at the damage being done to human beings, to other forms of life, and to the environment through some of these new weapons systems. Now, suddenly, we are thrust into a situation where a handy blank check has been deposited in the military-industrial expense account. We have said in a moment of human pain: please go right ahead and dominate the oceans, the ground, the near-space environment, and the high ground of space, however you wish to do so. Those who have been fighting against the rising tide of secrecy in these matters, and demanding accountability in government and military operations, must understand that this cause has just been overridden altogether. Whatever the military would like to do, whatever dangerous and deadly technologies it would like to employ, it is now perfectly free to do so, in what we are told will be years of war ahead. We know that the modern military has a full range of psychological, electromagnetic, chemical and biological, laser, microwave and scalar weapons technologies ready to deploy. And by the time people get around to realizing what they have bargained for it will be far too late to do anything about it.
Internal security matters and external security matters will leave each one of us minutely accounted for and tracked for life. And for a time, we will think of it as a necessary evil. Down the road someday, when all the coming spying, snooping, tagging, marking, tracking and identifying business suddenly is being glaringly misused in obviously totalitarian ways, for purposes which have nothing to do with protecting anyone from anything, it will be far too late to complain about it. Technological systems in place are seldom dismantled, but simply change hands, for a price.
And down the road, if the promised massive assaults on people and the environment do take place, our lives will be changed out of all recognition. Eventually the horrifying consequences, both intended and unintended, of what this military-industrial government has in mind for this planet, will be made manifest. Far too late, no doubt the people of the world will be very regretful indeed.
DEBKAfile ANALYSIS
Date: 9/15/01 10:17:21 PM Pacific Daylight Time
Kent, see highlights - why do I feel like we Americans are rearranging deck chairs on the Titanic?
DEBKAfile Details Planned US Offensive Against Afghanistan, Iraq
GMP20010915000196 Jerusalem DEBKAfile WWW-Text in English 15 Sep 01
[Unattributed report: "The Dye Is Cast -- But It Will Be a Long Haul"]
The United States if going to war to avenge itself for the catastrophic hijack-suicide attacks against the World Trade Center and the Pentagon.

The first stage of the conflict, according to initial, conservative estimates, could last two to three years. Its success will determine the scope and timeframe of the second phase.

DEBKAfile's military experts can disclose that the U.S. 82nd and 101st airborne divisions, or nearly half of the airborne combat forces at the immediate disposal of U.S. President George W. Bush, are currently being airlifted to bases in Pakistan.

The bulk of these forces will be moved to the northern Punjab region of Pakistan and take up position near the city of Dera Ismail and in the valleys at the foot of the Suleiman mountain range, across from their main target -- the Afghan city of Kandahar.

The United States also intends to lay siege to, or capture, the Afghan cities of Medan, Galdek and Maroof as well as the Arghastan Valley, where, according to intelligence provided by Russia, India and Israel, Osama bin Laden's forces have been concentrated in recent months.

The U.S. operations will include air bombardments and missile strikes against Afghanistan's principal cities: Kabul, Jalalabad and Kandahar.

Afghanistan is not the only target. Washington is planning a three-stage offensive against Iraq with the participation of U.S., British and Turkish forces.

DEBKAfile's military sources reported back on Friday, September 9, that the Turkish army is on a state of war alert.

Now, our sources add that the Turkish army is poised along its border with Kurdish northern Iraq. It intends to invade the Shouman region and capture the cities of Biyar and Tiwal in the Urman district. The two cities are controlled by Jund al-Islam, a radical Muslim group funded by bin Laden.

The United States now understands that the 200 Taleban fighters who arrived there in mid-July, puzzling many observers, were members of Bin Laden's general staff, pulled out of Afghanistan two months earlier as part of his preparations for Tuesday's terror attacks in New York and Washington. Now they will be quarries of a US-Turkish hunt in one prong of the thrust into Iraq.

A simultaneous attack second attack will be spearheaded in the Basra area by some 30,000 British soldiers, currently being airlifted into bases in Oman.

DEBKAfile's military sources report that two-thirds of that force was present in Oman Saturday. U.S. and British planes already based in Kuwait, and in Saudi Arabia will provide air cover for the British forces operating Basra - if the Saudi government agrees to its air bases being used in the U.S. operation.

Prong three of the Iraqi wing of the multiple offensive will target the central region, including Baghdad. Airlifted infantry and armor, as well as missiles and tanks, will be used in an effort to destroy the Iraqi infrastructure and topple Saddam Hussein's regime. No final decision has been made on a timetable for the three assault waves into Iraq.

These operations, lasting between two and three weeks, are only the first steps in the coming conflict, which Bush has described as "the first war of the 21st century".

Bin Laden had not been blind to the likelihood of U.S. retaliation. According to U.S. intelligence estimates, he and his cohorts have been preparing for months for the assaults and have readied their response.

Intelligence specialists believe Bin Laden and his associates, including the Egyptian Islamic Jihad -- the terror master's main operational arm -- will carry out a series of attacks on U.S. army bases, especially air and naval facilities, in the United States, Europe and the Middle East.

For the first time, the Americans have acknowledged the presence of an enemy within.

Members of bin Laden's group have been trained by the U.S. army and some still serve in various U.S. military units, raising the prospect that attacks could be launched from within the bases themselves.

Bin Laden's men will make a supreme effort to attack aircraft carriers, along with such strategic targets in the United States, such as CIA headquarters in Langley, Virginia or FBI headquarters in Washington. Before the Tuesday's calamities, this scenario would have sounded fantastic. Other targets may include atomic energy stations, where the highest state of alert is already in effect. U.S. military units rushed to the stations have set up defensive perimeters around them. Oil fields and terminals -- including, for the first time, fields in Saudi Arabia and Kuwait -- are other potential targets.

Bush's ability to wage a drawn-out war will largely depend on the toll Bin Laden's reprisals take in terms of lives and U.S. public support for the president's military campaign.

The main question will be - not who will win, but the price the victor will pay for his victory -- and the loser's winnings, if any, on his way to defeat. That defeat may not even be final or lasting.

It's also important to consider two potential features of the first stage of this war.

1. It is only a start. Even if the U.S. military actions in Afghanistan and Iraq are successful -- and there is no guarantee of this -- Bin Laden and the Egyptian Islamic Jihad will still have large pockets at their command in Yemen, Bosnia, Kosovo, Albania, Macedonia and several former Soviet Moslem republics. The largest contingent of Bin Laden-funded Islamic extremist fighters are deployed in the Faragna Valley which lies athwart regions of Krygyzstan, Tadjikistan, Uzbekistan and Kazakhstan. Last year, Bin Laden's forces opened up a corridor from Faranga to the Sinkiang province of northern China, linking up the Moslem fighters in that strategic valley and militant Chinese Moslem groups of the Chinese Uighur tribes. This tribes are undergoing combat training in special training camps that Bin Laden established in Afghanistan and Kazakhstan.

There is no knowing now how US strategists mean to deal with these the forces Bin Laden maintains in these far-flung regions. They cannot be left out of the American equation because as long as they exist, Bin Laden retains an operational capability. Will they be left to the Russians and Chinese? Perhaps the Moslem governments of Asia Minor will invite the U.S. forces or NATO to do the job?

2. This war opens up the potential for nuclear, chemical and biological weapons use.

U.S. leaders have emphasized since Friday night that the United States will employ its "entire arsenal" in the coming campaign. Even British prime minister Tony Blair, speaking in parliament on Friday, September 14, noted the danger the West faces from terror attacks could include nuclear, chemical and biological weapons.

Israel has voiced strong support for the formation of an anti-terror coalition. But at this stage, the Bush administration prefers to bring Syria in -- which means excluding Israeli from - its anti-Bin Laden alliance, in the hope of providing maneuvering room for Saudi Arabia to collaborate. Getting Damascus on board would also sever the Syrian-Iraqi link that has recently grown stronger, as well as snapping its connection with the militant Lebanese Hizballah. Those Shiite extremists would have no option but to break away from a Syrian government that goes to war against Bin Laden.

The US war scenario carries advantages for Israel, but is an ill wind for the Palestinian leader Yasser Arafat and the relentless campaign of violence he launched a year ago.. Some Israeli media reported, inaccurately, that Washington wants the Palestinians in the coalition fighting Bin Laden.

According to DEBKAfile's Washington sources, that view is confined mainly to secretary of state Colin Powell, who believes Palestinian participation might pave the way for other Arab countries to join. It might even help encourage certain European nations made cagey by their large Moslem populations and economic and strategic links to oil states in North Africa and the Middle East, to take up arms against the Saudi terrorist leader.

Israeli prime minister Ariel Sharon, who strongly opposes a Palestinian role in the US-led bloc of nations against Bin Laden, made his views clear to President Bush when they talked over the telephone on Friday.

The next day, Abu Ala, Palestinian parliament Speaker, termed the suicide terror attacks in New York and Washington saddening. But, he said, the world must understand that the real terrorism was that committed by Israel against the Palestinians. Addressing a Palestinian cabinet meeting, Abu Ala said Sharon was well aware that a meeting between foreign minister Shimon Peres and Yasser Arafat would be tantamount to Israeli recognition of the legitimacy of the Palestinian struggle. That was the point Sharon made to Bush over the phone and the reason why he was prepared for a major row with Peres to prevent the meeting taking place.

It is his understanding too that Israel will not be called upon for an active role in the first stage of the American confrontation with Iraq and the Bin Laden terrorist movement. But he expects to be called upon in the next stage.

In an extraordinary encounter in Washington Friday, September 14, Arab ambassadors bombarded Secretary Powell and other administration officials with questions about the nature, form and objectives of the planned US military retaliation. US officials rapped out that they did not want questions only a single answer from all the Arab governments: Were they for or against America.

[Description of Source: Jerusalem DEBKAfile WWW-Text in English -- Independent, electronic newsletter focusing on international terrorism, security affairs, and espionage; root URL on filing date: http://www.debka.com/
Date: 9/15/01 11:02:24 PM Pacific Daylight Time
Kent, again, please read the highlights -- then take a deep breath -- I've got a nasty feeling the ship is listing far deeper in the water than we think it is.
DEBKA-Net: 'Terrorists' Poised for Second Wave of Attacks on US Targets
GMP20010915000195 Jerusalem DEBKA-Net-Weekly E-mail-Text in English 14 Sep 01
[Unattributed report: "Prevent the Second Wave First"]

The FBI's coast-to-coast dragnet on the trail of the terrorists behind the deadly airliner suicide attacks in America will need to do much more than put together a case for crimes committed. The agency will have to move fast into the area of terror prevention, so that America is not caught off-guard again. Prevention was where US security fell down most tragically, allowing terrorist suicides to use airliners as weapons of mass destruction against New York's landmark World Trade Center and America's military nerve center, the Pentagon in Washington. Advance intelligence on the appalling crimes to come was nil. And when that first first-line defense failed, the second-line barrier, security, was likewise non-existent.

But it is not over. The threat against America's president, its ruling institutions, its financial and military might is still palpable. Indeed, according to DEBKA-Net-Weekly's counter-terror experts, reporting from US security and Israeli intelligence sources, the Islamic militants obeying Saudi multimillionaire terrorist, Osama Bin Laden, the radical Egyptian Jihadi Islami, Iraqi military intelligence and other Middle East groups, stand poised for a second wave of horrendous attacks. An estimated 30 to 50 suicide- killers are waiting inside America for their orders to strike. This time, while aiming as before for the President, the White House and Capitol Hill, they will also go for a broad spectrum of what they consider strategic targets, such as airports, oil fields and oil installations, sensitive military and intelligence facilities, warships and carriers. The last were indeed ordered out to sea shortly after the assaults on Tuesday.

Aware that flushing out the terrorists in waiting, many of whom may be US nationals, is akin to finding a needle in a haystack, US leaders quickly resorted to a short cut. They turned to allies, in and outside NATO, in the arena in which America fell down most signally: advance intelligence. According to DEBKA-Net-Weekly's intelligence sources, a comprehensive round of discreet telephone calls went out Wednesday from President George W. Bush, Defense Secretary Donald Rumsfeld, Secretary of State Colin Powell, National Security Adviser Condoleezza Rice and CIA Director George Tenet. The calls went to German Chanellor Gerhard Schroeder, British premier Tony Blair, Russian President Vladimir Putin, French President Jacques Chirac, Chinese leader Jiang Zemin, Indian prime minister Bihari Vajpayee and Israeli prime minister Ariel Sharon. They were all asked to have their counter-terror and security agencies pool intelligence with their counterparts in Washington, sharing every scrap of information on international terror movements in support of the American effort to eradicate the blight. This was the first, logical, brick in the international anti-terror coalition, which Secretary Powell proposed setting up Wednesday.

Aside from France, who posed conditions, and China, who has yet to reply, all the other leaders promised every assistance and full cooperation. Within hours, rough crosschecking of US intelligence data with the flow from foreign colleagues was enough to strongly confirm the second wave thesis. It also indicated that the masters of international terror intend landing their second blow while the American government and people are still recovering from the first. They will not wait for the United States to get itself and its anti-terror coalition organized for a tough retaliatory war.

Can they overcome the limitations of US law and the tradition of zero-casualties to bend all of US resources to the ruthless fight against international terrorism -- even when some of its lairs are buried inside America? Who are the anti-terror coalition partners referred to by Powell? The US must now turn back to Europe, whence only a month ago it began removing its military stores to Indian Ocean bases, as part of a major shift of US military orientation to Asia. That shift will have to be reversed. What happened on Tuesday has marginalized the new US military single-front doctrine that hinged on a national missile shield. Fighting international terrorism calls for five fronts and a shield against terror.

At this point, three questions present themselves, which DEBKA-Net-Weekly will attempt to answer with the help of its military, counter-terrorism and intelligence sources:

Questions:

1. How did a group or groups of terrorists get away with constructing inside America an operational support structure capable of disrupting the country's political, military and financial systems?

2. How did US intelligence come to miss the common thread running through the entire string of major terrorist attacks in the last decade (excepting the terrorist campaign in Israel), and fail to snap that thread? Moslem extremists, mostly linked to the Middle East, committed them all, acting invariably against a single target: America. This is plain even at a cursory glance at those outrages: The truck bomb under the Twin Towers in 1993 -- the first time the World Trade Center was targeted; the ambush against US Marines six months later in Mogadishu, Somalia -- to go down as the worst US military humiliation after Vietnam; the truck-bomb that destroyed US military dormitories in the Khobar Towers, E. Saudi Arabia in 1996 -- aimed against Saudi royal ties with Washington; the US embassy bombings in the Kenyan and Tanzanian capitals in 1998, and the crippling of the USS Cole in Aden port in October 2000.

3. How did the many American intelligence bodies and those of its allies fail to detect a colossal terrorist assault in the making?

Answers:

1. The terrorist support structure inside America

The groundwork of the Islamic terror movement was laid in America 25 years ago, when Jimmy Carter was president and his national security adviser Zbigniew Brzezinski, came up with a master plan for wielding religion as a sharp-edged Cold War instrument against the Soviet empire and secular communism. He pressed all three monotheistic faiths into service: Christendom, by supporting the election of Karol Cardinal Wojtyla as the first Polish Pope, to whip up Polish Catholic fervor against the Russian domination of Eastern Europe; Jewry, by exploiting the burning desire of 4 million Jews living in Soviet lands to go to Israel -- or at least be allowed to practice their faith -- to foment dissidence among the oppressed minorities in the Soviet empire; Islam, to raise up the Moslem peoples of Asia, Asia Minor and the Indian subcontinent in revolt against Soviet expansionism and send destabilizing shoots into the USSR. To stem that process - and also in fear of Khomeini's 1979 Islamic revolution in Iran - the Soviet Union invaded Afghanistan. Brzezinski, who had been waiting for that moment, pounced. The United States actively stirred the Moslem world into battle to save the fundamentalist Afghans from the communist unbelievers. With the help of Egypt and Saudi Arabia, America established an elaborate recruitment and training organization, called Maktab al-Khidmat (The Office of Services), with branches all over the Moslem world, though chiefly in the Middle East, but also in America. On the recommendation of the Saudi royal house, the United States placed at the head of this office a rich young Saudi, scion of one of the most affluent families in the kingdom, called Osama Bin Laden. The CIA knew everything there was to know about the talented young leader except for one thing: his true religious bent.

DEBKA-Net-Weekly, digging deep into Bin Laden's roots, has come up with the name of his first mentor, an obscure Palestinian sheikh who lived in Hableh near Tulkarm and Jenin, called Abdallah Azzam, who founded an Islamic liberation movement called Haraketh al-Tahariyeh al-Islami. This sheikh, for the first time in the 20th century, called for an Islamic struggle on a global, not merely a national, footing. He urged Moslems to fight for world domination and the eclipse of infidel rule. Although a Palestinian himself, Azzam mocked Yasser Arafat's PLO as inconsequential. This doctrine actuated Bin Laden in founding his Al Qaeda (The base) fundamentalist, militant movement a decade ago. It is his guiding light to this day. After close to a decade of fierce, debilitating combat in Afghanistan, the Red Army withdrew from Afghanistan in 1989, its defeat on the battlefield a key element in the collapse of the USSR, fully vindicating the Brzezinski doctrine. The Moslem volunteers who fought there, known popularly as the "Afghan Arabs", returned to their home countries, including Western Europe and the United States. Many severed their ties with Bin Laden. Others kept the faith and even handed it on to the next generation. Bin Laden stayed on in Afghanistan. After defeating one secular superpower, he resolved to abide by the Azzam doctrine and tackle the survivor, the United States of America. The nucleus of Bin Laden's following expanded over the years. Today it reaches into many corners of the world. These disciplined fighting men, trained in urban and mountain guerrilla warfare, are scattered round many American cities, still loyal to their leader.

The Egyptian Jihad Islami, the group responsible for the assassination of Egyptian president Anwar Sadat in 1981, is the second major group of Islamic radicals planted in the United States. While often persecuted in Egypt, these zealots fought outstandingly in Afghanistan, to be rewarded for their services with US visas for their families to settle in New York, Jersey City, Chicago and Florida.

After the Afghanistan war ended, these soldiers joined their families.

Bin Laden and the Egyptian group in Afghanistan transplanted their close tactical rapport to American soil, where it flourished. Bin Laden, who suffers from assorted chronic ailments, made the Egyptian Jihad Islami leader, Ayaman Al Zawahar, who is a medical doctor, his personal physician and most trusted confidant. When he founded his Al Qaeda movement in 1990 or 1991, he made Al Zawahar his senior lieutenant and chief operations officer.

By this stroke, the Saudi tycoon-terrorist recruited one of the most dangerous and effective arms of the Islamic terrorist movement, while the Egyptian group linked itself to the operational networks of the fierce "Afghan Arabs".

The highly potent three-way alliance forged between Bin Laden's Al Qaeda, the "Afghan Arabs" living overtly as civilians in many parts of the United States and the West, and the operational arm of the Egyptian Jihad Islami, is the engine galvanizing contemporary international terrorism.

2. Missing the Moslem link

Growing strong inside the US and Canada for 11 years, that three-way alliance perfected its awesome capability for wreaking monstrous damage. By penetrating deep into US counter-intelligence systems, their agents were on hand to blind and disable the security and protection systems guarding the US President, the White House, the Pentagon and the international airports dotted round the country. US intelligence agencies consistently deny any such penetrations -- most emphatically in the case of counter-intelligence.

According to DEBKA-Net-Weekly's intelligence experts, those denials hold true - on the face of it. There is no way Moslem terrorists can get a foot through the door of US counterintelligence. On the other hand, it is possible for a US counterintelligence officer to serve as a double agent for his own and an alien service that is close to Bin Laden's network. US agencies' blanket denial of any such possibility is one of the factors contributing to Bin Laden's success on the American scene.

A case in point is that of Aldrich Ames, a CIA counterintelligence officer caught spying for the Russians in 1994 and sentenced to spending his life in prison. The CIA indictment asserts he began spying for Moscow in 1985. In fact, DEBKA-Net-Weekly's intelligence experts assert his career began in 1972 when, as a young operative posted in Istanbul, he was recruited for Moscow by none other than the notorious British spy, Kim Philby.

It was Philby who built the first Western counterintelligence nets in the Arab world, weaving them also into the Moslem fundamentalist labyrinth, for the CIA and the British MI6. At the same time, the British mole also helped the Russians penetrate those nets and pervert them to counter Brzezinski's religious war in the Moslem arena. Western agents were "turned" so as to help Moscow and Moslems radical groups alike.

An American-Egyptian called Aly Mohamed has been incarcerated in a high-security US penitentiary for the last two years, after testifying at the 1998 embassy bombings trial last April. He was subsequently sentenced in camera to life imprisonment for his role in that disaster. Why were the proceedings against Aly Mohamed kept under tight wraps? Because in open court, he might spill the beans to the American people of how the Bin Laden network turned Aldrich Ames round to act inside US intelligence and its military on its behalf. His account would shed light on how an Islamic terrorist ring came to operate in New York with impunity. As one of Bin Laden's senior operations officer in Al Qaeda, Mohamed was implicated in the 1993 attempt to blow up the Twin Towers in New York. Before that, as a young man in Cairo who joined Egyptian intelligence, he served in a department in charge of surveillance of Islamic radicals. Instead of reporting on them, he and his superior officer, Abd Al-Latif Al-Somer, fell under the influence of Jihad Islami leader Ayaman Al Zawahar. Instead of alerting President Anwar Sadat to the threat against his life from those zealots, they both joined the conspiracy to assassinate the Egyptian president in 1981. Al-Somer was executed for his crime. Mohamed escaped scot-free. Earlier, because his weakness for women kept him chronically short of cash, Mohamed decided that if he could serve two masters, Egyptian intelligence and the Moslem radicals, why not a third. He approached the CIA station in Cairo and offered his services.

Mohamed next turns up in the United States in 1985, visa in hand. A year later, he is enlisted to the US army's Special Forces facility at Fort Bragg and given the rank of sergeant. His duties include instructing US elite anti-terrorist combat fighters in conditions of warfare in the Middle East and a Moslem environment. He also gives lectures on the roots and ways of Islamic fundamentalism.

As of 1987, he began disappearing from base for long periods, claiming he was on secret US missions in Afghanistan. Some of his superior officers became suspicious and complained, but were told to back off. That order was handed down on the authority of Aldrich Ames, then head of FBI/CIA program, the highest and most secret US coordinating counterintelligence body. In November 1989, the Egyptian obtained his release from the US army.

From 1990-1993, he joined Bin Laden in training terrorist operatives in Al Qaeda camps in Afghanistan. Between courses, he returned to America to lay the foundations of the Islamic terrorist ring that struck this week in Boston, New York and Washington. In those years, he set up important terrorist cells in South Florida, where suicide pilots trained as pilots 12 years later. DEBKA-Net-Weekly reports that Aly Mohamed is only one of the many Egyptian Jihad Islami zealots recruited over many years by US intelligence to help fight Islamic terrorism.

He was certainly not the only covert terrorist to be accepted into the US military, where he pretended to serve American interests while actually working for Bin Laden. There must be hundreds like him, experts in the arts of the double agent, who have invaded US security bodies, just as he penetrated an elite US military unit. From the inside, these hidden agents of terror were in position to disarm surveillance and blind authority to one of the most horrendous terrorist crimes in human history.

As DEBKA-Net-Weekly's intelligence can reveal, one or more whistle-blowers tried in the years 1997 and 1998 to alert Clinton administration officials associated with national security adviser Sandy Berger and secretary of state Madeleine Albright to the hidden menace. Though armed with evidence, they were brushed off, told that an anti-Moslem hue and cry would damage the close US-Egyptian friendship and the progress of the Israel-Palestinian peace process.

3. Caught off-guard by the terrorist conspiracy

Deception and diversion are keywords in Osama Bin Laden's well-scripted battle plan to topple symbols of U.S. financial and military might.

Assessing just how they were fooled by the exiled Saudi-born millionaire-turned-terrorist, anti-terrorism experts and Western intelligence agencies can point to an strange, unsourced item published on August 8 by the RIA Novosty news agency in Moscow.

The report said the Taleban government in Afghanistan had appointed Bin Laden commander-in-chief of its armed forces - not only in Afghanistan but also in Pakistan.

The Taleban maintain several thousand recruits with weapons training and some 8,000 members among the Afghan refugees in northwest Pakistan, especially in the Peshawar region.

The report did not go unnoticed by intelligence experts in Washington, Moscow and Jerusalem, who traded information but could reach no consensus on what it all meant.

Bin Laden, they knew, has prided himself on maintaining a low profile. For the past decade, his mysterious ways have nourished the psychological threat he has posed to the West and the Arab world. It has also kept him out of harm's way.

The experts could not figure out what prompted his personal friend, Mullah Mohammed Omar, supreme leader of the Taleban government to offer him the post. Both men go back a long time, to the mid-1980s, when they used to pray together in the Karachi mosque.

It wasn't Bin Laden's only surprise.

A week early, in mid-August, intelligence experts scratched their heads over another piece of information.

They learned that Jumma Mamangani, an Uzbeki, had been appointed Bin Laden's right-hand man and his chief operations officer in the Al Qaeda terrorist organization.

DEBKA-Net-Weekly's terrorism experts report that Mamangani had, until three years ago, commanded the Moslem Army for the Liberation of Kyrgyzstan and managed to take over parts of the Batkan valley in eastern Kyrgyzstan, where he could threaten the approaches to the capital city of Bishkek. At the beginning of the year, Mamangani left Kyrgyzstan and moved to Afghanistan, where Bin Laden gave him the command of three Al Qaeda special forces training camps near the cities of Jalalabad, Farmada and Daronta.

The post had always been reserved for the al-Zawahar family, leaders of the Egyptian Islamic Jihad. But after the terror world's wedding of the century last year -- in which Bin Laden's son married Ayaman Al Zawahar's daughter -- things changed.

Al-Zawahar, chief of the Egyptian Jihad Islami, became Bin Laden's deputy and heir and, in a break with tradition, no one from the Egyptian terror family got the coveted operations officer post.

U.S., Russian and Israeli terrorism experts were perplexed and concerned.

But at the end of August, when the first reports of Mamangani's appointment reached Washington, the terrorism experts breathed a sigh of relief. No one even raised the possibility that these unusual personnel changes at the very top of bin Laden's organization pointed to any strategic moves that might be worth thinking about. No one thought these changes might presage preliminary preparations by bin Laden and the heads of his group for a new far-reaching military operation, such as the hijacking of U.S. commercial airliners and crashing them into the World Trade Center and the Pentagon.

DEBKA-Net-Weekly's terrorism experts report that several hours after Tuesday's attacks, bin Laden and his Egyptian deputy went into hiding. It was if the earth had swallowed them. The only leader who remained in the field to command bin Laden's men and bases was his new operations officer, Mamangani.

Now, terrorism experts understand.

It was Al Zawahari who personally commanded past operations such as a 1995 assassination attempt against Egyptian president Hosni Mubarak in Ethiopia and the ramming, with an explosives-filled raft, of the U.S.S. Cole last October.

But by appointing an operations officer from Asia Minor, bin Laden and the Egyptian radical leader created a red herring to divert the attention of the experts and Western intelligence agencies to that region.

Russian president Vladimir Putin mentioned it to U.S. defense secretary Donald Rumsfeld just two weeks ago in Moscow. Israeli prime minister Ariel Sharon spoke about it with Putin last week when he visited him in the Kremlin.

Putin even sent a special emissary to Washington to meet CIA director George Tenet and explain the dangers which Moslem countries in Asia Minor and northern China -- home to a Moslem minority of no less than 60 million people -- would face as a result of Mamangani's appointment. Asia Minor was on everyone's mind. No one gave a thought to New York and its twin towers.

[Description of Source: Jerusalem DEBKA-Net-Weekly E-mail-Text in English -- Independent, electronic magazine focusing on international terrorism, security affairs, and espionage] http://www.debka.com/
Date: 9/15/01 7:58:27 PM Pacific Daylight Time
I don't want to read too much into this. I was at a local Wal-Mart (I live in Bucks County, PA north of Philadelphia) tonight and heard an announcement that I've never taken note of while there on a Saturday evening. They announced on several occasions for a staff person to "lock down" the doors and the second crew people were called to an emergency meeting. I just found these two announcements to be rather peculiar to be announced over the PA system. The lock-down one really jumped out at me as I was wondering if they were going to do it while the shoppers were there.
What ran through my mind is that if there is a super-major crisis where people panic, Wal-mart is preparing to secure the store.
Subj: the smoke face
Date: 9/16/01 5:46:43 AM Pacific Daylight Time
http://www.ideagroup.ch/news/wtfisthat.jpg
http://dailynews.philly.com/content/daily_news/2001/09/13/local/DEVI13C.htm
http://www.sa.mlive.com/news/index.ssf?/ap/stories/20010913smoke.frm
| | |
| --- | --- |
| | morover a curiosity, forwarded by a friend of mine, if you open Word or similar, and you type NY, choosing then Wingdings font.... |
A m e r i c a n Concentration Camps Known U.S. Relocation Centers as of January 28, 2000
BARDSQUILL: Has Cheney made a media appearance yet?
CORESEARCHER6: yesterday. They were all dressed in winter hunting clothes at camp David, at least it looked like it was Camp David from the way they were dressed for war
BARDSQUILL: CNN?
CORESEARCHER6: yes
CORESEARCHER6: they just gave Taliban 3 days to fork over Osama bin Laden
BARDSQUILL: GOD, I hope they do
CORESEARCHER6: that would mean in 4 days we will be at war
BARDSQUILL: Yes, ain't taking months of prep, they are on their way now as though planning been going on a long time
CORESEARCHER6: our guys are being airlifted as we speak? I only know of 50 Marines arriving there yesterday to scout around
BARDSQUILL: Bin Laden been in prep too
CORESEARCHER6: oh yeah... they are always ready
BARDSQUILL: proly underground about a mile in the Annunaki tunnels, heh
CORESEARCHER6: yeah
Date: 9/16/01 6:13:58 AM Pacific Daylight Time
We meaning humanity are the living revelations. Each one of us. What is in our hearts our minds what we feel what we think. Christ said to love each other as HE LOVEs us. ANY thoughts we have OTHER THAN LOVE are Anti-Christ which opens the "door" for satan to step in and take control of us. EACH ONE OF US. People control the governments but who control this SYSTEM we live in. Satan does. Wake Up and look at what is really going on!! Self-Revelation to the TRUTH!! That we are all brothers and sister living together on this our planet, our earth mother.Step back from watching tv, reading newspapers, radio, even friends and family and look for the TRUTH to what is really going on here! Don't be afraid GOD said HE WILL be us always. THINK ABOUT THAT! WHERE DO WE MEET GOD AT?? In HIS temple OUR HEARTS!! What is in your HEARTS right now? Your Minds? I am no Bible-thumper hypocritic Christian . I AM A SPIRITUAL BEING LIVING INSIDE A MATERIAL BODY!! That IS what we ALL are! There is only ONE GOD, ONE SPIRIT moving thru ALL LIFE! That is the Spirit of LOVE. That is CHRIST! The ONE WE SEEK! CHRIST said SEEK! He did not say hate, He said LOVE WAS THE ANSWER AND THE KEY!! Fear and hate are NOT GOD they are anit-GOD, anti-CHRIST. Doesn't anybody out there get it??!! WE are the Living Revelations of a Living Christ!! Don't be trapped by what you see "out there" in this material world. SEARCH YOUR SPIRIT for the TRUTH!! Step back and look BEHIND what you see with your eyes. Now tell me what you see? AND THE TRUTH SHALL SET YOU FREE.....In Love for ALL Life Everywhere and All Living Things
EDITOR: C'mon you lazy Archangels, start flappin, no more quaffing ale in cosmic Bud n' Lil's!
Date: 9/16/01 6:19:30 AM Pacific Daylight Time
We are not lazy. We are working to spred the truth. I sent you a post. Please post it so all of your readers will read and understand the message. We are the living revelation. I have posted it,spoke it, and am spreading it. Help simply by posting on your site. In Love and Service,
Just trying to piss off angels. We need them out in the open now, posting your message--Kent
EDITOR: figure if Angels can't email, they be wingless!
Galactic Federation CAMAEL ANGEL SWORDS LADY KADJINA
Date: 9/16/01 6:32:40 AM Pacific Daylight Time
Dear Kent,
I want to share this concern with you and your readers .......I imagine that there will be many who can come forward to confirm this.
My husband is a construction worker who was part of a large group from all over the country who arrived at the Bruce Nuclear Station to begin some repairs.
When he first arrived at the gates he was denied entry because he did not have a birth certificate with him and they could give him the proper security card without one ...... it took some doing but I was able to get a copy of his birth certificate sent to him within two days. Many of the workers, who had not been informed that they would need this were also forced to wait. When things were finally in order a group of men were waiting, papers in hand, to go through the gates. Someone from the front of the line, annoyed at the wait, passed his security card down the line. These men were all admitted with the other man's card as they passed it down the line!
When the men began talking about this one thing became clear. This happens every day at all the different nuclear plants across both of our countries. It's common knowledge and these construction workers consider security a joke there.
endsecrecy · Rally To End Secrecy
Date: 9/16/01 8:02:40 AM Pacific Daylight Time
Guys...Yesterday Oz invoked ANZUS treaty. Today US requested one of our Navy ships stay in Persian Gulf, and it has.
News story (Australian) this morning....3 of the hijackers had red headbands. This is indicative of a specific muslim group associated with a terrorist (I couldn't get the name well enough to write it down) of Hezbollah...and they have connections to Bin Laden but are not Bin Laden. Laden's muslim people do not wear these headbands. Indications are this is a conglomerate of people who have done these evils....and like I have been saying all week, if they go only for Afghanistan then they make a grave error.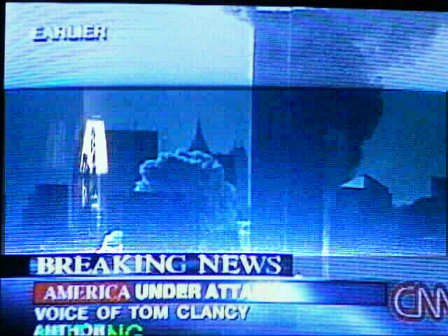 EDITOR: Lower portion contrast enhanced. Pic came "banded"
Date: 9/14/01 12:35:12 AM Pacific Daylight Time
I've been following your notes throughout the week and feel I have something substantial too add. While going over some of the footage I had taped on a Tivo recorder, a clip caught my attention that hasn't been noticed by anyone. A shot from the top of a building looking south shows both towers burning and still standing. Then in the lower left of the screen, at ground level quite a distance from the base of the towers a completly seperate building collapses in a huge dust cloud. I repeat, this is before the collapse of the towers.
Date: 9/16/01 2:15:38 AM Pacific Daylight Time
KENT
THIS MORNINGS SURVIVOR ACCOUNTS WERE HEARTBREAKING AND ASTOUNDING. ONE HAD AN ENGINE COME THROUGH HIS OFFICE WINDOW. WAITED UNTIL THE SECOND PLANE HIT, THEN LEFT FROM THE 79 FLOOR. WHEN HE REACHED 7 FLOOR HIS GROUP HEARD AND FELT A MASSIVE EXPLOSION RISE UP TO THEM. THEY THEN RAN DOWN THE FINAL SEVEN FLOORS OUT THROUGH THE LOBBY AND THEN SAW THE BUILDING COME ON TOP OF THEM TRY OUTRUNNING A FALLING BUILDING FROM THE INSIDE. THEY HEARD AND FELT A BLAST LONG BEFORE THE BUILDING FELL.
SECOND WAS A FIREMAN, ON HIS RETURN TO THE BUILDING HE HEARD AN EXPLOSION, THE MALL OUTSIDE FELL AWAY AND HE WAS TRAPPED INSIDE. WHEN RESCUED, THE BUILDING THEN FELL. AGAIN EXPLOSIONS AND THE GROUND DISINTEGRATING.
HOW MUCH EVIDENCE DOES IT TAKE. FROM THESE TESTIMONIES A VERY CLEAR TIME AND EVENT LINE CAN BE BUILT UP. IF AN ENGINE COMES THROUGH THE WINDOW, THE FLOOR ABOVE TOOK THE BODY OF THE PLANE, ITS FUSELAGE AND FUEL. YET ON THAT FLOOR THEY WERE ABLE TO STAY UNTIL THE NEXT PLANE HIT. ERGO NO BUILDING FAILURE. RIGHT AT A POINT OF IMPACT.
WE NEED THE TRUTH, WE KNOW PLANES WERE HIJACKED BUT THEY WERE NOT THE ONLY INVOLVEMENT. ALL LEADS MUST BE FOLLOWED UP.
KEEP UP THE GOOD WORK KENT.
Date: 9/16/01 10:12:08 AM Pacific Daylight Time
KENT
THE DEBKA FILE AND THE PICTURES OF THE TOWERS FALL, RESULTING IN A MUSHROOM CLOUD. WAS A SECRET WEAPON, A TYPE OF SMALL NON RADIO-ACTIVE NUCLEAR DEVICE USED TO BRING DOWN THE TOWERS, PLANES BEING A "DIVERSION". WE MUST FIND THE TRUTH. HAVE YOUR SLEUTHS IDENTIFIED THE SOURCE OF THE LEFT HAND BOTTOM CLOUD.
SURVIVORS DESCRIBE HOW THE MARRIOTT HOTEL FELL DOWN. WAS THIS THE SOURCE OF THE BOMB.
AGAIN WE ARE NOT SEEKING TO EXPOSE STATE SECRETS, DISABLE THE INVESTIGATION, ONLY HIGHLIGHT THE TRUTH AND SEEK CONFIRMATION THAT ALL LEADS ARE BEING FOLLOWED UP ON TO BRING THE PERPETRATORS TO JUSTICE.
Date: 9/16/01 9:24:33 AM Pacific Daylight Time
Hi Kent,
I also saw the video clip of the huge dust cloud to the left of the twin towers prior to the towers coming down. I thought I was going crazy because I had not seen the clip again and had even mentioned it to someone else.
I am going to write a P3N commentary concerning the screen capture you have top/center on you site. Would you permit me to use a small copy of the picture with a link back to you site for a look at the big capture. This picture DEMANDS an explanation!
I knew from the first minute of the WTC event that some people were going to make ridiculous assertions about conspiracies and I was going to distance myself from them. In light of the unexplained explosion video I have no choice but to join the conspiracy crowd.
A NOTE TO THE CONTRARY
9/16/01 3:32:16 PM Pacific Daylight Time
I was sick and stayed at home all day Tuesday, therefore watched everything in utter horror from minutes after the first tower was struck until late in the evening. I watched in REAL TIME people jump from the upper floors to their certain death and both towers crumble into rubble on top of rescuers. I spent a good part of that day weeping, and praying for the dead, survivors and families. I saw it all... And I still see it all. The memories are etched into my mind and continue to overcome me at moments. I find myself unable to control the weeping that still comes... I am not interested in sensationalizing something that cannot be sensationalized any more than the reality that visits me each time I close my eyes. The video shown on your site is clearly dust rising from the rubble of the first building as it collapses, while the second that was struck is still standing and burning, not yet collapsed. You can see the top of the first building to the left as it goes down... But that is bnot what bothers me now.
I have read and heard utter nonsense, including E-mail on this web page ... From my boss, who professes to be a Christian, stand before me and pour out a diatribe about the President and U. S. Congress being the real terrorists to certain TV commentators insist that the President should have flown directly back to Washington D.C. (obviously they never heard of stinger missiles) and professional athletes lament not being able to play a professional football game Sunday as though it's business as usual. I have listened to people infer that the C.I.A. and N.S.A. knew these buildings were going to be attacked on this day... HOGWASH! I have listened to commentators try to create a controversy just to keep the ratings up... By blaming the C.I.A. and N.S.A. for not knowing it would happen. Well... Folks, let me clue you into something... This is not a Mystery Channel movie... This is not a fantasy You need to get your heads out of a dark place and into the light of day. The C.I.A. and N.S.A. may be a lot of things, but do you really believe that the people who work there are robots... Sub human or not human at all? Don't you think that the people who manage our nations security know that such a secret would eventually come out and in the process, their heads would roll... Perhaps literally!
Our Nation is in trouble... We as patriots and citizens are in trouble... Not because of any huge global, government conspiracy but because of our own complacency. We have sat back for 20 years and watched these monsters destroy lives all over this world, many of them innocent United States citizens... Yet we did nothing. We drink our Budweiser and eat Buffalo Wings, and watch some Hollywood hero beat the bad guys in a make believe plot. We have been so desensitized by violence in the movies and on television that the killing of Marines and U.S. Embassy personnel was just another installment. No one cares as long as it didn't effect their paycheck, entertainment or party time.
Instead of looking for a scapegoat in our own back yard or trying to find some narcissistic reason to make yourself feel superior by planting disinformation in the minds of those who don't have a life... Or a clue. Perhaps it is time to get a life and a clue... Perhaps if we are lucky, we can yet save at least a few lives in this world by looking reality directly in the face. The reality is that terrorists have destroyed thousands of lives and families... Innocent people and they must not... Cannot prevail. I (for one) am not interested in a protracted, propagandized litigation in a Federal Court House to determine their guilt or innocence. I don't want them to have the luxury of living in a nice, air conditioned jail cell with a workout room and TV whole their victims corpses rot under a pile of rubble. Where and when they are found, I want them dead... Where and when their bankers are found... I want them dead... Where and when the suppliers of their bases and weapons are found, I want them dead. I am ready to die to see that they are obliterated from this earth and perhaps that is the saddest, most frightening thought of all to me... I fear they have made me and hundreds of thousands like me into their image. The difference is... I will not dance in the street when they die, I will pray for their poor, demented souls as well as my own.
Date: 9/16/01 8:12:22 PM Pacific Daylight Time
KENT
I MUST REPLY. THE CLOUD ROSE STRONG AND CLEAR BEFORE THE TOP STARTED FALLING. YOU CANNOT HAVE RUBBLE FALLING BEFORE A COLLAPSE TAKES PLACE. LOOK AT THE OVERHEAD VIEWS NOW COMING ON LINE.
GOD DOES NOT KILL, MAN DOES
GOD DOES NOT COMMIT EVIL, MAN DOES
WE WANT JUSTICE, WE WANT ALL THE EVIL DOERS BOUGHT TO JUSTICE
WE WANT ALL ERRORS HIGHLIGHTED
RULE ONE YOU DO NOT PROMOTE OR DEFEND FREEDOM BY DENYING THAT FREEDOM. IF YOU DO THAT, EVIL WINS AS YOU EMPOWER IT. EVIL FLEES FROM LIGHT AND TRUTH.
MOST OF THE ' ACTIVE SERVICE UNITS" WHO COMMITTED THIS ATROCITY ARE DEAD. THEIR ALLIES AND BACKERS MUST BE BOUGHT TO JUSTICE.
JUST BECAUSE THIS IS EARLY DAYS WE CANNOT SHRINK FROM OUR RESPONSIBILITY TO SEEK THE TRUTH. THE INVESTIGATORS HAVE CALLED FOR INFORMATION, LEADS, FACTS. WELL MILLIONS OF HUMANS HAVE SEEN THIS, ALL HAVE LEADS, ALL ARE VALID AND MUST BE FOLLOWED UP. TO RUSH TO JUDGEMENT IS TO RUSH TO WAR.
THESE FANATICS CLAIM TO BE WARRIORS OF GOD. WHO APPOINTED THEM, GOD, WE KNOW HE DID NOT. WE MUST ASK ALL HUMANS OF THE ISLAMIC FAITH TO EXCOMMUNICATE THESE EVIL DOERS, THAT THEY CAN NO LONGER CALL FALSELY UPON GOD.
CORESEARCHER7: think a mil site... so click at your own risk...list of t'ist orgs...
http://www.cromwell-intl.com/security/netusers.html
Israeli security issued urgent warning to CIA of large-scale terror attacks [my html editor wont write the link, listed below]
http://news.telegraph.co.uk/news/main.jhtml%3B$sessionid$5WG2WOAAADNMLQFIQMFCFFOAV%20CBQYIV0?xml=/news/2001/09/16/wcia16.xml&sSheet=/news/2001/09/16/ixhome.html
DEBKAfile' terror experts to number no more than 12,000 fighting men in all. They are scattered round the world, mainly in Afghanistan, Pakistan, Kashmir, Yemen, Saudi Arabia, Ethiopia, Albania, Kosovo, Macedonia, Chechenya, Kazakhstan, Uzbekistan, Kyrgistan, Tadjikistan and Lebanon. Some 2,500 live in the United States
GRID ANALYSIS All Big CEOs were out of the office (Warned)
Despite National Emotion, There's No Rush to Enlist
OK class, lets review (english)
Satellites tracking Bin Laden, now hiding in Kandahar Israeli intelligence: Iraq financed attacks
Fed to prop up Wall St US special forces 'land in Pakistan'
Will Defending Our Homeland And Borders Lead To Civil War?
US STATE DEPT SPONSORS TERRORISM - HUNTSVILLE, ALABAMA, USA 2
"UPDATE - WORLD TRADE CENTER BOMBING - SEPTEMBER 11, 2001:
A SPECIAL STATE DEPARTMENT INTERNAL SECURITY TEAM FROM THE POLITICAL LIABILITY CONTROL OFFICE WAS INSERTED QUICKLY AFTER THE INCIDENT INTO THE REDSTONE ARSENAL IN HUNTSVILLE ALABAMA. THE DEMOLITION SCHOOL HAS BEEN SHUT DOWN, AND THEY ARE SHREDDING DOCUMENTS AS WE SPEAK. AS A MATTER OF FACT THEY HAVE MADE AN EMERGENCY REQUEST TO THE DEPARTMENT OF DEFENSE FOR MORE SHREDDERS."
Former Pak Intel Chief Blames Israelis
Date: 9/16/01 5:49:30 PM Pacific Daylight Time
http://www.thedesertsun.com/news/stories/local/1000611418.shtml
Mary Bono says to be ready for "sacrifices". She would know about that, wouldn't she? I find the sale and privatization of the WTC less than two months ago to be the most telling aspect of all this. Notice how it was indemnified against terrorist attack, but not against an "act of war", and you'll see why Bush is rushing to declare this a war. When the Rockefellers (and Rothschilds) make a big move, they always profit on multiple levels. Look at oil and gold, climbing once more. A certain David is humming to himself just now. If, indeed, most CEOs survived this blast, then they must all be made to give an accounting of why they weren't there. For now, we'll call it the WTC Flu. The "Satan in the Smoke" photos are a disgrace. The AP picture seems like the same one from the National Enquirer's Gulf War coverage! At this point, CNN has sunk to the level of Pokemon. The disinfo.com site is down. Anyone know why? The recent rash of whistleblower attacks seems pre-emptive to me now. The question is, how much longer will ANY site like this be allowed to stay up?
One more big attack, and we're under martial law. Those strange-looking railroad cars will be heading to the 600-some "detention centers" that Rep. Waxman confirmed, and will no doubt be filled with Muslims.The patriots can't be far behind. Since all our troops will be deployed in Afganistan and Iraq, we'll be getting some help from our "friends" to keep the peace here at home, and they won't be squeamish about spilling American blood.
I guess CNN won't be telling the American public that Islam strictly forbids suicide and leaving the Quran behind on a barstool. Those psyops agents that commandeered CNN during the Gulf War have hit the beaches again.
The number 11 shows up in the attack in several disturbing ways. Is the Illuminati winking at us, hoping to seem invincible? Did they draw power from the number? This needs a lot of consideration.
Date: 9/16/01 8:18:13 PM Pacific Daylight Time
Date of attack: 9/11 9 + 1 + 1 = 11
September 11th is the 254th day of the year 2 + 5 + 4 = 11
After September 11th there are 111 days left to the end of the year.
Twin Towers standing side by side, looks like the number 11.
The first plane to hit the towers was Flight 11 (American Airlines Flight 11)
The State of New York: 11th State added to the Union
New York City has 11 letters.
Afghanistan has 11 letters.
The Pentagon has 11 letters.
There were 92 passengers on board American Airlines Flight 11
9 + 2 = 11
There were 65 passengers on American Airlines Flight 77
6 + 5 = 11
Also,
Beginning with American Airlines Flight 11, the other three planes "coincidentally" had a sequential order:
United Airlines Flight 93 9 + 3 = 12
United Airlines Flight 175 1 + 7 + 5 = 13
American Airlines Flight 77 7 + 7 = 14
Date: 9/16/01 9:08:59 PM Pacific Daylight Time
Kent,
Following up on your posting about the occult signature of 11 in WTC disaster, if it is definitely true about 13 weeks of terror leading up to the New Age Messiah, Matrayiah, Beast, Sept 11 begins the period and the 13th week concludes on Dec. 11, 2001. I've gone through the calendar for the rest of the 111 days to see when the other number combinations fall (22, 33, 44 and so forth) in addition to more 11's and 22's.
I'm praying that we don't have further bloodshed around the world but am concerned about this upcoming Saturday (Sept 22). What is these multiples of 11 and the 11's and 22's are signature days for each successive terror? Are we now in the last days leading up to the end of this age?
MOUNTAIN SURVIVAL PLANNING TIPS PREPARE
TOP SECRET Silent Weapons for Quiet Wars
It is patently impossible to discuss social engineering or the automation of a society, i.e., the engineering of social automation systems (silent weapons) on a national or worldwide scale without implying extensive objectives of social control and destruction of human life, i.e., slavery and genocide.