MARS! Study: No Past Standing Water on Mars Study. There is now, behold: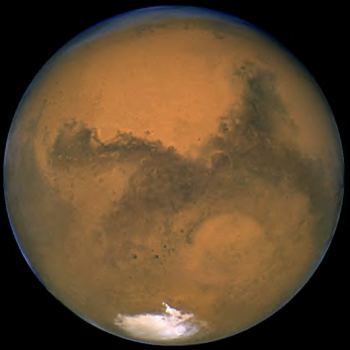 ZOOM TO ELYSIUM QUADRANT ON MARS ATLAS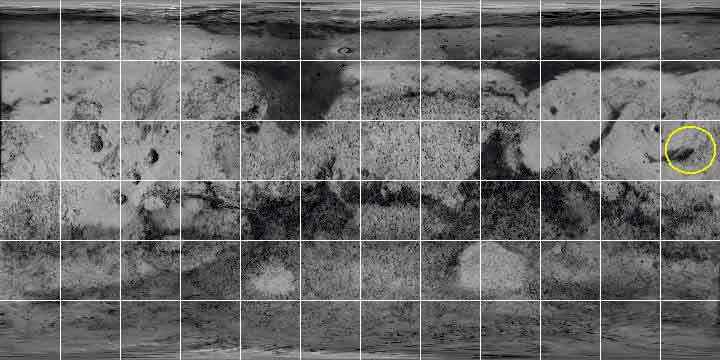 ZOOM TO THE ELYSIUM RISE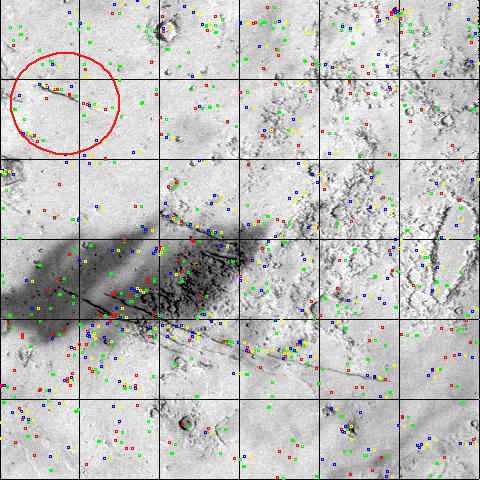 ZOOM AGAIN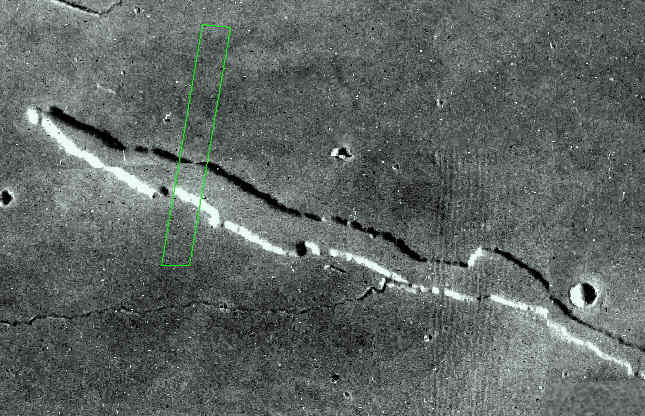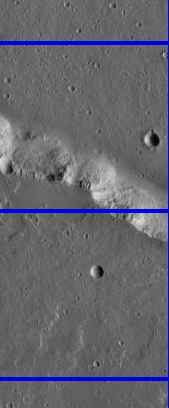 ZOOM AGAIN (larger raw image)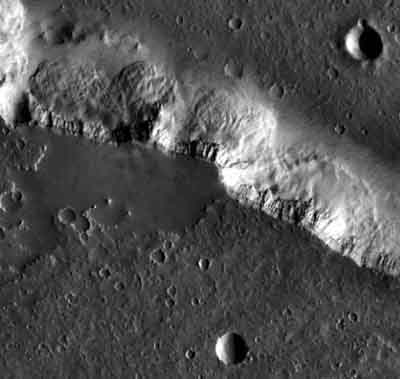 MIRROR IMAGE TO GET BEARINGS AND AHA!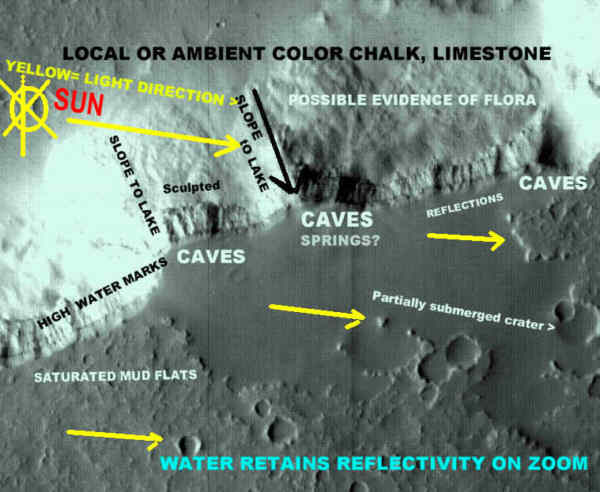 Zoom Latest 3D Models Cracked Mirror Theory
What Mars would look like if it still had all of its original water
MARS, THE LIVING WORLD
Stormy Weather on Mars

The Hubble Space Telescope photographed an enormous storm swirling near the Martian north pole on April 27, 1999.

May 19, 1999: Astronomers using NASA's Hubble Space Telescope (HST) during Mars's recent close approach to Earth have discovered an enormous cyclonic storm system raging in the northern polar regions of the Red Planet. Nearly four times the size of the state of Texas, the storm is composed of water-ice clouds like storm systems on Earth, rather than dust typically found in Martian storms.

This image, taken by the Mars orbiter camera on NASA's Mars Global Surveyor spacecraft, shows gullies on martian crater walls that may be carved by liquid water melting from remnant snow packs. Numerous gullies are seen, with a remnant of the snow pack (arrow) proposed to be the source of water that eroded the gullies. This Mars orbiter camera image (number M09-2875) covers an area of 2.8 km (1.7 miles) by 4.5 km (2.8 miles) and is located at 33.3 degrees south, 92.9 degrees east. North is toward the top, and illumination is from the left.
| | |
| --- | --- |
| THUNDERHEADS OVER MARS | BLUE LAGOON, ICELAND |
| | |
RESEARCHERS: on a hunch [2] investigate the lost city of Ubar .. Mars-Ur Anasazi Mars Inca City
Date: 9/2/03 6:13:17 PM Pacific Daylight Time

Dear Kent, Today, I came across the ORBIT-page concerning the Mars Villa located in what others dubbed the Goldmine on Mars. I must say I was very surprised to see others noticed this area too.

For the last six months I did extensive research on the SP246502.img data from Malin and discovered among others also this structure (the Villa) which I dubbed the Hangar for his large door-opening (actually the shape is consistent with the shape of Mosque-door decoration). Other structures to be found are a Pyramid which is of the same size or even smaller then the Gizeh-pyramid next to a large Temple structure, a structure I call the Pumping-station and many more. I made a homepage dedicated to this area which officially is named Ismenius Lacus but I call it Ismenia. It's a work in progress but has already some very interesting images.

You might wanna take a look at it. http://home.conceptsfa.nl/~harimau/mars/index.html

Tell me what you think of it.
8/28/2003 11:24 pm EDT
"Kent, can you give a link to the original sources of the zoomed photos? Because, from what I can see, there is no way that such clarity in a zoomed photo can be achieved from the original you present."
REPLY: Unusually Clear
Original Photos at: Mars Global Surveyor MOC Image 42203 - Browse Page
http://ida.wr.usgs.gov/html/orb_0422/42203.html
Complete full resolution jpeg image ( 1.2 Mb
http://ida.wr.usgs.gov/fullres/complete/orb_0422/42203.jpg
Key panel:
http://ida.wr.usgs.gov/fullres/divided/orb_0422/42203g.jpg

Here is a more comprehensive view of the Elysium Rise and the volcanos and various Tholus formations.

ANIMATION (last frame visionary based on Abu Simbel)
NOTES MORE NOTES MORE NOTES RANT
Water on Mars? Elementary My Dear Watson...
Ra blown gales

Home drifting

Frozen shores

Siren moan drawn
FORTHCOMING IMMENSE COMET C2001Q4 Orbit

NEW AWESOME WEBSITE: Welcome to Abide with Miracles!
MOST WONDERFUL PATRON HELP FOR AUGUST

| | | | |
| --- | --- | --- | --- |
| | | | PATRONS |
SNAILMAIL: Kent Steadman; 425 S. 156th Street; #119A; Seattle, WA; 98148
WEIRD VIBES: PLEASE CONTINUE TO ORBIT MAIN