Easy Donation

Service

Kent Steadman
425 South 156th Street
#119A
Seattle, WA 98148
Sign up for PayPal here, great secure way to...well you know...help ORBIT

7/19/01
NORTH CAROLINA MASSIVE EM/RF/MW RADIATION RING
NORTH DAKOTA WEATHER MODIFICATION MICROWAVE RING
TRACKING THE BOOTY
EDITOR: Following the money, I've been hearing about a trillion dollar pipeline[s] project, the implementation of which has been blocked due to destabilized by the Taliban in key regions. I request information please.
Here we go, first incoming reports, analysts needed:
Follow The Money!! - New Pipeline To Tap The Caspian Sea Gas Bonanza
"The 48-inch diameter pipeline will extend 790 miles (1,271 kilometers) from the Afghanistan-Turkmenistan border, generally follow the Herat-to-Kandahar Road THROUGH AFGHANISTAN (emphasis added -ed), cross the Pakistan border in the vicinity of Quetta, and terminate in Multan, Pakistan, where it will tie into an existing pipeline system"
Consortium formed to build Central Asia gas pipeline
ASHGABAT, Turkmenistan, Oct. 27, 1997 -- Six international companies and the Government of Turkmenistan formed Central Asia Gas Pipeline, Ltd. (CentGas) in formal signing ceremonies here Saturday. The group is developing a project to build a 790-mile (1,271-kilometer) pipeline to link Turkmenistan's abundant proven natural gas reserves with growing markets in Pakistan. The group is also considering an extension of the line to the New Delhi area in India.
"This is a truly significant step in the development of this project," said John F. Imle, Jr., president of Unocal Corporation . Unocal was appointed by the Government of Turkmenistan to lead the project development activities and form the gas pipeline consortium. A Unocal subsidiary will serve as development manager for CentGas. "The interest shown by major international companies underscores both the attractiveness of the proposed pipeline and the significant economic benefits it can bring to the region. This project could be the foundation for a new commerce corridor for the region -- often referred to as the Silk Road for the 21st century.
The CentGas consortium will initially include the following companies, either directly or through affiliates: Unocal Corporation, 46.5 percent; Delta Oil Company Limited (Saudi Arabia), 15 percent; the Government of Turkmenistan, 7 percent; Indonesia Petroleum, LTD. (INPEX) (Japan), 6.5 percent; ITOCHU Oil Exploration Co., Ltd. (CIECO) (Japan), 6.5 percent; Hyundai Engineering & Construction Co., Ltd. (Korea), 5 percent; and the Crescent Group (Pakistan), 3.5 percent. RAO Gazprom (Russia) has indicated an interest in signing the consortium agreements formalizing a 10 percent share in the project in the near future.
The proposed pipeline will carry natural gas from the Dauletabad Field, in southeastern Turkmenistan at a rate of up to 2 billion cubic feet per day (20 billion cubic meters per year). The Dauletabad Field has independently certified reserves of more then 25 trillion cubic feet (708 billion cubic meters). The Government of Turkmenistan has guaranteed deliverability of 25 trillion cubic feet (708 billion cubic meters) of natural gas exclusively for the Central Asia Gas Pipeline. Much or all of this gas is expected to come from the Dauletabad Field.
The inaugural memorandum of understanding between the governments of Turkmenistan and Pakistan for the CentGas project was signed in March 1995.
"The formation of the consortium is another major milestone achieved in accordance with the requirements of protocols and agreements previously signed with the Governments of Turkmenistan and Pakistan," said Marty Miller, Unocal Corporation vice president responsible for new ventures in Central Asia and Pakistan.
Miller pointed out that the project still faces significant economic, political and commercial challenges, such as finalizing mutually acceptable commercial agreements and agreements with transit countries. "This project has exceptionally sound economic fundamentals, given the presence of proven gas reserves in Turkmenistan and the market needs of Pakistan and India. The Dauletabad Field has produced well over 2 billion cubic feet per day in the past and is capable of producing that volume today. With the right development program, the Field will continue to be able to produce natural gas at this rate long into the future. No other import project can provide such volumes of natural gas to these markets at a lower price."
The proposed natural gas pipeline would stretch from the Turkmenistan/Afghanistan border in southeastern Turkmenistan to Multan, Pakistan (790 miles, 1,271 kilometers), with a 400-mile (640-kilometer) extension to India under consideration. Estimated cost of the project is US$1.9 billion for the segment to Pakistan and an additional US$600 million for the extension to India.
This news release contains forward-looking information, including projections of future business plans and potential capital expenditures. Actual results could differ materially from these projections.

CentGas Consortium Members:

Unocal Corporation (U.S.), 46.5 percent
Founded over 100 years ago, Unocal is one of the world's leading energy resource and project development companies providing regional integrated energy solutions. Unocal has reserves of more than 9.8 trillion cubic feet of natural gas equivalent (1.6 billion barrels of oil equivalent) and major oil and gas production activities in Asia and the U.S. Gulf of Mexico.

Delta Oil Company Limited (Saudi Arabia), 15 percent
Delta Oil Company Limited, a private Saudi-owned company, was founded by its Chairman and Chief Executive Officer, Mr. Badr M. Al-Aiban. Mr. Al-Aiban established the original Delta entity in Saudi Arabia in 1978, and its activities have expanded significantly since its inception. Today, Delta and its affiliates comprise a diversified group of companies involved in the energy industry, real estate development, food processing and packaging, soft drink bottling and distribution, agriculture and manufacturing. The company's operations extend to Central Asia, South East Asia and other countries in the Middle East. Delta has developed a number of strategic alliances in the oil and gas industry. As a member of the Azerbaijan International Operating Company (AIOC) and the North Absheron Operating Company Limited (NAOC), Delta and its affiliates are involved in exploring and developing oil fields in Azerbaijan, as well as other Central Asian countries.

The Government of Turkmenistan, 7 percent
Since declaring its independence from the USSR on October 27, 1991, Turkmenistan has looked forward to increasing the economic strength of the new state. The country has strived to build on its traditions, values and history to form a political and economic system capable of increasing the well-being of its people, and strengthening the sovereignty of Turkmenistan. The leadership of Turkmenistan has met the challenge of reform head on, and has established many channels for swift economic development. As an independent state, Turkmenistan has much to offer to the Central Asian region and the international community. By effectively using its natural resources, continuing on a path of economic reform as can be seen in the agricultural industry, and promoting its economic potential to attract foreign investment, Turkmenistan can be assured of decades of successful economic growth. The government believes that by seeking international investment, technological and management support for its country, Turkmenistan can play a major role as the economic catalyst for the Central Asian region, and join the world leaders in the distribution of oil and gas.

Indonesia Petroleum, LTD. (INPEX) (Japan), 6.5 percent
Indonesia Petroleum, LTD. (INPEX), a Tokyo-based company, has been engaged in the exploration and development of petroleum resources, mainly in Indonesia, since 1966 in order to ensure a continued stable supply of energy resources to Japan. With its core activity area in Indonesia, INPEX is expanding its activities in East Asia, Oceania, CIS, the Middle East and Africa. INPEX and its subsidiaries are currently producing 280,000 BOEPD equity oil and gas in Indonesia, Australia and UAE.

ITOCHU Oil Exploration Co., Ltd. (CIECO) (Japan), 6.5 percent
ITOCHU Oil Exploration Co., Ltd. (CIECO) was formed in 1972 and is now involved in the exploration, development and production of hydrocarbons in Indonesia, U.K. North Sea, Australia, Pakistan, CIS Countries, Yemen, Oman and Gabon. CIECO is the core company responsible for all Hydrocarbon Exploration and Production activities within the subsidiaries and associates of ITOCHU Corporation, the largest trading company in Japan. With maximum utilization to ITOCHU's worldwide network, CIECO is well placed to continue to expand its foreign activities in the future.

Hyundai Engineering & Construction Co., Ltd. (Korea), 5 percent
Hyundai Engineering & Construction Co., Ltd. was established in 1947, and its major role was rebuilding Korea's infrastructure. Growing rapidly during the early 1960s, Hyundai built dams, bridges, buildings and tunnels, as well as industrial plants that were desperately needed. Since it launched into the international market in 1968, Hyundai has taken a place among top global general contractors, with approximately US$32 billion construction orders through 1996. As the core company of Hyundai Business Group, Hyundai has set the pace for the Hyundai Business Group which is now a US$87 billion multi-national conglomerate specializing in engineering and construction, automobiles, shipbuilding, robotics, electronics, petrochemicals, aerospace and trading.

The Crescent Group (Pakistan), 3.5 percent
The Crescent Group, in business for more than 50 years, is the premier industrial and financial conglomerate in Pakistan. More than 35 independent companies operating across Pakistan form the nucleus of the group and are leaders in textiles, jute, sugar, engineering, steel, investment banking, insurance, leasing and software development. The Crescent Group employs over 15,000 people and contributes to one percent of GNP of the country and over two percent of market capitalization of Pakistan.
Strategic alliances have helped position the Crescent Group as a leader in its core businesses, such as textile and textile made-ups. Crescent is in partnership with some of the most well-known corporations from the United States and Europe.
The Group puts heavy emphasis on keeping its projects environment-friendly, promotes education, and spends considerably on the development of human talent in safe working conditions.

Project Overview

International Pipeline Consortium
Six international companies and the Government of Turkmenistan are forming an international pipeline consortium, Central Asia Gas Pipeline, Ltd. (CentGas) to develop a natural gas pipeline that will link Turkmenistan's vast natural gas reserves with the growing markets of Pakistan and possibly India. This major new source of fuel will supplement indigenous natural gas supply.
An efficient, clean-burning fuel, natural gas can be economically and safely transported by pipeline over long distances, and priced competitively with alternate fuels.

The Resource
Dauletabad Field is one of the largest gas fields in the world. DeGolyer & MacNaughton, an internationally recognized petroleum engineering firm, has thoroughly evaluated the field's reserves. These evaluations clearly show that the field's resources are adequate for project needs, assuming production rates of roughly 1.5 billion cubic feet of gas per day (15 billion cubic meters of gas per year) for 30 years or more. The Government of Turkmenistan has guaranteed deliverability of 25 trillion cubic feet (709 billion cubic meters) of natural gas exclusively for this project. Much or all of this gas is expected to come from the Dauletabad Field.

The Market
Forecasts based on reasonable gas purchase, sales price and other assumptions show sufficient demand for the imported gas at prices that support the project's economic viability. Market analyses indicate that Pakistan's electric power generation market will be the main consumer of the imported gas.

The Route
The 48-inch diameter pipeline will extend 790 miles (1,271 kilometers) from the Afghanistan-Turkmenistan border, generally follow the Herat-to-Kandahar Road through Afghanistan, cross the Pakistan border in the vicinity of Quetta, and terminate in Multan, Pakistan, where it will tie into an existing pipeline system. Turkmenistan will construct a pipeline that will link with the CentGas line at the border and stretch approximately 105 miles (169 kilometers) to the Dauletabad Field. A potential 400-mile (644-kilometer) extension from Multan to New Delhi also is under consideration. Estimated cost of the project is US$1.9 billion for the segment to Pakistan, and an additional US$600 million for the extension to India.

Inter-Government Support
The project enjoys strong support from the governments and leadership of the three countries directly involved and has also attracted the interest of other countries. Turkmenistan and Pakistan have demonstrated inter-government support through various memorandums of understanding.

Regional Benefits
The project offers numerous long- and short-term benefits to the region. It will link plentiful supplies of clean-burning natural gas with growing regional markets, employ thousands of local people, foster regional cooperation, and enhance trade, transportation and communication. The development of pipeline-related infrastructure also will create opportunities for economic growth in other industries.
In addition to regional advantages, the pipeline offers specific benefits to the countries involved. Turkmenistan will reach new markets with its plentiful gas reserves, while Pakistan gains a reliable source of clean-burning fuel to drive its economic growth. Afghanistan will earn extensive economic benefits from the pipeline, both during construction and over the life of the project.

SOURCE: Central Asia Gas Pipeline, Ltd.

#####
9/20/01 12:41:49 PM Pacific Daylight Time
Great coverage sir...many thanks, and I can throw you bone or two more via snailmail. Here's one for you using the Ixquick mega-engine, keywork: CentGas. Pretty easy for anyone to connect the dots...
DAWN - Business; 12 March, 1998 **

12 March 1998 Thursday 12 Ziqa'ad 1418 Turkmen pipeline project on hold ASHKABAD, March 11: A proposed gas pipeline linking Turkmenistan in Central Asia with Pakistan across Afghanistan is on hold indefinitely as it is currently unfinanceab
"The current situation in Afghanistan has not changed much since we started the project. Essentially it's engaged in civil war...it all hinges on having a form of government which enjoys the confidence of investors and lenders," he said.
Or perhaps a vast american/british/french/etc military presence?
Breaking news WTC action - diplomatic leak WWIII FOR WANT OF A PIPELINE?
World: South Asia Gas pipeline could be a pipe dream A US oil and gas company has failed to secure financing for a proposed natural gas pipeline in Central Asia. Nassir Shirkhani reports:
Two years ago, Unocal thought it had found the perfect route via Afghanistan to tap Turkmenistan's abundant natural gas and sell it to the energy-hungry markets of Pakistan and India. It then quickly found eager partners to share in the risks and began the quest for financing the $2bn project.
But no creditor was ready to bankroll it while the civil war in Afghanistan raged on. The scheme involves building a pipeline from the Turkmen Dauletabad gas fields to the Pakistani town of Multan. Dauletabad, one of the world's largest gas fields, is estimated to be able to produce 15 billion cubic feet of gas per year for 30 years.
CORESEARCHER8 do a trace on a few of those port scans.....guess where most of them coming from???
CORESEARCHER8: HOUSTON
THE MUSHROOM CLOUD NEAR THE TOWERS
EDITOR: debate boils down to which came first the chicken or the egg? Did the collapse of the South tower cause a mushroom-shaped plume to appear remotely near building 6 or 7, or did a detonation at 6-7 [possibly a pulsed blast at a precise harmonic frequency] do a death-knell to the weakened towers?
LaRouche - Calm Down! The Enemy Is Right Here In The US
DISCAIMER DISCLAIMER! YIKES! TOP-VIEW BLOWS HIS TOP
Subj: bush-brain: WE DON'T NEED YOUR STINKING PHONY WAR!
Date: 9/20/01 5:29:07 AM Pacific Daylight Time 9.18.01
bush-brain: WE DON'T NEED YOUR STINKING PHONY WAR!
... predicated as it is on those fake "terrorist" attacks which were IN FACT planned, masterminded, orchestrated and implemented by demonic, malevolent slime like your buddy Dick "Mengele" Cheney and his cohorts throughout the military and intelligence sectors of our profoundly corrupted federal government.
BushMobsters and NWO/4th Reich enthusiasts one and all: shove your miserable, pointless war up your own fat butts, your devil-worshipping whores of pure evil.
And then get lost, why dontcha!
Repeat; WE DON'T NEED OR WANT YOUR STINKING PHONY WAR, against millions of innocent Islamic people who had NOTHING TO DO with what happened in the U.S. on 9.11.
It was YOU guys who destroyed the Trade Centers and the Pentagon. MILLIONS of Americans and other people know this, you loser pigdogs. And MANY MORE are finding out every second. And we're not too happy about it.
YEEEHAWWW: WILD-WILD WEST SHOOTEM-OUT
Subj: GERONIMO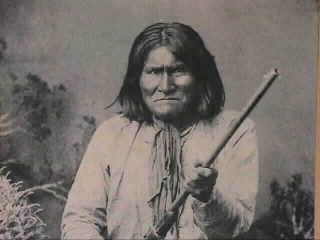 Date: 9/20/01 7:38:00 AM Pacific Daylight Time
Geronimo: A Lession From Our Own History Books......
Do you know how Geronimo got his name? He walked directly , boldly and alone, into the Spanish army fort on the holiday the Spanish were celebrating for St. Jerome. No one was alarmed by the lone Indian. He walked up to the priest, killed him with a knife, and ran out of the fort.
The soldiers were at first shocked, then immediately many of them reacted with anger, leaping onto there horses and charging out after him. He led them into a narrow place where his men waited in ambush and wiped them out, then returned to the now depleted fort and finished the job.
Bin Laden, or more specifically the organization for which he is the figurehead, have essentially done the same thing. Yes, they want a US retaliation against innocent civilians, because they know this would polarize the Arab world and gain them immense support. Foolish thing to do, to fall into this trap AGAIN.
Remember: China, Russia, India and Afganistan have signed a joint pact.
Subj: Bin Laden heads off on horseback
Date: 9/20/01 5:39:59 AM Pacific Daylight Time
Hi All; First they cost us 5,000 + lives, 100 billion dollars, and cripple the US economy with box cutters,......... then he escapes on a horse. What's wrong with this picture?
Subj: Fwd: Your Papers, Please! [Approaching Fascism]
Date: 9/20/01 3:16:35 AM Pacific Daylight Time
As I've pointed out...it's like clockwork. The socialist legislators in England pass a law, the Commonwealth countries get the same laws about 6 months to a year behind Britain, and America about 1-2 years later. Remember the controversy in England over a national I.D? Well, BIG SURPRISE...now WE need them to insure our safety as citizens.
You can almost hear the arguments now, can't you?
Us- Why do I need an Id card, I already have an I.D., my State drivers license?
Gov- But then why would you fight the idea of another Federal license?
Us- Why do we need yet another piece of I.D.
Gov- Ah...but this one's differnt, unfakable, because it's linked to your body's biometrics.
Us- WHY would I want something LINKED to my biometrics, isn't a photograph enough?
Gov- Oh, we want your photograph too, for pour bimetric facial identity programs, but this is diffferent, you see because it is linked to your boimetrics, no one can pretend to be you. Your purchases are far safer this way than using a Credit Card, and this way you only have to carry ONE form of I.D. this replaces the Passport, the State Driver's Licences, and your credit card!
Us- What do you mean replaces my credit card?
Gov- Oh, that's a simple enough answer...this is SMARTCARD technology. Also, we can know where you are at all times because we have placed a chip in the card that lets us know where you are at all times... in case you're kidnapped, or are hurt.
Us- You mean this contains a tracker?
Gov- Oh no, not yet...but it will...for your own good.
Us- But I don't think I'll be kidnapped or hurt any time soon.
Gov- Well, we understand, but it is the LAW.
Us- But I never voted this in?
Gov- Yes you did...you voted us in, and we're handling your life for you now.
Us- But what if I don't want a National I.D. tracking device-Smart-Card.
Gov- Why wouldn't you want one, if you're a law abiding citizen?
Us- I AM a law abiding citizen!
Gov- Then you wouldn't mind taking this card.
Us- Yes, I do mind
Gov- You are acting very suspiciously, perhaps we need to have you come with us?
Us- No...no, I am not doing anything wrong!
Gov- Then why are you resisting that which is in the Nation's best interest, that was approved by a 100%-0% vote in both houses, and is being worn even by your own Govenor?
Us- Worn?
Gov- Yes, we've made this as convenient as possible. You can wear this around your neck if you want...where we can clearly see it.
Us- What if I don't want it 'round my neck?
Gov- Why would you say that...if you have nothing to hide?
Us- Wait a minute, I will not be intimidated by you!
Gov- We are not intimidating you, sir, we are offering you a service, and you are going to accept it if you are concerned for your country's saftey in these times of terrorism and uncertainty. You are a patriot...aren't you?
Us- Wait a minute, I will not be coerced into obedience to your dumb laws!
Gov- So, you are against the government, aren't you? That is "sedition,' in a time of war?
Us- Sedition? Wait juat a minute...No I am not, I am against this rule!
Gov- The majority rules, in a democracy. This is the law.
Us- But this is a Democratic Republic.
Gov- Yes we know...it is a democracy.
Us- No, this is a Republic
Gov- Call it what you want, the majority has spoken, and you must now comply by taking this smart card...if you know what's good for you? If you know what's...SMART.
Us- I am going to call my Senator
Gov- Your govenor...co-authored the Bill that made this the law of the land.
Us- Then I'll call the President himself.
Gov- The president's got one already.
Us- The president wears one?
Giv- Yes, he does what he is told to...so why don't you? You aren't breaking the law...are you? You don't think you're betterr than the President of the United States...do you?
Us- I just don't care for the idea!
Gov- The rights of the many outweigh the rights of the few. Ask not what your country can do for you, but what YOU can do for your country.
Weekend alert as FBI warns of new attack
The Apocryphon of John The Official Web Site of the Hermetic Alchemical Order of the QBLH
Dalai Lama's Letter To President Bush
Date: 9/20/01 8:37:25 AM Pacific Daylight Time
Three Oaks (about 10 miles from Niles) had an FBI suspect apply for a replacement driver's license Monday. I see it still hasn't hit the national news yet? (It took 3 days to go local.) I imagine he was following route 12 from Detroit to Chicago? This office is known as the only one without lines in the Michiana area. <G>
Interestingly he held a license that allowed him to man nuclear waste trucks! And we all know that Lake Michigan is dotted in regular intervals with Nuclear Power plants!
Here's the national on the other arrests in Michigan:
http://www.cnn.com/2001/US/09/19/inv.investigation.terrorism/index.html
Make a difference, help support the relief efforts in the U.S.
http://clubs.lycos.com/live/events/september11.asp
NBC FIELD HANDBOOK Secret plans for 10-year war
Date: 9/20/01 9:13:52 AM Pacific Daylight Time
This strategy is far superior to what is currently being proposed. For you cannot kill an idea, you can only inspire new a better ones.
http://www.rumormillnews.net/cgi-bin/config.pl?read=11838
Let's evolve!
4000 Israeli Employees In The WTC Said Absent On 911 (13:15) Mossad warned FBI of 'major assault on US'
Who did it according to Janes Feds complain Bin Laden not using hi-tech equipment
VISIT THE .MILs WHO VISIT RMNEWS
Mother of material witness in terror attacks says her son was 'brainwashed'
Date: 9/20/01 1:16:03 PM Pacific Daylight Time
Taliban say they will definitely NOT hando over bin laden..he is a free man...A press release will be given out in Pakistan tomorrow
Date: 9/20/01 3:22:47 PM Pacific Daylight Time
Hear Kent,
I haven't seen it pointed out on the net yet how revelations chapter 18 seems to have been fulfilled almost to the letter by the wtc attack. Here is a link to the text:
http://www.aca.org.nz/bible/revelations/revelations_18.htm Here's a small sample:
"...Therefore shall her plagues come in one day, death, and mourning, and famine; and she shall be utterly burned with fire: for strong is the Lord God who judgeth her. 18:9 And the kings of the earth, who have committed fornication and lived deliciously with her, shall bewail her, and lament for her, when they shall see the smoke of her burning,
18:10 Standing afar off for the fear of her torment, saying, Alas, alas that great city Babylon, that mighty city! for in one hour is thy judgment come.
18:11 And the merchants of the earth shall weep and mourn over her; for no man buyeth their merchandise any more:..."
Some of the restrictions imposed by Taliban on women in Afghanistan
Chinese Working Overtime to Sew U.S. Flags
AMERICA UNDER ATTACK—PREDICTED!
Airlines face more chaos as insurance risks rocket
"We are not confident aircraft owners and lessors will allow airlines to fly them with such reduction of cover," the letter says. "If our pessimism were to be borne out in practice, airlines would cease to be able to mount any form of coherent service beyond Monday 24th September."
Pentagon said to eye nuclear attack against terrorists
HEADQUARTERS SPEECH, an unparalleded war, we brace for hell.
PAPER: U.S. PLANS TO OVERTHROW TALIBAN REGIME, PUT AFGHANISTAN UNDER U.N. CONTROL
NEWCOMERS: this effort, although many send reports, boils down to one old frazzled guy, me, Kent.