ARE WE GETTING COSMIC HELP?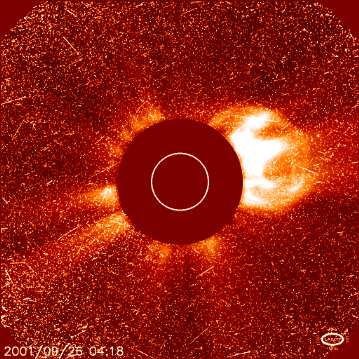 Date: 9/26/01 3:13:19 AM Pacific Daylight Time
Hi Kent, Another massive flare has erupted this morning, adding to the existing streams that are still bombarding us. I love your idea about the Sun coming to our aid. Wouldn't it be something if all the technology of war was rendered unusable! Continuing CMEs impacting Earth would cause such havoc, make the Shadow Power realise just how insignificant they really are.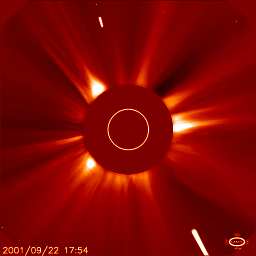 The proton event continues to contaminate ACE SWEPAM data; solar wind density, speed, and temperature.
MAGSTORM BEGINS AURORA WATCH HAARP

Date: 9/26/01 11:31:30 AM Pacific Daylight Time
Kent, Just wanted to send this link about Thyroid Cancer from Radiation Exposure. About taking Potassium Pills. People should maybe be aware of this. (Think I found this last year thru your site.)
http://www.ki4u.com/print_me.htm
Thank You for all Your Hard Work. Been stopping by almost daily for over a year. Solar Watch is my main interest.
DISCLAIMER! MUCH INFO INCOMING TO ME: PLEASE DOUBLE-CHECK REPORTS. IN USUAL ORBIT FORMAT WILL REPORT ALL, CONFIRMED OR NOT, SO WADE THROUGH TO THE CORE FACTS PLEASE!
Patrons: Most EXCRUCIATING around the clock task yet.
Tip-hat is out to encourage the ol' coot. This effort is a difficult task: ORBIT had 22,737 visitors yesterday and hundreds of emails, requiring attention and reporting. Going into max drive here, reporting as quickly as I can. Encouragement requested--a few coins will help my family to prepare for shaky times while solitary Dad is lost in Byte-land! Only a paltry few visits to banner-sponsors [31-impressions 0.34% $4.01] , now convinced direct-donation the only hope. Thanks for dubloons-in-the-tattered-derby thus far!
Easy Donation

Service

Kent Steadman
425 South 156th Street
#119A
Seattle, WA 98148
Sign up for PayPal here, great secure way to...well you know...help ORBIT

7/26/01
CCOPS: Concerned Citizens Opposed to Police States
Enormous data base of info on Bin Laden
.

EDITOR: not totally certain about the direction of research here yet, but the glimpses thus far certainly hint of a most sinister scenario. Has a cabal of Oil Pirates literally hijacked the world to complete a pipeline project that has since 1998 been put on suspension because of the instability in territories held by the Taliban? If so, this greedy resource-grabbing process represents true Facism in its most deadly dark shroud--it is what we have been referring to in past ORBIT investigations as the workings of a Rogue empire, translated into our own nation as the ploy of "Secret Government." Have we been tricked to the loss of our most precious American identity, a nation based on freedom?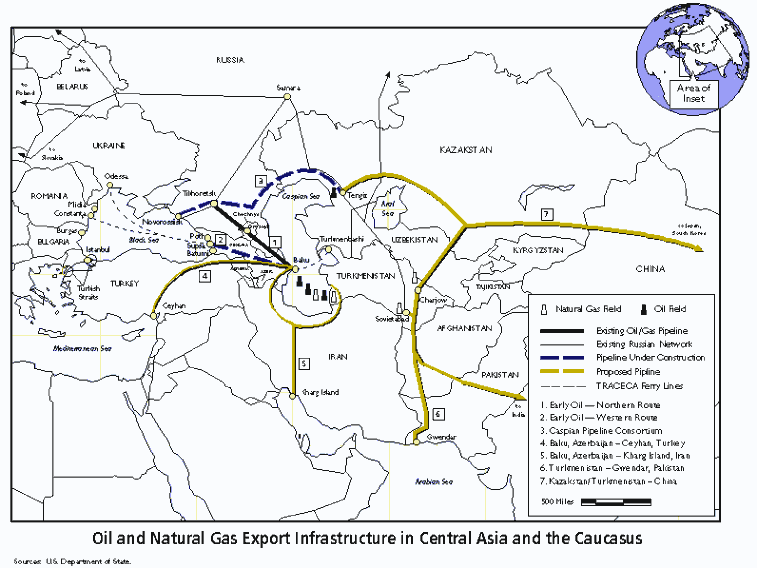 Date: 9/25/01 11:55:10 PM Pacific Daylight Time
Fascinating discourse you had on Oil/ Unocal etc with coresearcherx.
Here's some more info along that line.
According to the Council on Foreign Relations website a study on the Middle East from 1998 and discussions on what to do about it have been going on for awhile. Several oil/gas pipline projects in the Caspian Sea area are on hold because of regional instability. Some of these involve Russia and Eurasia companies without US Corporate involvment. (Couldn't let that happen now could we.)
NOPE
Date: 9/25/01 10:55:37 PM Pacific Daylight Time
Moscow Times Tuesday, Sep. 25, 2001. Page 6 U.S. Pushes Oil Pipe Through Caucasus
By Anna Raff
Staff Writer U.S. officials are reiterating their commitment to building a controversial Caspian pipeline, emphasizing the importance of "diversification" as political volatility increases after terrorist attacks on the United States.
"The U.S. will not be deterred from its business by these events," said U.S. ambassador Steven Mann, senior adviser for Caspian basin energy diplomacy. "We will continue to build stability and cooperation."
What Mann was addressing was the imminent construction of a long-debated pipeline running from Baku, Azerbaijan, through the Georgian capital Tblisi to the Turkish port of Ceyhan. Conceived as a oil route that would bypass Russia, government and industry experts now see it as a pipeline that can become commercially viable if enough crude is found off the coast of Azerbaijan.
An engineering study commissioned last year is progressing according to schedule and construction will start next summer, Mann said. Cost estimates range from $3 billion to $3.7 billion.
"The policy of pipeline diversification is inevitable," he said at a Moscow oil conference last week. "I must stress that this is not an anti-Russian policy. It's a policy of anti-monopoly."
The Baku-Ceyhan pipeline was seen as competing with the Caspian Pipeline Consortium, which has already completed its 1,580-kilometer stretch from Kazakhstan's Tengiz field to the Black Sea port of Novorossiisk. Although the release valves were cranked open earlier this year, tankers won't be loaded for another three weeks, said CPC general director Sergei Gnatchenko.
This kind of half-victory for CPC has led Russian industry leaders to be more skeptical about the need and cost of the U.S.-led campaign for Baku-Ceyhan.
"We welcome this project," Transneft president Semyon Vainshtok -- through a half-smile -- told a U.S. delegate. "If you want to spend $3 billion and then look on as the oil companies choose a more economical route, then go ahead."
Transneft, the state-owned pipeline monopoly, itself is fighting for the opportunity to transport Caspian crude through Russia to other ports, and it has the capacity. The first stage of the Baltic Pipeline System -- stretching from the Timan-Pechora region to the Baltic port of Primorsk -- will add 240,000 barrels a day to Russia's export capacity and is set to go on line by year end.
Other events have called Baku-Ceyhan into question. Several exploratory wells that were drilled off the coast of Azerbaijan earlier this year came up dry, leading some geologists to suspect that the Azeri government has overstated the amount of reserves in the region. Without huge reserves, the pipeline may not make commercial sense.
Mann acknowledged as much."It has to be justified economically," he said.
But there are other reasons driving Baku-Ceyhan's construction. Turkish officials have complained the congestion of ships along the Bosphorus straits pose environmental and safety risks. Baku-Ceyhan will alleviate the jam created by tankers trying to get through to sea.
Chevron has tried to alleviate these fears by guaranteeing that it will do all it can to minimize accidents brought on by oil tankers. The oil major holds 50 percent of the Tengizchevroil venture, which is developing Kazakhstan's Tengiz field. Once CPC begins loading tankers and sending them across the Black Sea, the Turkish government anticipates another 3,000 tankers on top of the 7,000 that annually cross through the straits.
Faced with growing opposition from Turkish environmentalists, Chevron has thrown its weight behind Baku-Ceyhan.
"Chevron supports the Baku-Ceyhan pipeline and believes it will be built," said Ian MacDonald, president of Chevron Neftegaz.
http://www.themoscowtimes.com/stories/2001/09/25/042.html
MORE SLEUTHLINKS ANALYSIS PLEASE?
http://www.house.gov/international_relations/105th/ap/wsap212982.htm
http://english.pravda.ru/economics/2001/07/10/9761.html
http://english.pravda.ru/comp/2001/04/25/4217.html
http://english.pravda.ru/economics/2001/06/19/8142.html
http://www.gasandoil.com/goc/company/cnr83885.htm
http://www.iteragroup.com/english/news/news_0401_e.htm
http://www.iteragroup.com/english/news/0401_01_e.htm
http://www.iteragroup.com/english/news/0401_02_e.htm
http://www.rnw.nl/hotspots/html/russia010309.html
http://www.moscowtimes.ru/stories/2001/03/21/061-print.html
http://www.themoscowtimes.com/stories/2001/06/15/002.html
http://www.chron.com/content/chronicle/business/96/06/04/bush.2-1.html
http://alexconstantine.50megs.com/
Oil industry support Bush campaign Bush Name Helps Fuel Oil Dealings
Bush-Cheney is U.S. oil industry dream team Bush, Oil Industry, Help Each Other
The Bush family Oiligarchy the early years Analysis: Oil and the Bush cabinet
Date: 9/26/01 1:57:33 AM Pacific Daylight Time
KENT RE PIPELINES AND CLAIM THAT A 240,000 BBL PER DAY PIPELINE WOULD INCREASE TANKER MOVEMENTS PAST ISTANBUL FROM 3,000 TO 7,000 PER YEAR.
THE MODERN STANDARD SUPERTANKER CARRIES 2 MILLION BARRELS. THUS A 240,000 BBL PER DAY PIPELINE WOULD ONLY REQUIRE ONE TANKER EVERY 10 DAYS. OR 36 EXTRA TANKERS PER YEAR.
THIS IS MORE EVIDENCE OF SMOKE SCREENS, DISINFORMATION IN FACT GOBBLEDEGOOK.
THE REASON FOR THE BAKU/CEYHAN PIPELINE. FROM AZERBAIJAN IT GOES THROUGH ARMENIA THEN INTO TURKEY (KURDISH AREA). DUE TO CHOKE ON IRAQ PIPELINE CEYHAN IS UNDERUSED, THUS HUGE REVENUE LOSSES TO NATO ALLIES. NEW PIPELINE WOULD SUPPLY TURKISH GOVERNMENT WITH LOTS OF CASH.
Bush appeals to Afghans in war on terror, but coy on ousting Taliban
Black Tuesday and the Passive American: A BILL OF RIGHTS CULTURE IS THE ONLY ANSWER
THE AFGHAN KILLING FIELDS: BLOOD FOR OIL/GAS TO CHINA
PART 2" US "SECRET" PLANS FOR AFGHANISTAN
CORESEARCHER11: Powell is hiding plenty ... so is Cheney .. and Bush is standing up there in public saying... "I'm standing here in front of you so you can feel safe."
BARDSQUILL: Bush does what he is told
CORESEARCHER11: yup. that's for sure
BARDSQUILL: he's just the puppet for a gang that makes money in war
CORESEARCHER11: yes, this is a good excuse to get the economy going - everybody buying $250 gas masks now
BARDSQUILL: economy was going great, trouble is the old oil pirates and warlords were falling behind the new tech guys, besides too many affluent middle-class popping up, bad for the old-guard lizard's employee-slave market. Bunch of old farts that just need to roll over and make their self-chosen descent into the pit, hey, become oil! I think the lub-Fascists made their move realizing alternative tech is coming, not to mention they lost a pile of cash on the Turkmen pipeline project Screw oil!
CORESEARCHER11: then hide alt tech like it doesn't exist
BARDSQUILL: like they probably have for a hundred years, can't believe we are still burning oil., buncha cave men
BARDSQUILL: got a freakin ion drive spaceship out there and we burn stinkin oil. Where our our scientists, puppet-Neanderthals, want energy, burn something, ugh, grunt.
.

ANTIDOTE FOR DINO-GOO
Date: 9/26/01 12:39:24 AM Pacific Daylight Time
KENT
DISCOVERY JUST RAN A PROGRAM ON NEW ENGINES FOR CARS. GUESS WHAT
VERY EXPENSIVE FUEL CELLS
VERY EXPENSIVE CONVERTERS
VERY HEAVY
ALSO BRAND NEW CARBON FIBRES THAT SOAK UP HYDROGEN.
CLEARLY HUGE SUMS BEING SPENT ON JUNK. WHY JUNK. BECAUSE IT IS UNNECESSARY.
THE CONVERTER IS TO EXTRACT HYDROGEN FROM METHANOL. NOW I AM NO CHEMIST BUT THERE IS A LOT MORE HYDROGEN IN WATER AND IT IS DAMMED EASY TO EXTRACT.
THEY SHOWED A ONE LITRE BOTTLE. CLAIMED (STRAIGHT FACED) IF FILLED UNDER HIGH PRESSURE WITH HYDROGEN IT WOULD DRIVE A VEHICLE FOR ONE MILE. ERGO 250 LITRES OF HYDROGEN WILL DRIVE YOU ONE MILE. THEN THEY ADDED WITH A DISARMING SMILE THAT IF THEY FILLED THE ONE LITRE BOTTLE WITH THEIR FIBRE THEN ADDED HYDROGEN THE CAR WOULD DO 1,250 MILES. WHAT UTTER BULL.
ALSO TECHNICAL DESCRIPTION OF FUEL CELLS WAS BULL. CATALYST STRIPS ELECTRON FROM HYDROGEN AND THESE ARE FED TO MOTORS. ARE THEY CLAIMING WHAT????.
SIMPLE ANSWER ON STONE AGE PRINCIPALS IS SPLIT WATER TO GET HYDROGEN. BURN HYDROGEN TO TURN MOTOR, WASTE IS WATER. ITS THAT BLOODY SIMPLE.
LOOK AT METHANOL/ETHANOL. HOW MUCH HYDROGEN PER LITRE, HOW MUCH CRAP. THIS CLUGS THE CONVERTER WHICH MUST BE CLEANED.
GOOD OLD H20 CANNOT GET MORE HYDROGEN PET LITRE AND CLEANER. OK TAP WATER/RAIN WATER HAS IMPURITIES AND THESE WILL CLOG THE ELECTRODE. SOLUTION HAVE THREE CATHODES, AS GAS GENERATION FALLS SWITCH TO CLEAN ONE. SIMPLE AND COST OF CONVERSION MINIMAL.
DONT YOU THINK IT IS ODD THAT YOU CANNOT GET A STRAIGHT FORWARD ANSWER TO A VERY SIMPLE QUESTION.
FROM A LITRE OF WATER, HOW MUCH "ELECTRIC" DOES IT TAKE TO SPLIT IT ALL INTO OXYGEN AND HYDROGEN. THEN HOW MANY MILES WILL A STANDARD CAR DO ON THAT HYDROGEN. TRY FINDING DEFINITIVE ANSWERS THAT MEET THE STANDARDS OF PROOF REQUIRED BY OUR POWERS THAT THINK THEY BE.
ALSO BY REMIXING THE OXYGEN AND HYDROGEN GREATER POWER CAN BE ACHIEVED. BROWNS GAS IS ONE EFFORT IN THIS DIRECTION. NOW WE BRING IN THE KURSK, SEEMINGLY ITS TORPEDOES EXPLODED BECAUSE THEY USE MY FOOT RUB AS FUEL. HYDROGEN PEROXIDE, H2O2, NOW BY ADDING EXTRA AIR TO YOUR GENERATED OXYGEN AND HYDROGEN, PERHAPS SOME THINKER CAN PRODUCE PEROXIDE TO FUEL THE ENGINE.
YOUR FANS INCLUDE A FEW GUYS WITH BRAINS PERHAPS IT WOULD HELP IF THEY USED THEM. YOU MENTIONED ABOUT WATER POWER IN SOUTH AFRICA IN THE SEVENTIES. YOU BLOODY WELL HAD IT IN THE USA. ONE OF YOUR POP STARS USED TO DO HIS OWN CONVERSIONS AND RUN AROUND IN HIS BEAT UP WATER BURNIN CHEVIES.
THINK PLEASE THINK, WHAT MATTERS THE WEIGHT, WATER IS 'FREE", NO POWER/WEIGHT PROBLEMS. ALSO GOOD STANDBY CONVERSION FOR EXISTING MOTORS UNTIL FREE ENERGY COMES ON STREAM.
NO INSULTS INTENDED OR INFERRED JUST GET THINKING/DOING CAPS ON.
IF SOMEBODY WITH A BRAIN THE SIZE OF MARS (BUT USES ONLY PEANUT SIZED PORTION) THINKS FILLING THE TRUNK OF A MERC A CLASS WITH METHANOL IS A "GOOD IDEA", I FEAR THE USA HAS EXPIRED.
I KNEW I HAD THE PLANS SOMEWHERE. CELLA IS THE GUY AND HASSELBERGER THE WEB SITE.
IT IS NOT SO MUCH THE TECHNOLOGY OR THE SCIENCE BUT THAT DUMB SIMPLE FACTS DONT ADD UP, DONT NEED TO BE A NUCLEAR SCIENTIST TO SEE THAT.
Date: 9/26/01 9:23:09 PM Pacific Daylight Time
SHERLOCK BILL
Kent, sometimes I sleuth best when I see notes like the one on your warrant12.htm page. I crave these kinds of email that say HEY get your act together, Americans! That was a great idea about splitting water! Now is the time for all of us to sleuth our best. To remove our preconceived notions. To grab hold of the Internet like it's a Rubik's Cube. Then start twisting it around to see if we notice patterns. I get like that sometimes, imagining that the whole Internet is a little orange I can grab a hold of and squeeze out some wisdom juice. Grrrr!
So today I went and raced to make some wisdom for you, and tried to steer clear of the crazies you don't want to hear from. I'm reminded of that song "Where Have All The Flowers Gone?" So for our nation, should we add a stanza? like "Where have all the thinkers gone? Long time passing...etc...Gone in hiding everyone, when will they ever learn? When will they...ever learn."
Sometimes it's best to have a mind of a child. I think it's important to not stifle our children's minds. I think we should listen to ourselves at times, when we say this or that is stupid. Perhaps we should go back to chemistry and physics class, and look at the gears churn inside those kids' minds. So I went back in my mind to school.
Here goes:
Because the average adult doesn't remember most science experiments in school, I recommend everyone going back to school with this first link:
Introduction to Electrolysis: Hydrogen from Water
http://www.nmsea.org/Curriculum/7_12/electrolysis/electrolysis.htm
Perhaps we should agree there are things about water that big oil companies don't want us to see. And that has to be true or we wouldn't be so dependent on oil right now.
When people want formulas, read here about Fuel Cells:
http://www.nmsea.org/Curriculum/7_12/Fuel_Cells/fuel_cells.htm
more formulas & science experiments:
http://chemed.chem.purdue.edu/genchem/topicreview/bp/ch20/faraday.html
The Puharich Papers part 2:
http://www.geocities.com/ResearchTriangle/Lab/1135/puharic1.htm
It Runs On Water: transcript from Equinox TV show. Here's Arthur C Clarke et al., on this split water topic:
http://www.padrak.com/ine/FEONBRTV.html
http://homepages.ihug.co.nz/~wayfarer/anomaly/technology/runswater_trans.htm
http://homepages.ihug.co.nz/~wayfarer/anomaly/technology/content.htm
Carl Cella's water fuelled car:
http://www.hasslberger.com/tecno/hydrogen.html
Energy from Water for Cars:
http://www.bagelhole.org/article.php/Transportation/19/
Success in Model Experiment of Laser Engine (water or carbon as fuel):
http://www.mext.go.jp/english/news/1999/11/h991102.htm
Perhaps a visit with Gyogon Asano will help. He invented a water-powered stereo?
http://www.jnto.go.jp/regions/shikoku/ehime/uwajima_and_environs/749-3.html
'Smart Plugs' idea, worth a look:
http://groups.yahoo.com/group/free_energy/message/2118
Ron McMurtry's better fuelless heater:
http://groups.yahoo.com/group/free_energy/message/2120
Rotary Mechanical Heating Device (but Ron McMurtry says his is better!):
http://www2.murray.net.au/users/egel/rotary.htm
Patent 6271614: Pulsed plasma drive electromagnetic motor generator:
http://164.195.100.11/netacgi/nph-Parser?Sect1=PTO2&Sect2=HITOFF&p=1&u=/ netahtml/search-bool.html&r=1&f=G&l=50&co1=AND&d=ft00&s1=6271614&OS=6271 614&RS=6271614
http://fourthdimension.freeyellow.com/NoConspiracy.htm
http://www.eagle-research.com/fuelsav/suppfuel.html
http://www.browngas.com/eng_bestkorea/main_eng.asp
http://www.non-wave.com/lll.htm
Power less AM transmitter No.2:
http://www.intio.or.jp/jf10zl/plam.htm
Howard Johnson invention:
http://www.newebmasters.com/freeenergy/sm-text.html
The time to contemplate is now. Let's define wisdom once more. If there are children in Japan making drawings of Water-Powered Televions, what are we designing? How to complain better? How to tear down everyone's ideas? I encourage everyone to find links like these, even better ones!
Date: 9/27/01 3:28:12 AM Pacific Daylight Time
Just had to say on behalf of all of us, Sherlock Bill, you're a top bloke,
you are, keep up the work.

Atom Experiment Brings Teleportation Closer to Reality
Fall AGU/Special Session: Interaction between the Solid Earth and its Fluid Envelope: Insights via Earth Rotation and Mass Redistribution Studies
The Earth is a dynamic system: it has a fluid, mobile atmosphere and oceans, a continually changing distribution of ice, snow, and groundwater, a fluid core undergoing hydromagnetic motion, a mantle undergoing both thermal convection and rebound from glacial loading of the last ice age, and mobile tectonic plates. Both the moment of inertia changes and the motion affect a number of global geodynamical quantities, including Universal Time, length-of-day, polar motion, and nutation (collectively referred to as Earth Rotation or Earth Orientation). Highly accurate observations of Earth Orientation provide a unique and truly global measure of natural and man-made changes in the atmosphere, oceans, and interior of the Earth on a broad variety of timescales
'Third Temple' event on again Israeli government sanctions laying of cornerstones
Date: 9/26/01 12:47:13 PM Pacific Daylight Time
Here's a rough map of the brown dwarf Nibiru's "projected" coordinates between now and it's final approach in mid 2003. (Actually the path should be gently curved, instead of straight and angular as is illustrated here, but the 10/1/01 and 3/3/03 coordinates are quite accurate)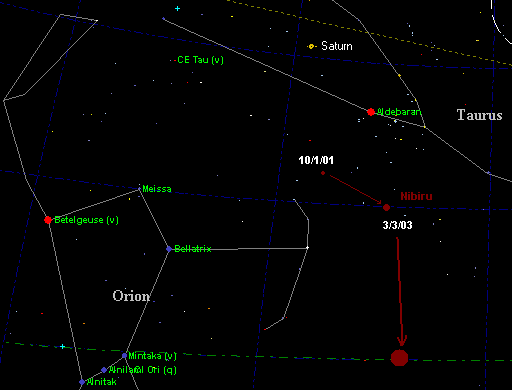 Nibiru does not reflect or generate much visible light, so like a comet, it's difficult to spot with a standard scope until it's much closer to the sun than it is now. As it draws closer to the sun's gravitation pull, it will accelerate logarithmically, reaching it's greatest velocity during it's passage through the inner solar system. As such, it will only be visible for approximately a week prior to it's Earth passage, which will be approximately half the distance between Earth and Venus.
When it passes between the Earth and the Sun, the movie title, "The Day the Earth Stood Still" may take on new significance. (See Joshua's long day)
Here's just part of what Mother Shipton (c. 1650) has to say about Nibiru, and she hasn't been wrong yet.....
For storms will rage and oceans roar < Climate Control? or Nibiru's first Influence?
When Gabriel stands on sea and shore < Hurricane Gabrielle; Sept. 15, 2001
And as he blows his wondrous horn < Hurricane cloud funnel
Old worlds die and new be born. < NWO power grab now under way? (Or Supernova?)
A fiery Dragon will cross the sky < Nibiru / Planet X
Six times before this earth shall die < Five previous passages? (Joshua's long day, Exodus, Flood, etc.)
Mankind will tremble and frightened be
For the sixth heralds in this prophecy. < Next passage (5/15/03)
For seven days and seven nights
Man will watch this awesome sight.
The tides will rise beyond their ken < Interplanetary tidal forces created by massive brown dwarf
To bite away the shores and then
The mountains will begin to roar < Electromagnetic coupling effect; see Jupiter & Io.
And earthquakes split the plain to shore. < Resulting from excited core activity.
And flooding waters, rushing in < Inertial tidal slosh when rotation stops.
Will flood the lands with such a din
That mankind cowers in muddy fen < Fen = swamp, which you'll have plenty of after floods.
And snarls about his fellow men. < Who left the water on!!!
"Apparently" there are 19.5 months now remaining.
Date: 9/26/01 1:31:47 PM Pacific Daylight Time
Kent, this is my opinion, for what it's worth. I have been reading a lot lately how the doves are calling for peace at any cost. Even here on Cyberspace Orbit, I see comments along the same lines. So what if the solar flares kill all of the high tech weapons? Man will just fall back on the old stuff. Imagine two armies 300,000 strong going at each other with swords, and such weapons. It'll be a lot messier than the kind of war fought with modern weapons, with a whole lot more maimed. And guess what? The messiness *will not* deter anyone bent on war to stop. There's really only two kinds of people in this world... wolves and sheep. As long as the wolves don't meet, guess who will live longest? It won't be the sheep, I can tell you that. As I see things, our problem now is that the really smart wolves are pitting the other wolves against each other. And disarming the sheep only make them easier prey. If the citizens of America was to be armed, then the terrorist would think very long and hard before trying anything. It is a proven fact that where the citizens have been disarmed, crime rates climbed. And where they were allowed to be armed, crime dropped. So a terrorist decides to hijack a plane. He pulls out his gun and....suddenly he is looking down the barrels of twenty guns. He is suicidal, so he opens fire. How many rounds can he get off before he is dead? Yes, a few passengers are killed, but how many were saved? And If the terrorist had planned on crashing the plane into a high-rise building; how many more on the ground were saved? No, giving up more of our freedoms and rights to the government is not the answer. The answer is to take back some that we have already given up. Here's another scenario: A man walks into a bank and yanks out a gun and yells,"This is a hold up". Imagine his reaction when every customer and bank employee pulls out their guns. Bank robbery over. Only someone bent on dying would defy such odds. And that is the only way to stop them. For proof of what I have said here, one only has to look at the actions of the passengers on the 4th hijacked airplane. How different things might have been had they been armed.
Thanks for letting me rant. Have a good day and thanks for all you are doing with this site.
Date: 9/26/01 1:24:31 PM Pacific Daylight Time
Greetings, All:n These are new, still and moving images of the WTC UFO, taken from a number of different cameras and camera angles. Scroll down to the stunning moving images near the bottom:
http://www2.justnet.ne.jp/%7Ekiti/Ufo/wtc/wtc.htm. The page is in Japanese, and I have appended a loose translation using AltaVista's Babelfish translator: http://altavista.com/r?F09 (Translation from Japanese to English).
While some are already claiming these images are hoaxed, I have seen absolutely no convincing evidence, of any kind, to this effect, rather, if these images are real, someone, somewhere, has a great deal of explaining to do. I rather strongly doubt anyone, anywhere, could be motivated to hoax these images.
I suggest we all start asking some very serious questions about them, starting with some of those good folks down at the Pentagon. Once again, our mainstream news media have failed us all miserably, and this time, during a deepening, planetary crisis.
Onlookers barred from photographing World Trade Center ruins
WARNING: WORD SEARCHES THAT INCUR ASSAULTS Harken Oil and Bush
THE ENEMY WITHIN - THE ILLUSION WITHOUT Surrender sovereignty? Never!